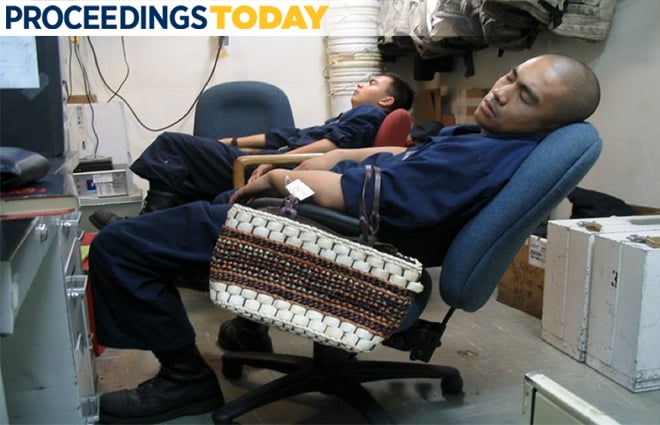 For a junior sailor standing a five-and-dime rotation (five-hour watches with ten hours between), it is never expressly stated, but clearly understood—sleep is the lowest priority evolution. If you are not qualified to stand watch, you spend your time qualifying. If you are qualified to stand watch, you qualify the next watch. Between quarters, divisional training, departmental training, watch, cleaning stations, watch again, maintenance, and all the other demands of the chain of command, the day is filled to the top. Until recently, no one flinched at the thought of keeping a junior sailor up for more than 36 hours before graciously allowing him or her to hit the rack for a few hours.
I never will forget my first experience working 48 hours straight on maintenance, interrupted only by general quarters. Barely able to get out my words in the correct order, I asked my leading petty officer if I could hit the rack for a few hours. He begrudgingly granted permission, but I failed to notify the berthing petty officer (BPO). I awoke 20 minutes into my slumber to the BPO ripping my rack curtain open and screaming at me to get out of my rack and out of berthing. Startled and infuriated, I opted to stay awake another ten hours before crashing.
Throughout my career, I have tried to learn from those who have gone before. I have had some excellent leaders, and I have experienced poor leadership. After almost leaving the Navy as an unmotivated second class petty officer, I learned never to settle for "That's the way it's always been." My goal has been to take notes along the way and tell myself, "When you get into that position, do/don't do it the way they are doing it." Now, I am a leading chief petty officer and I refuse to overlook better ways of doing things.
I was introduced to the concept of circadian battle rhythms, or circadian watch rotations, while working as a senior enlisted leader. My former reactor officer, retired Captain John Cordle, defined the problem of sleep deprivation on warfighting ships and presented a plausible solution in the January 2013 Proceedings.
The article explained how many traditional shipboard watch rotations are written such that individuals stand a different watch and sleep at different times each day. A common surface watch rotation is five hours on/ten hours off. These rotations—and the resulting long periods of wakefulness—can disrupt the body's normal sleep cycle and cause both short- and long-term fatigue. Fatigue reduces alertness and has been shown to have similar effects on human performance as alcohol. Going without sleep for 24-36 hours results in the same degradation as a blood alcohol level of 0.08.
A circadian-based watch rotation conforms to a 24-hour work and rest schedule, allowing individuals to work, eat, and sleep at approximately the same time each day. When you combine the number of hours spent on watch and off watch (whether doing other work, eating, or sleeping), a circadian-based system will add up to 24 hours. One example is three hours on watch followed by nine hours of work, then three hours on watch followed by nine hours off for sleep. The system aligns with the naturally occurring 24-hour rhythm that drives all biological processes down to the cellular level. Research conducted by the Naval Postgraduate School over the past several years has demonstrated how a circadian-based watch schedule is superior to non-circadian in terms of sailor preference and crew performance.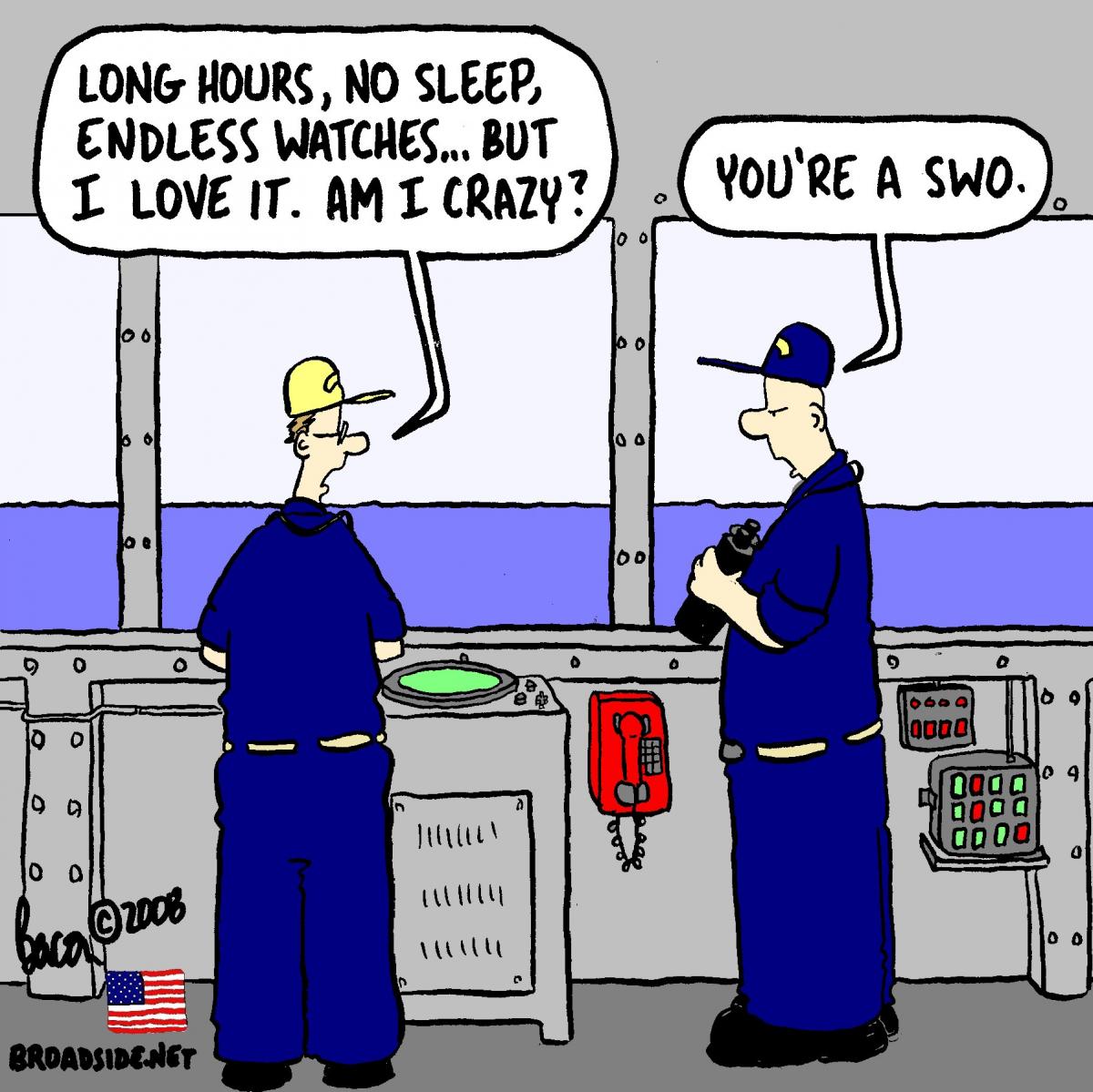 It was hearing Captain Cordle's personal stories about being drowsy on the bridge and the near-miss he had as a commanding officer that brought me back to the numerous times, as a junior (and sometimes senior) watchstander, that I was placed in a position where lack of sleep could have led to loss of life or damage to equipment. This drove my desire to implement the circadian watch rotation when I returned to sea.
Unfortunately, my proposal initially was rejected by my chain of command. I persisted, however, and the commanding officer eventually handed me the reins to implement the program.
Roughly following an implementation plan I learned in an undergrad change management course, I set out to change the world. I was immediately met with resistance. The aircraft carrier was not willing to shift to a circadian rotation. But with the support of our senior officer department head, we could devise a plan that placed the reactor department on a circadian watch rotation and then gain support from other departments.
To be completely honest, it was a pain. Sailors at all levels resisted. For every solution, it seemed five more problems presented. Working out the kinks in the schedule, getting the ship to minimize ship-wide announcements, and making sure everyone had an opportunity to eat all meals was the easy part. According to change management theory, a change agent should be able to present the problem, prove that the current method is not working, and build support for a better way of doing things. The problem was that everyone—including those most affected by the lack of sleep—had embraced living with the problem. They had accepted it and believed there was no other way.
Fortunately, with the continued backing of the reactor officer, we pressed forward. Then, an amazing thing happened. As sailors began to see the benefits of the circadian watch rotation, they began to see that better was possible. As we achieved a reduction in mistakes because of drowsiness and subsequent reduction in rework or corrective maintenance, they began to see the circadian rotation as integral to the safe operation of the propulsion plant. Most important, they began to see that their leaders were committed to making things better and that went a long way to shift the attitudes and commitment of our millennial generation sailors.
The lessons of our circadian watch rotation implementation are bigger than what was achieved in one department on one ship. The effort shows if leaders will shift their mind-sets to break away from "the way things have always been," we will leave the Navy better than we found it.
---
Senior Chief Holley is the surface nuclear chief petty officer detailer. His more than 20 years in the Navy include service with the USS Dwight D. Eisenhower (CVN-69), Navy Recruiting District Houston, the USS George H. W. Bush (CVN-77), the United States Naval Academy, and USS Ronald Reagan (CVN-76).  
Click Here For More From Proceedings Today