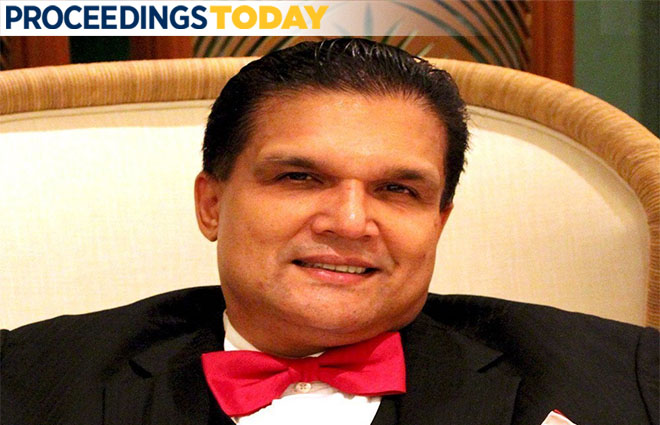 Imagine this: You are a Navy admiral, captain, or commander, sitting at home on the weekend or working at your desk, when the call comes that you are under investigation. With that phone call, your life and career are put on pause, possibly for several years; you just became part of the "lost generation" that resulted from the "Fat Leonard" (Leonard Glenn Francis, CEO and president of Glenn Defense Marine Asia) corruption scandal that hit the Navy with the same surprise and brute force that the 2017 hurricanes brought to San Juan, Puerto Rico.
Several naval officers have been jailed, and press releases report that more than 60 flag officers—and an unknown number of others, but by some counts more than 350 individuals—are under investigation. Let it be clear: Taking bribes in exchange for changing ship schedules, awarding contracts, or sharing classified information is criminal behavior and must be prosecuted to the full extent of the law—roughly 45 individuals thus far have been charged and several convicted. The decimation of the Navy's senior officer corps, however, goes far beyond those who have committed crimes and been convicted and is not limited to flag officers. Many officers whose names were on promotion lists or who were awaiting new orders were told not to report to work or lost security clearances (making it difficult to perform their jobs) simply because they were named as someone who might have met with Fat Leonard. Some officers were under suspicion simply because they were assigned to a ship that conducted a port visit where Fat Leonard hosted an event.  They have remained invisible, and their stories untold, as they sit and wait.
As the process drags on—often for months and, in some cases, years—these individuals find themselves in a "Catch-22" situation. After years of military service, naval officers develop faith in the fairness and equity of the system. For many, however, their faith has been shaken by a process in which they are told nothing while the clock ticks on their available years to serve on active duty—until they finally get the word, "You are cleared, but your promotion window has closed. Now retire." These individuals must decide whether to continue defending their reputations or to look to new careers. Some of these officers did not to wait for the Navy to determine their fates and retired; others had no time left on their "up-or-out" clock and had to retire based on statuary limitations.
The impact of this investigation, however, goes beyond individual officers named as "persons of interest." These naval professionals were experienced warfighters with operational backgrounds, many with incredible leadership skills, who now are not available to the Navy. As a result, key positions remained unfilled for long periods, leaving other officers in place much longer than planned and affecting their own careers. Living under a cloud of suspicion and of unknown duration makes it almost impossible for those under investigation to be effective in their jobs. Scores of superb officers who could have been leading at the next level have been sidelined, leaving gaps that will take years to fill and problems that will remain unsolved for even longer.
To be sure, this investigation may be without parallel in complexity and scope, and there are multiple layers involved, as well as connections that must be established before someone can be "cleared." Still, it is naïve to ignore that business relationships exist between civilians and Navy personnel and that sometimes these relationships are personal. Often, when a ship pulls into a foreign port, the contracts already are in place and approved at higher headquarters, with the assumption on the part of the operator that everything is in order. Equally concerning, the Navy has not pushed back and put perspective on this issue, or taken the time to fully address all the ethical issues that surround this case.  
In a perfect world, everything would be black and white, but that is not reality. In an arena where one contractor provides services to the Navy over a vast swath of the globe, many officers will encounter that contractor. In Fat Leonard's case, he actively sought contact with leaders to cultivate his dark business dealings. In many cases, those he cozied up to had no influence over anything he wanted, nor could they do any favors for him beyond giving him a cup of coffee or a ball cap. I am not minimizing the egregious deeds of a few, but there is a difference between having your picture taken with someone or going to dinner with no quid pro quo versus accepting prostitutes and show tickets in exchange for classified information.
The "accuse first" process of the Fat Leonard investigation has cast a wide net and has had a devastating impact on some excellent and innocent Navy officers, as well as serious unintended—and still unrealized—consequences for the Navy of the future. There is a saying that "opportunity makes thieves," but this should not apply to those in positions of trust. This event will leave a black mark on the Navy for the foreseeable future. Still, it is incumbent on the Navy to dig deep to address deficiencies in core values and develop meaningful lessons learned from this experience so nothing like it can happen again.
---
Captain Cordle retired from the Navy in 2013 after 30 years of service. His active-duty assignments included director of manpower and personnel for Commander, Naval Surface Forces Atlantic, and command of the USS Oscar Austin (DDG-79) and USS San Jacinto (CG-56). He is the 2010 recipient of the U.S. Navy League's Captain John Paul Jones Award for Inspirational Leadership.
For more great Proceedings content, click here.