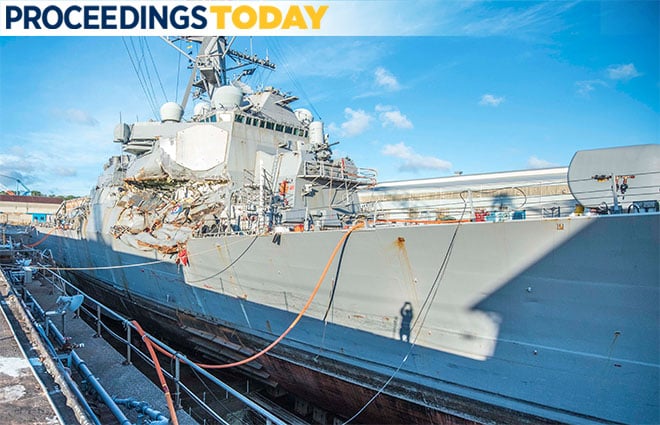 In the wake of the USS Fitzgerald (DDG-62) and USS John S. McCain (DDG-56) collisions, the Navy is conducting investigations, relieving commanding officers, conducting safety stand downs (operational pauses), and retraining. This is a similar response to past mishaps, but this time the Navy must include true root cause analysis.  Analysis after mishaps invariably uncovers human error and training deficiencies as causal factors. Some people get fired and others retrained. The Navy has begun to dig deeper with the CNO's mandate for a fleet-wide investigation last week. I predict some of the findings of root causes will include the Navy's approach to training and career development, surface warfare officer (SWO) culture, and high operational tempo (OpTempo) driving mission over people. 
When a junior officer (JO) reports to a warship, he or she immediately has three jobs: standing watch under instruction, running a division, and earning qualifications (first as an officer of the deck and then as a SWO).  Once qualified to be a watchstander, a JO is on the watch bill and expected to train the next batch of JOs. Depending on the number of qualified watchstanders on board, the watch rotation varies: "port and starboard" (6 hours on watch and 6 hours off); "five and dime" (5 hours on and 10 hours off watch, rotating); three or four section "chow to chow" rotating (based around mealtimes); "3 on/9 off" or "4 on/8 off" with two watches per day that do not change for a given underway. The "off" time is when a JO can accomplish day work, run the division, and work on qualifications—along with a little sleep and maybe squeeze in a run on the treadmill.
Watchstanders on a Navy warship are not just watchstanders. They are expected to do all of these jobs to meet the mission.  The result of that expectation is that the only variable that can "give" is recovery time: eating, sleeping, working out, etc.  The SWO culture is often described negatively. "SWOs eat their young" is a prevalent phrase, and this culture propagates through a "we had to do it the hard way, so all JOs should suffer like we did" mentality.  This culture leads to sleep deprivation being considered a badge of honor instead of a significant contributor to operational risk.  The Navy includes operational risk management (ORM) in every operational pre-brief done at sea, yet it overlooks a key risk every time, which is not accounting for sleep deprivation.      
The U.S. Navy appears to be the only maritime organization in the world that does not have dedicated watchstanders and separate dedicated professional tracks for deck and engineering. The merchant marine (commercial shipping and Military Sealift Command [MSC]) has licensed mariners who specialize in either deck or engineering, and merchant ships' crews are divided into watchstanders and dayworkers. That means a watchstander's primary focus is standing watch. The U.S. Coast Guard has deck and engineering tracks similar to the merchant marine, with a slightly different mix of watchstanding and day work, with minimum crew rest requirements built in its operations.
A Navy SWO is expected to learn both deck and engineering, then go to shore duty and learn how to be a staff officer and become proficient in joint operations. A SWO commanding officer is supposed to be the best shiphandler on his or her ship, yet commanders who reach that point in their careers often have been away from sea duty for four or more years before beginning their executive officer/commanding officer tour. The Navy expects its COs never to make mistakes, and if they do they are fired. This creates a risk-adverse environment, stacked against learning and improving. 
The Navy is unique in other ways. It is a warfighting force, and training and maintenance are the bedrocks that sustain its operations.  As OpTempo per ship increased over the past 20 years, officer and enlisted training was sacrificed to save money.  I was part of the first "SWOS in a box" class that was sent directly to a ship after commissioning—instead of getting intense surface warfare training at Surface Warfare Officer School. My first ship was the John S. McCain, where I served as the damage control assistant, and my learning environment consisted of on-the-job training while deployed during Operation Iraqi Freedom and computer-based training upon return. Computer-based training is not a substitute for real training evolutions. Conducting operations—the norm for Japan-based Forward Deployed Naval Forces—is also not training. JO SWOs need training evolutions where they can learn how to handle their ship in a safe and controlled environment. Proficiency in seamanship comes from practice. Repetition of the basics is vital. The lack of proficient watchstanders will likely be found as one of the root causes of the Fitzgerald and John S. McCain collisions.
Another root cause likely will be the alertness level of those watchstanders. Watch rotations vary greatly in the fleet, partly because of the variability in the number of qualified watchstanders and partly because of SWO culture. Many COs will direct the watches be run the way he or she experienced as a JO.  The vast majority of Navy ships still use rotating watches, which is completely against human circadian rhythms.  With rotating watches, everyone sleeps when they are off watch because they are in a constant state of exhaustion. Myriad sleep deprivation studies have proven that lack of sleep is cumulative. You can't "catch up" on sleep, and decision-making is impaired just like being under the influence of alcohol or drugs. Yet the Navy has not addressed watch rotations to maximize crew rest. Instead, it perpetuates a culture where lack of sleep is a rite of passage, and the main risk assessment tool does not account for crew rest.
I have stood every watch rotation mentioned earlier. By far, the best was the 3/9 or 4/8 (depending on number of watchstanders). With a 4/8 rotation, the watches were predictable, same time every day, and even when working the 0000-0400 and 1200-1600 I was able to sleep because my shipmates knew not to bother me after my second watch. The work of running my division happened between 0400 and 1200, with the exception of drills. With a set schedule, I could plan my work, rest, eat, and workout. Every time my ship got under way, the assigned watches changed, so everyone experienced watches and operations at different times of day and night. Out of all of the watch rotations I experienced, three-section chow-to-chow rotating was the worst, with a "full" night of sleep (5 hours at best) every three days. This schedule is doable for a week, but for months of underway time the lack of sleep accumulates and decision-making skills and reaction time are severely degraded as a result. Maintaining alertness for watches of six hours or longer becomes difficult, particularly on the midwatch. The Navy's surface fleet has no minimum crew rest requirements. Naval aviation does, regardless of OpTempo, as does the MSC, which cannot exceed specified overtime caps for safety reasons. 
The Navy must always balance accomplishing the mission and maintaining readiness. The spectrum of risks associated with ever-increasing OpTempo—especially in Seventh Fleet—must be communicated to all decision makers. As a warfighting force, we cannot eliminate risk, but SWOs must account for the risks present—to include proficiency and alertness of watchstanders.
As the Navy pauses to investigate and learn from the Fitzgerald and McCain incidents, it must look for root causes. The Navy takes pride in accomplishing its missions at all costs, but that may now be to its detriment as the costs are measured in the lives of our shipmates.
---
Lieutenant Commander Patterson is a surface warfare officer and selected reservist who serves as the officer-in-charge of Commander, Fleet Activities Chinhae Detachment 6 from Naval Operational Support Center, Kansas City, Missouri. As a civilian, she is a safety professional who has worked for the U.S. Coast Guard, the Military Sealift Command, and the Occupational Safety and Health Administration. 
---
Read More Proceedings Today analysis on the Fitzgerald and John S. McCain incidents here.