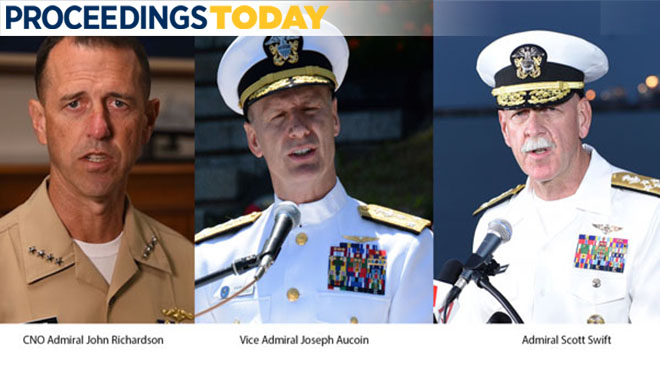 Chief of Naval Operations (CNO) Admiral John Richardson has ordered an "operational pause." Fleet commanders will meet with their respective commands to ensure "we're taking all appropriate actions to ensure safe and effective operations around the world." An "operational pause" is understood by all in the fleet to be a "stand-down," which is viewed, with cynicism by the Fleet.  Stand-downs are Band-Aids, at best, regardless of their intent. 
More interestingly, the CNO has also directed Admiral Phil Davidson, Commander, U.S. Fleet Forces Command, to take charge of an investigation intended to examine the process by which the Navy trains and certifies the Forward Deployed Naval Forces (FDNF) in Japan. Is everything being done to ensure these suddenly accident-prone ships are ready for operations and warfighting? This investigation will include, but is not limited to, looking at the ships, operational tempo, personnel, material, maintenance, and equipment. Further, it will review how we train and certify the surface warfare community, to include tactical and navigational proficiency.
At the same time, Admiral Scott Swift, Commander, U.S. Pacific Fleet, has moved out on this front. On 23 August Admiral Swift relieved Vice Admiral Joseph Aucoin, Commander Seventh Fleet. In addition, Admiral Swift expanded on the CNO's investigation. He placed both Seventh and Third Fleets under the microscope. Moreover, he has called for a "deliberate reset" for all ships in the Pacific Fleet to focus on navigation, mechanical systems, and bridge manning.
Admiral Swift's sudden firing of Vice Admiral Aucoin can only be described as remarkable. Between the USS John S. McCain (DDG-58)/USS Fitzgerald (DDG-62) and Seventh Fleet is a chain-of-command that includes both a destroyer squadron commander and a strike force commander. Both of these commanders are far more intimately involved in the daily operations of these ships than is Commander, Seventh Fleet. How did these officers escape being relieved? While it is certainly true that Seventh Fleet bears responsibility, if you simply want to go to the top of the chain of responsibility, you will find persons like Admiral Swift who "owns" Seventh Fleet, Admiral Davidson who owns the deployment of ships to the various Fleets, and Commander, Surface Forces, Vice Admiral Tom Rowden, who is responsible for all surface ships.
As for these multiple new investigations, while perhaps necessary, there is no secret about what's wrong. In 2010 Vice Admiral Phil Balisle was tasked to investigate the state of the surface force. The report clearly spelled out that training was poor, at every level; the material condition of ships was in decline; and the operational tempo for ships was crushing and prevented serious maintenance, even if funding existed (and it did not) to pay for repairs. If the "Balisle Report" had been acted on the Navy likely would not be where it is today.
With regard to the necessity of these new investigations, it reminds us of Captain Louis Renault in the movie Casablanca who exclaimed, "I am shocked…shocked to find that gambling is going on in here!
Still, Admiral Richardson's directives are courageous because new and unpleasant truths will be "discovered." Beyond those specified by Vice Admiral Balisle, it will also be disclosed that FDNF ships are held to a completely different standard than is the remainder of the Fleet.  The fact is that the operational tempo required of Seventh Fleet ships is extraordinary and sustained. The ships are too few in number and in great demand. Because they are so needed at sea, they have been given something of a pass when it comes to the most routine inspections. The known truth is that every day, these ships have gotten under way with casualties that would have kept U.S.-based ships welded to the pier pending voyage repairs.
Regardless, it must also be said that Admirals Davidson and Swift may be the wrong men to lead this effort.  While both are much admired and respected, they are, simply put, too "in" the problem.  Also, they both have at least a perceived interest in protecting the Navy's reputation.  Find an independent expert. One is who retired and knows. Find another Balisle.
---
Captain Eyer served in seven cruisers, commanding three Aegis cruisers: the USS Thomas S. Gates (CG-51), Shiloh (CG-67), and Chancellorsville (CG-62).
Editor's Note: Part I of this feature was published Wednesday, August 23, on Proceedings Today. Part III of this feature will be published Tuesday, August 29, On Proceedings Today.