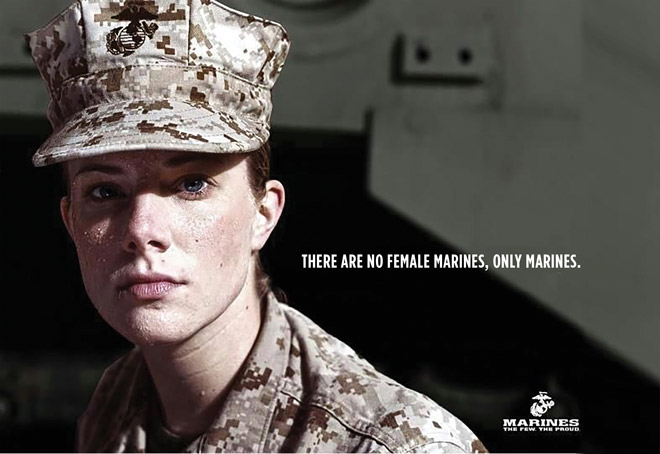 On 4 March 2017, it was revealed that a secret Facebook group, "Marines United," had shared thousands of photos of female service members and veterans. This revelation rocked the social media world, and the op-eds quickly followed. Noticeably, the op-eds disparaging the event and calling on a strong response from Marine Corps leadership were from the usual cast of characters.
For the past few years, there has been a group of female former Marines who have been outspoken in the press about gender bias and the importance of fully integrating women for national security. Predictably, we took to our keyboards, the airwaves, and the cable news shows to decry these events, point out the failures of leadership that led to the scandal, and offer suggestions for creating a more inclusive culture.
For those of us engaged daily with gender integration, these talking points have become as familiar as our names. As have been the repercussions of the culture of toxic masculinity to our daily lives. Upon speaking out about this most recent scandal, active-duty Marines took to Facebook to call me a "barracks rat," and continued to discuss whether they would want to "smash" me based on photos they found of me online.
The prevalence of sexual-based abuse and gendered degradation is all-too common. The scope and extent of this particular scandal—reportedly as many as 30,000 current and former Marines were members of Marines United—have raised the plight known to many female Marines to a national level.
Most of the attention resulting from this scandal has focused on the cultural problems of the Marine Corps; how hyper-masculinity is harmful to Marines. Honor, courage, and commitment are the core values of the Corps. Adherence to these values is not easy, which is why the Marines always prided themselves on being "The Few, The Proud, The Marines." A deeper evaluation of these values, particularly in relation to the Marines United scandal, highlights that there are too few male Marines who are proud to serve along with female Marines.
It is clear those actively involved in posting on Marines United lacked honor, courage, or commitment. The fact that only one of the 30,000 honored the Marines' core values and raised alarms that something going on was not right is troubling enough. The fact that the majority of the Corps has been silent, or largely delayed, in condemning this behavior in the wake of this scandal is more telling.
On Tuesday, 7 March, more than 72 hours after Marine Corps veteran Thomas Brennan revealed the Marines United scandal, Commandant of the Marine Corps General Robert B. Neller released a videotaped statement condemning the actions. He used appropriately strong language to condemn the degradation of Marines by Marines. His comments came surprisingly late. That it took him nearly three days to issue a condemnation of these actions sends a strong message to those harassed or degraded: I will send a strong message after my staff and I agonize on what to say. Similarly, there has been little-to-no response from either active-duty or former male Marine staff noncommissioned officers (SNCOs) or officers. Their silence sends an additional message: female Marines, you are not a priority.
When General Neller did speak, he called on Marines who had experienced harassment or degradation to report it to their chain of command. That chain of command is comprised primarily of male Marine NCOs, SNCOs, and officers. For the chain of command to be effective in combating harms that are detrimental to the Corps, female Marines must feel willing and able to trust them with what are often very intimate and embarrassing details of the events that transpired. The silence of male Marine leaders in the face of Marines United sends a message to young female Marines that their chain of command is not willing to fight for them with the same ferocity as it does their brothers.
While I will fight with my dying breath for my Marine sisters, the voices of female Marines alone will not solve this problem. To stop events like this Marines United caper—that have negative effects not only on the women impacted, but also on the strength of the Corps and, in turn, our national security—male Marines need to take the lead in policing and condemning their own. They must take responsibility and create an environment where all Marines, regardless of gender, know they are valued for their warfighting ability, not the pronouns they use to identify themselves. The Marines must restore their mantle of being "The Few, The Proud."
Kyleanne Hunter is a Marine Corps veteran. She served as an AH-1W Super Copra pilot on multiple combat deployments and as Marine Corps Liaison Officer to the House of Representatives. She is a PhD candidate at the University of Denver's Korbel School of International Relations.