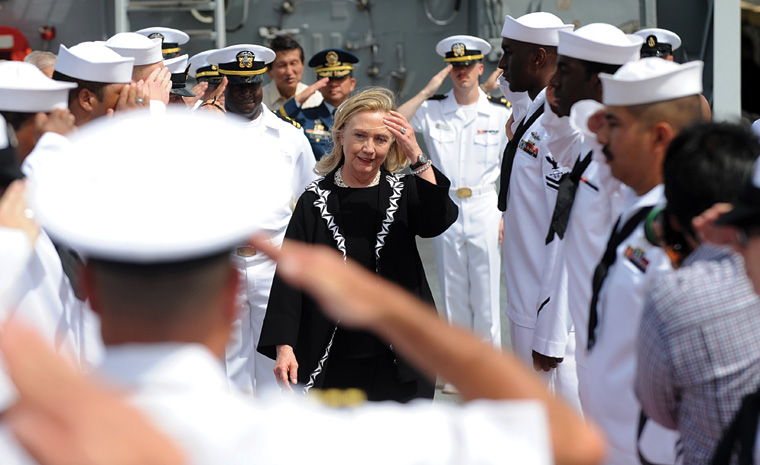 The Clinton email saga will provide grist for the politicians, pundits, and tabloids for a long time to come. But the immediate impact will be ever-more-shrill charges and countercharges as the election cycle winds down, with pro-Hillary and anti-Hillary camps "spinning" the facts to suit their political beliefs.
From the perspective of some, Mrs. Clinton deliberately set up a private email server to ensure her emails remained private and not a matter of public record and then used this unprotected server to send and receive official messages, some of which were highly classified. Clinton apologists will respond that it was all an innocent mistake and she has admitted that, so let's move on. There is no proof her computer was hacked, so there is no proof any of the classified emails were compromised. Thus, there is no reason to be concerned over what FBI Director James Comey characterized as Mrs. Clinton's "extremely careless" handling of classified material.
There are, however, a number of reasons to be concerned. Most important, anyone who believes the Russians (and probably others) were not reading the emails of the U.S. Secretary of State is hopelessly naïve. According to the press, some of these emails contained sensitive intelligence, to include identification of sources. If this is true, it is very serious.
This notwithstanding, Comey's decision not to bring charges is understandable. No compelling evidence of intent to mishandle or compromise classified material could be found, and the statute covering negligence and malfeasance in government is too vague to obtain a conviction. In announcing his recommendation, however, Comey cited a "bill of particulars" against Mrs. Clinton that almost amounted to a "bill of indictment," but intent could not be proved. For years into the future, people accused of mishandling classified information will be using the "Clinton Defense."
Were Mrs. Clinton still a government employee, administrative actions could be taken against her, to include the loss of clearances and possibly termination. But she is no longer a government official, and no action of any kind is likely to be taken.
All of this calls into question the integrity and workability of the clearance/classification system. The Clinton case—plus the cases of egregious mishandling of classified information by CIA Director John Deutsch, National Security Advisor Sandy Berger, and other past government officials who either received a slap on the wrist or no punishment whatever—leaves the appearance that political elites are not subject to the same rules as the rank-and-file and need not live up to the security oaths they sign. Other government employees will be held to the letter of the law, sometimes applied in what appears to be an arbitrary and capricious fashion. Recent examples here include the Navy reservist who was punished for accidentally possessing classified material on a personal thumb drive and a Marine in Afghanistan who used his personal email to warn his comrades of danger.
Sadly, the classification/clearance system also has been used for punishment, intimidation, and political expediency when no mishandling of classified information was involved. For example, several Navy flag officers have been denied security access because the Department of Justice cited them as persons of interest (not suspects) in the "Fat Leonard" investigation, which has been dragging on for more than three years. These men have not been charged with any crimes, and there was no reason to believe they posed any risk to the handling of classified information. It would appear a decision was made to deny them access—thereby humiliating and embarrassing them—so the Navy could be seen as "doing something" in the Fat Leonard case. This is a clear abuse of the clearance process.
The final damage done to the Navy by the Clinton email case also is related to Fat Leonard but is more indirect. The FBI and Department of Justice are said to have employed "hundreds" of agents/attorneys for more than a year to work the Clinton email case. Yet, after three years, hundreds of naval officers remain designated persons of interest in the Fat Leonard case, with the Department of Justice apparently too busy to make any decisions regarding charging them or clearing their names. Now that the Clinton email case is concluded, it can be hoped that the Secretaries of the Navy and Defense will apply pressure on the Attorney General to expeditiously review the persons of interest and remove the stigma from fine officers who are guilty of no wrongdoing.
The weaknesses and flaws in the rules governing clearances and the handling of classified information that have been highlighted by the Clinton case need to be examined and fixed. Perhaps the next administration will recognize this and establish a mechanism to restore confidence in the integrity of the system.
---
Rear Admiral Brooks served as Director of Naval Intelligence from 1988 to 1991. In 1995 he was appointed by President Bill Clinton to the Security Policy Advisory Board and in 1999 to the Joint Security Commission.