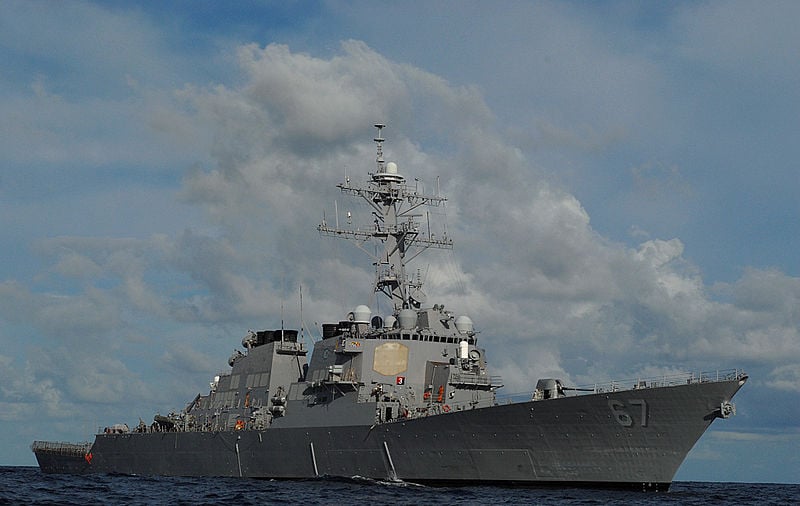 Recently we did something for the first time in my short naval career that truly made a difference. We supported the USS Cole (DDG-67) and her crew after the terrorist attack in Aden, Yemen.
I want all to know that what you have seen on CNN does not scratch the surface of the damage and suffering. I am not going to get into it for obvious reasons. But I will report that 240 or so sailors lived a hell on earth. You cannot imagine the conditions they lived in, and yet they fought 24 hours a day to save their ship and to free the bodies of those shipmates still trapped and send them home. As bad as it was, the Cole's sailors did an incredible job.
I flew a mission to photograph the ship and surrounding area. It looked much worse than I had imagined, with debris and disarray everywhere, the ship listing, the hole in her side. I wish that I could better describe what I saw and felt. I will forever remember the first thing that jumped out at me—the Stars and Stripes flying. Even in this godforsaken hellhole, our flag was more beautiful than words can describe.
Then I started to notice the activity going on below, scores of people working nonstop in 90° plus weather to save this ship. They did it with almost no electrical power, and they slept (when they could) outside on the decks because they could not stand the smell or the heat or the darkness inside. They only wanted to eat what we brought to them because they did not want anything brought by the local vendors. Still, with all that, the Cole and her crew sent a powerful message: even acts of cowardice and hate can do nothing to the spirit and pride of the United States.
I have never been more proud of what I do or of the men and women with whom I serve.
---
The Cole is Attacked
By a Navy Petty Officer
We had stopped in Aden, Yemen, to gas our ship. It was approximately 1115, and another sailor had just stopped in my office to see if I was ready to go to lunch. We were standing there talking when, out of the blue, we heard and felt this tremendous explosion. We took off running to our General Quarters (GQ) stations, but there was no alarm and no one was saying anything on the 1MC. People were running everywhere wondering what in the world had happened to our ship.
There were people covered in blood and this black stuff like oil or something. Only one person was screaming. The place filled with smoke immediately. We were trying to get organized, wondering where to go, what to do, and trying to calm others and task them with something to do. 
We still did not know what had happened. We had a hard time breathing. Then people started coming from the mess decks, injured. We were trying to get the injured into some areas out of the way and to administer first aid. The injured had feet barely hanging on, legs mengled and in weird positions, internal injuries, amputations, broken jaws, cuts, and bruises. The hardest part for me was not knowing what to do medically; all I could do was offer comfort and give oxygen. 
In the meantime, the ship was flooding and dead in the water with no power. Later, I went with several others to the galley area to apply aqueous film-forming foam into the cavernous area because we were also losing our fuel, and we did not want a fire. How we avoided one to begin with is a mystery to everyone. 
I have never seen such a horrible sight. Everything was blown toward the starboard side and mangled. There were people pinned against the walls, body parts under the metal. Still, very few people cried. 
That night we attempted to sleep outside on the filthy, bumpy deck, but most people could not sleep. Some electrical power came on and went off. The engineers worked non-stop to try to keep our one operational generator running. 
---
Editor's Note: Proceedings has received a variety of emails about the attack on the USS Cole (DDG-67). We reproduce these two samples that were circulated anonymously.