Displaying 1 - 3 of 3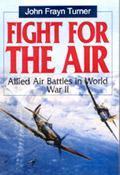 Fight for the Air
Allied Air Battles in World War II
This epic air story of World War II is a powerful, poignant cross-section of the global air conflict from the perspective of British and American pilots. The author artfully weaves the historical backdrop with the pilots' accounts of one-on-one dogfights, dangerous bombing missions, and narrow escapes. Whether recounting the dark days of the Battle of Britain or the far-flung operations ...
Available Formats:
Hardcover
The Co-Vans
U.S. Marine Advisors in Vietnam
Foreword by Edwin Howard Simmons
Depending upon where and when they served, Americans had vastly different experiences in the Vietnam War. Among the more unique experiences were those of the advisors who worked closely with their Vietnamese counterparts, sharing the dangers, privations, local politics, tactical victories, and ultimate defeat as part of the long saga of the Vietnam War. U.S ...
Available Formats:
Hardcover