Displaying 1 - 3 of 3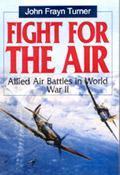 Fight for the Air
Allied Air Battles in World War II
This epic air story of World War II is a powerful, poignant cross-section of the global air conflict from the perspective of British and American pilots. The author artfully weaves the historical backdrop with the pilots' accounts of one-on-one dogfights, dangerous bombing missions, and narrow escapes. Whether recounting the dark days of the Battle of Britain or the far-flung operations ...
Available Formats:
Hardcover
Rigging Period Ship Models
A Step-by-Step Guide to the Intracacies of Square-Rig
The rigging of period ship models is arguably the most complex and daunting task for the modeler. An eighteenth-century man-of-war boasted mile upon mile of rigging, over 1,000 blocks, and acres of canvas. To reduce the rigging in scale and yet retain an accurate representation is a formidable undertaking. After studying numerous eighteenth-century museum models, the author has drawn some ...
Available Formats:
Hardcover