The carrier made its first sea trials in August 2011, thus completing an incredible 26-year gestation period, surely one of the longest for any warship. It officially joined the PLAN in September 2012, having be renamed Liaoning and assigned the hull number 16. China's navy thus has gained its first aircraft carrier, a dream of many PLAN officers since at least the late 1970s. The navy will almost certainly dedicate the ship primarily to training naval aviators and shipboard operating personnel to man the additional carriers that China will build.
Future Airwings
Liaoning began operating aircraft during the latter part of its sea trials, and officially first conducted flight operations in mid-November 2012, when two J-15 fighters were filmed launching from and landing on the ship.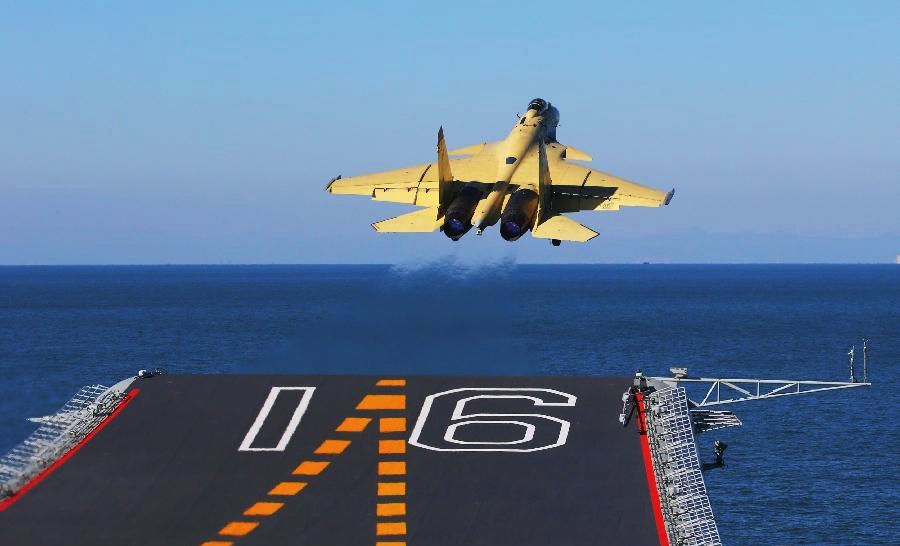 The PLAN's J-15 fighter jet takes off from Liaoning in this undated photo. Xinhua News Agency Photo
Liaoning has a ski-jump bow, rather than catapults, but does use arresting cables when recovering aircraft. The J-15 is a Chinese version of the Russian-designed SU-33 aircraft, equipped with the heavier landing gear, tailhook, and folding wings required for carrier operations. The PLAN may field a carrier-able China's new stealth aircraft, the J-31.
Liaoning 's airwing likely will also include Russian-designed Ka-25 and indigenously produced Z-9 helicopters; an airborne early warning and control aircraft, perhaps similar to the U.S. E-2 Hawkeye also appears to be under development.
A PLAN Carrier Strike Group
The PLAN acquired the necessary escort for an aircraft carrier only within the past five years. The Luyang II -class guided-missile destroyers, apparently equipped with an Aegis-type system, are the first Chinese warships capable of the area anti-air warfare (AAW) mission vital to defending Liaoning . Luzhou - and Luyang I -class DDGs and Jiangka i-class guided missiles also offer capabilities suitable for a carrier battle group.
If the PLAN includes submarines in its nominal battle group, the Type-93 Shang -class nuclear attack submarine (SSN) may be suitable, although that class's termination after only two boats were launched indicates that China has decided instead to build the newer Type-95 SSN. Finally, China has begun building capable replenishment-at-sea ("unrep") ships, although only two have been available since 2005, thus doing "port and starboard" duty in support of the naval task groups that have continually deployed to the Gulf of Aden on counterpiracy operations since December 2008. A new class of unrep ships reportedly is under construction.
Chinese carrier operations are at a first step, of course, and will require years of training and experience before posing a significant operational capability. Liaoning serves as a very significant signal of China's determination to deploy a traditional navy able to operate at distance from its homeland. The ship joins the relatively new LPD-class and hospital ship as signs of that determination.
Strategically, Liaoning 's commissioning and first publicized flight operations mark an impressive achievement and already have increased the PLAN's weight as a force in East Asian waters. The nations of the region now face a potentially unfriendly navy that is able to put air power to sea.
Bernard D. Cole teaches Sino-American Relations and Maritime Strategy at the National Defense University and is a retired U.S. Navy officer.