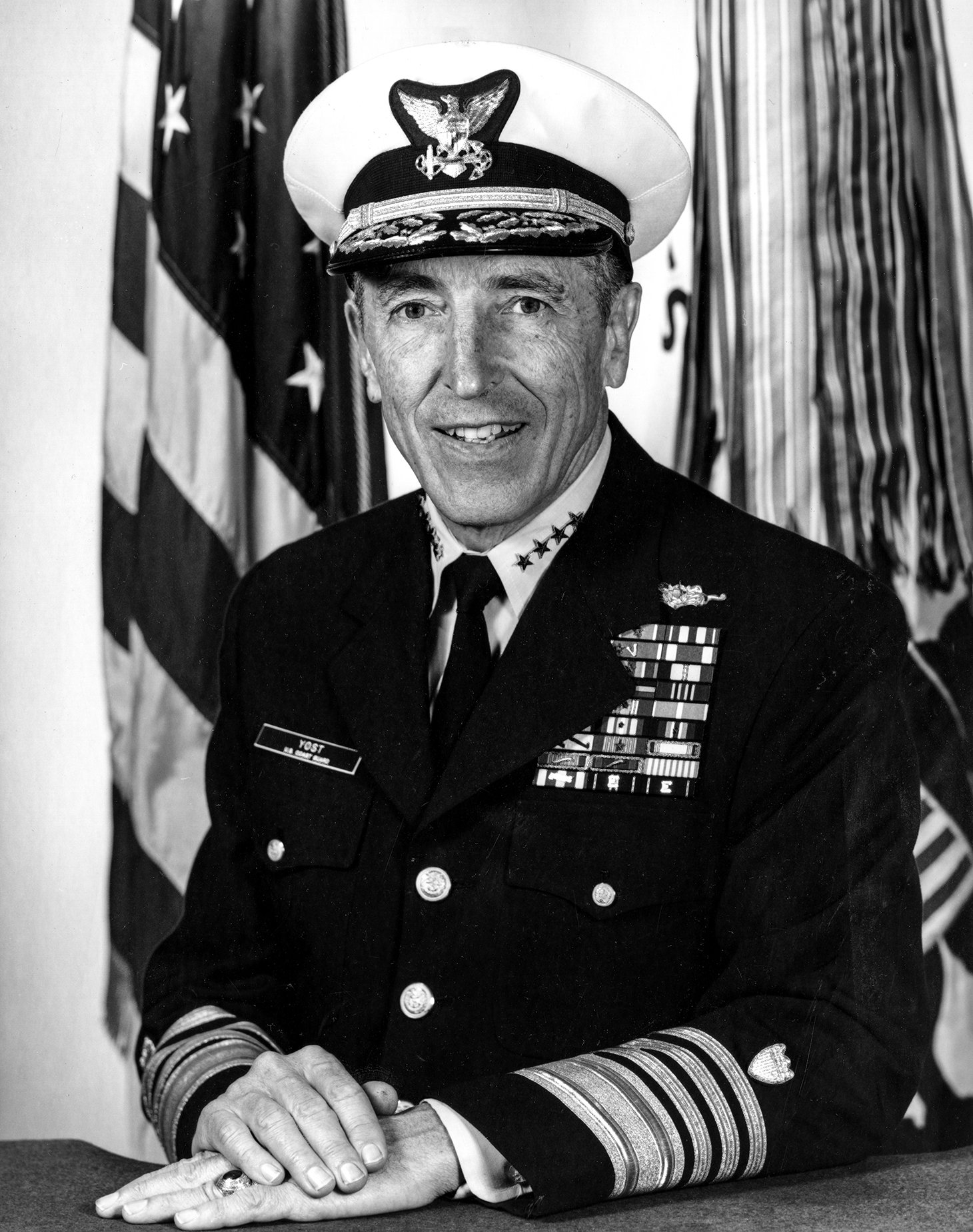 Yost, Paul A. Jr., Adm., USCG (Ret.)
(1929–)
This is a lively, candid, informative memoir from the officer who served as Commandant of the Coast Guard from 1986 to 1990. After growing up in Indiana and Florida, he went to prep school in Washington, D.C., shortly after World War II and graduated from the Coast Guard Academy in 1951. On graduation he married Jan Worth and then served 1951-52 in the cutter USCGC Iroquois (WPG-43). During that tour of duty the Yosts became Mormons, a factor that was to play a large part in their lives. The next two tours of duty were in Guam, 1952-55, first as watch officer at the Coast Guard rescue coordination center in Guam, then in the troubled buoy tender USCGC Ironwood (WAGL-297).
Yost was a Coast Guard Academy instructor, coach, and company officer, 1955-59, then commanded the cutter USCGC Agassiz (WSC-126), 1959-61. In 1961-63 he was chief of the Nuclear Effects Branch in Coast Guard Headquarters and spent the following year as a student at the Naval War College. He served 1964-66 in the 12th Coast Guard District office in San Francisco and was first commanding officer of the cutter USCGC Resolute (WMEC-620), 1966-68. In 1969-70 Yost served as part of the Naval command structure in country in Vietnam.
He commanded riverine attacks as part of Operation Market Time and later commanded the Sea Float Barge at old Nam Can. Back in the States, he was chief of the Bridge Division at Coast Guard Headquarters, 1970-72, and served 1972-74 on Law of the Sea issues. Next he was Captain of the Port office in Seattle, followed by various billets on the staff of Rear Admiral John Hayes, Commander 17th Coast Guard District in Alaska, 1975-78.
Yost's first flag assignment was as Commander Eighth Coast Guard District in New Orleans, 1978-81. Subsequently he was Chief of Staff, Coast Guard Headquarters, 1981-84; Commander Atlantic Area, 1984-86, and eventually Commandant. In 1990 he became president of the James Madison Foundation. Key events during the 1980s for Yost were the war against drug smuggling, development of Maritime Defense Zones, emphasis on the Coast Guard as a military service, budget struggles, and overseeing oil pollution cleanup after the grounding of the tanker Exxon Valdez in 1989.
Volume Information
Based on 11 interviews conducted by Paul Stillwell from May 2001 to November 2001. The volume contains 587 pages of interview transcript plus an index and photos. The transcript is copyright 2004 by the U.S. Naval Institute; the interviewee has placed no restrictions on its use.