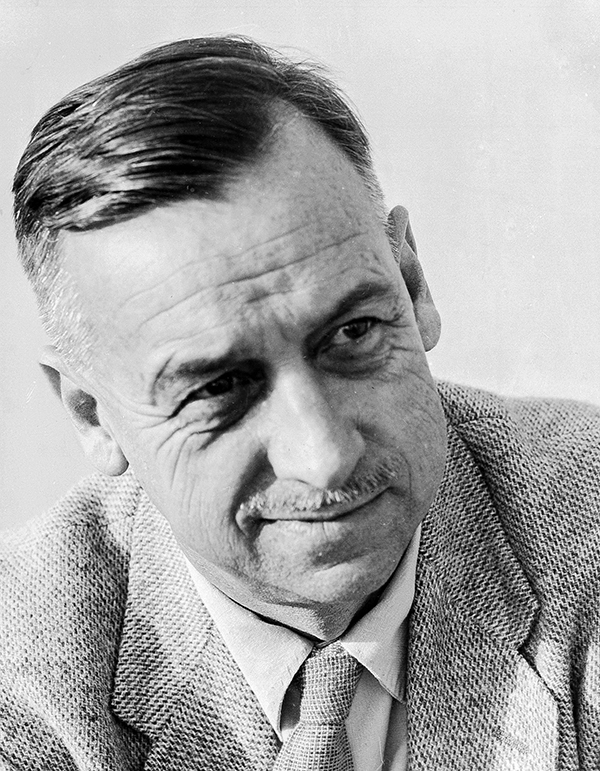 van Deurs, George, Rear Adm., USN (Ret.)
(1901–1984)
Designated a naval aviator in 1924, Admiral Van Deurs served as a pilot with Torpedo Squadron Four, then Observation Squadron Three, the first squadron to operate regularly from catapults, based in the USS Memphis (CL-13). After four months with Observation Squadron One, he served as flight instructor, later test pilot, at Naval Air Station Pensacola. In 1929 he reported to the Asiatic Station and had three years' duty in Scouting Squadron Eight, based in the USS Jason (AV-2), with temporary additional duty as aviator observer at Singapore and in the Netherlands East Indies. Returning from the Far East in 1932, he served as test pilot at Naval Air Station San Diego. He then was flight officer of Scouting Squadron One, based in the USS Ranger (CV-4), and additionally CO of the experimental Cold Weather Test Detachment of planes in that ship. His account of his duty in the USS Saratoga (CV-3) completes Volume I.
Volume II takes up his career with his assignment to Naval Air Station Norfolk. He was then CO of Patrol Squadron 23 at Pearl Harbor. He was superintendent of Naval Air Station Corpus Christi and handled rapid expansion of training occasioned by the outbreak of World War II. In 1943 he became Chief of Staff, Commander Air Force, South Pacific, contributing to operations in New Georgia and Bougainville. He then had duty as CO of the USS Chenango (CVE-28), providing air support for seizure of Morotai and Leyte. In 1945 he served as chief of staff to Commander, Battleship Squadron One on board the USS Tennessee (BB-43), participating in bombardment of Okinawa. After the war he was Commander Task Force Group 55.2 and Commander Naval Forces, Kyushu, Japan, during the occupation. In 1947 he was CO of the USS Philippine Sea (CV-47) and then, until his retirement in 1951, served in aviation planning with the Chief of Naval Operations.
Transcripts of this oral history are available in many formats including bound volumes, and digital copies.
Order Oral History
Volume I
In this excerpt from his first interview with Etta-Belle Kitchen (Commander Kitchen's very first interview for the Naval Institute Oral History Program), Admiral van Deurs talks about earning his wings at NAS Penasacola as a lieutenant (junior grade) in 1924.
Admiral van Deurs: I started out in an N-9 which was a training plane that Curtiss and Dick Richardson had put together in 1916. It was single float seaplane, with a fuselage very much like a Jenny, the old land plane trainer. The wings were a little bigger and it had a float under it. It wasn't too bad with the engines they had in them then. The original engine they had during the war was a 100 horsepower Curtiss OX that was very much underpowered
Commander Kitchen: Which war?
Admiral van Deurs: That was World War I. By the time I got there they had a Hispano-Suiza engine that gave it about 150 horses, and they still had a margin of about 5 knots between full speed and falling. You had to hold the speed just right.
Commander Kitchen: Will you explain that?
Admiral van Deurs: Well, in an airplane you have to have flying speed to stay in the air. If you don't have flying speed, you're falling. The difference between full flying speed and stalling on those things was about 5 knots.
The instructor rode the front seat, the student rode the back seat where he had no instruments except a tachometer and an oil pressure gauge. Anybody that needed instruments to fly by in those days was considered unsafe. As a matter of fact, "instrument flier" was a term of contempt, you just didn't ride with one.
Commander Kitchen: And of course night flying —
Admiral van Deurs: Night flying you did when there was enough starlight or moonlight to see something, but you didn't fly in a fog. You had to learn the feel of the things. It was unstable. If a wing went down you had to pick it up. Same with the nose. There was no inherent stability in the plane. You had to keep within that 5 mile speed and keep it from slipping or skidding.
Commander Kitchen: Was it exciting?
Admiral van Deurs: Well, it required a bit of attention. It sounded simple. The instructor took you out and rode you around the bay and said, "Now you try it, fly straight down the bay."
You had a crash helmet on that had speaking tubes in the ears and a flexible tube that went up to the instructor and he had a canvas mouth piece so he could yell in to your ears, but it was purely one-way. You couldn't tell him anything.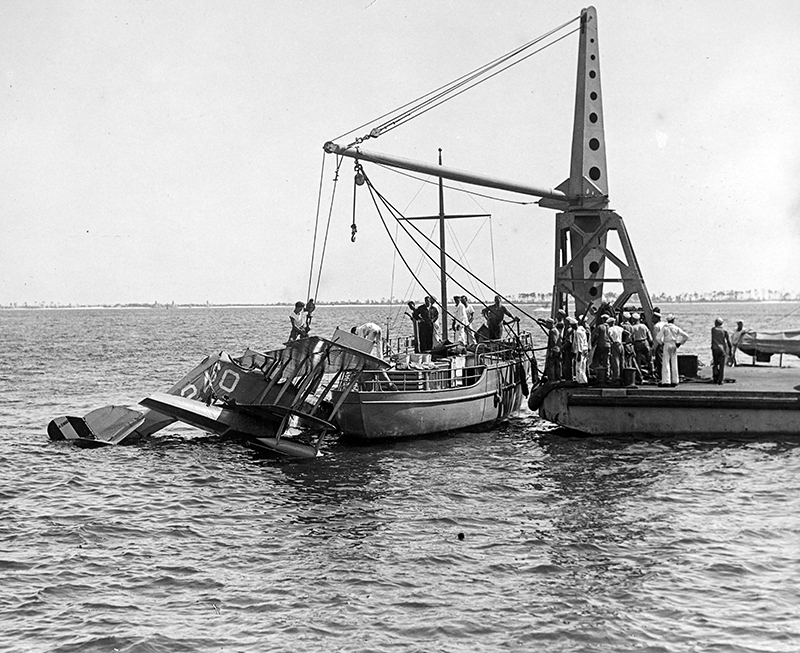 We went around the bay, with him saying — your left wing is low, pick up your right wing, don't dive, your nose is too high — that went on for three-quarters of an hour, and by that time you were pretty well pooped. Actually, that was about all you could take to start out with. You had to get enough to solo within 10 hours, after about 10 hours of instruction. When your instructor thought you were ready, he'd put you up for a solo check. If you didn't pass the solo check in 10 hours, you might by grace of the academic board get an extra three. If you didn't make it on that, you were out, back to sea.
One of the first things your instructor did was to put the plane in a spin and bring it out, to show you what it felt like, because if you stalled the thing, it spun right now. If you lost that 5 knots with the nose up, why the wing would whip down and you were in a spin, and if you didn't know how to come out, it could be fatal. So that was practically the first instruction you got. The instructor talking through this mouthpiece would put the plane in and bring it out, "See, this is the way it is, just pull the nose up, it's stalling, the wing will fall off in a minute — there she goes, now, let it go 'round once, let it go 'round twice, now put the controls forward, kick the opposite rudder — it straightens out. Now it's in a dive, pull it out and we're flying."
That was easy. One classmate there, little bit of a bird named Hanson, an ex-blue jacket, kind of an anemic looking little bird, had a great big instructor named Joe Finch, built like a barrel-chested bull, big husky guy. Well, after a couple of hours of instruction, Hanson let this thing get into a spin on him, and he froze at the controls, that is — he yanked the wheel back to his chest and hung onto it just scared to death. Finch had been sitting with his arms crossed on his chest, and the wheel came back in the front cockpit where there wasn't much room, and jammed his arm so he couldn't get loose.
He whooped and yelled, at Hanson and struggled to get loose and push the wheel forward. He couldn't do it. They spun in. Everybody kidded Joe Finch for letting a little bit of a guy like that spin him in, but it was just the extra strength of terror.
Commander Kitchen: They went in the water?
Admiral van Deurs: They landed in the water of the bay, and when they hit this wheel just cushioned Finch. He didn't get hurt at all. He just rode the wheel forward. The little guy in the back seat was still handing onto the wheel and he went right through into the forward cockpit. Those planes were made of wood and fabric and the fuselage was braced with crosswires like piano wire. Those crosswires carved Hanson's shins all to pieces. He was in the hospital for months before they got his legs back in shape. But he never got another chance to fly. After freezing on the controls, he was finished.
About Volume II
Based on two interviews conducted by Etta-Belle Kitchen in October 1969, the volume contains 278 pages of interview transcript plus an index. The transcript is copyright 1974 by the U.S. Naval Institute; the interviewee placed no restrictions on its use.
About Volume I
Based on three interviews conducted by Commander Etta-Belle Kitchen, U.S. Navy (Ret.) from June through October 1969, the volume contains 334 pages of interview transcript plus an index. The transcript is copyright 1974 by the U.S. Naval Institute; the interviewee placed no restrictions on its use.