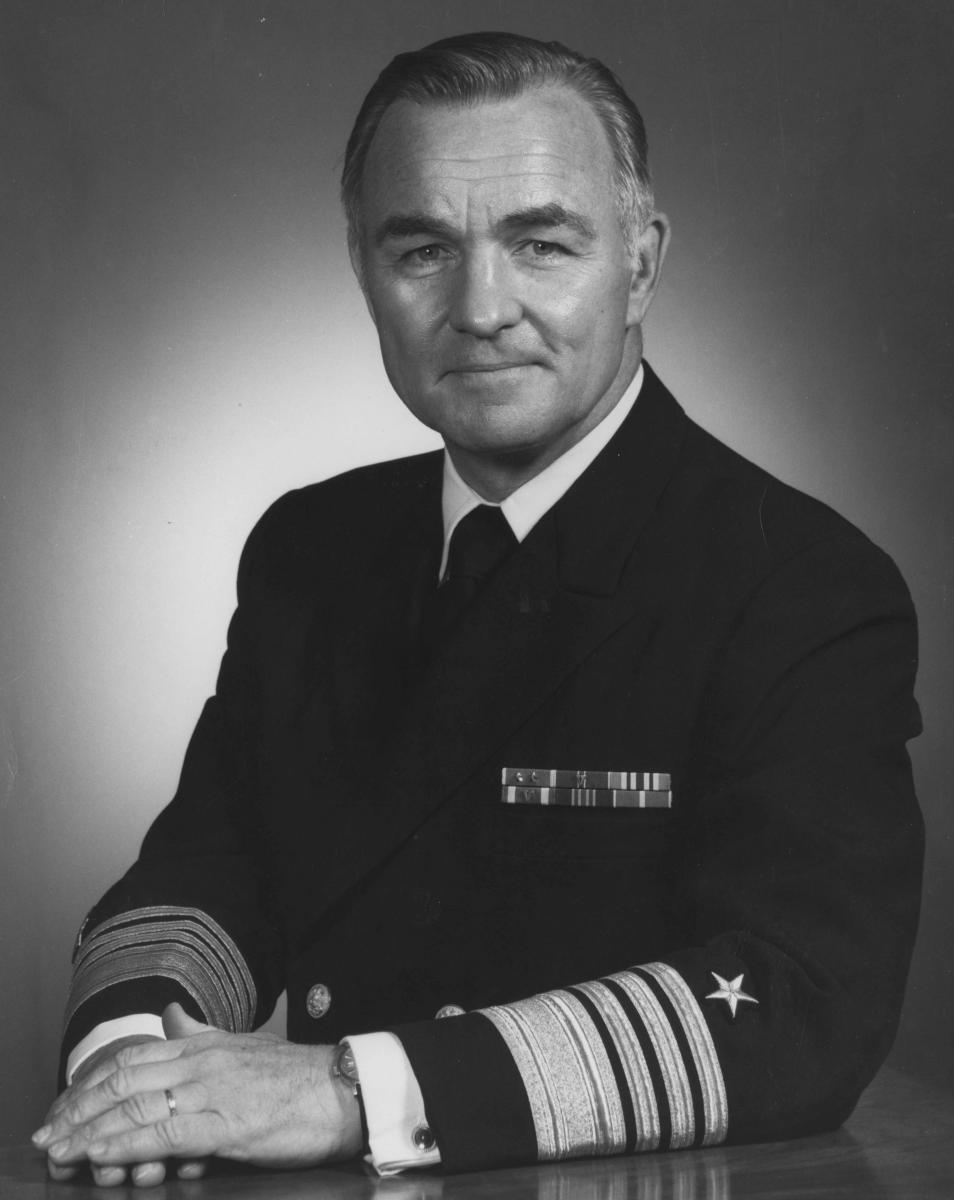 Turner, Stansfield, Adm., USN (Ret.)
(1923–2018)
After growing up in the Chicago area, Turner spent a year at Amherst College prior to entering the U.S. Naval Academy in 1943. His class of 1947 graduated a year early because the academy's curriculum was shortened in World War II.  After brief service in the escort carrier USS Palau (CVE-122) and the light cruiser USS Dayton (CL-105), he was at Oxford University in England from 1947 to 1950 as a Rhodes Scholar. Subsequent duties included: 1950-51 as gunnery officer of the destroyer USS Stribling (DD-867); 1951-52 as aide to the CinCNELM/CinCSouth chief of staff, Rear Admiral Murray Stokes; 1952-53 as operations officer of the destroyer Hanson (DD-832); 1953-54 as aide to Commander Destroyer Flotilla Six; 1954-56 in OP-61, the Politico-Military Division of OpNav. From 1956 to 1958 Turner commanded the ocean minesweeper USS Conquest (MSO-488); was on the Pacific Command (CinCPac) staff from 1958 to 1960; and served as executive officer of the destroyer USS Morton (DD-948), 1960-62. He commanded the destroyer USS Rowan (DD-782), 1962-63; from 1963 to 1966 served in the office of the Assistant Secretary of Defense (Systems Analysis); and in 1966 attended the Advanced Management Program at Harvard Business School.  Turner was PCO and first commanding officer of the guided missile destroyer leader USS Horne (DLG-30), 1966-68, including combat operations off the coast of Vietnam.  He served as executive assistant to Secretaries of the Navy Paul Ignatius and John Chafee, 1968-70.  He developed Project 60 initiatives in 1970 when Admiral Elmo Zumwalt became CNO.
After being selected for flag rank, Turner commanded Cruiser-Destroyer Flotilla Eight in 1970-71 and in 1971-72 headed OP-96, the Systems Analysis Division of OpNav. As president of the Naval War College from 1972 to 1974, Turner made fundamental changes in the college's curriculum and requirements for student officers. He commanded the 2nd Fleet from August 1974 to July 1975 and then served 1975-77 as Commander in Chief Allied Forces Southern Europe. In his final tour of service, Admiral Turner was Director of Central Intelligence and Director of the Central Intelligence Agency, 1977-81. The oral history contains detailed descriptions of his dealings with his Naval Academy classmate, President Jimmy Carter, and with Chief of Naval Operations Zumwalt.
Transcripts of this oral history are available in many formats including bound volumes, and digital copies.
Order Oral History
Interview
(Note: Due to edits, corrections, and/or amendments to the original transcription draft, there are some inconsistencies between the recording and the text.)
John T. Mason, Jr.: I believe your early remarks will conclude the report on the Naval War College.
Admiral Turner: Right. After seeing in the year 1974 in Tanzania on our African game safari, I saw that the spring of 1974 would be an important time for the Navy. Admiral Zumwalt was due to be replaced. His four years were coming to a close, and the question of who was going to replace him was, of course, a major issue, particularly with his having been as controversial a person as he was. I had considerable interest in this personally. I was not unwilling to replace him, and, over and above personal ambition, I had a very genuine concern for where the Navy would go next. We had paid a high price for having Admiral Zumwalt as CNO. He stirred a lot of controversy within the Navy and upset a lot of routines. 
It takes a long time for a large organization to adjust to changes of the magnitude that Admiral Zumwalt brought upon the Navy. I sincerely felt that if the person who replaced him was not sympathetic to the general thrust of the Zumwalt programs he could well march the Navy through another four years of painful transition back to the old status quo. I thought most of the Zumwalt changes had been good. In fact, at that time I was probably even more enthusiastic than I might sound today in retrospect.
John T. Mason, Jr.: You were in on the ground floor. 
Admiral Turner: Yes. I obviously had some sense of pride of participation. I have here a paper I wrote in the spring of '74 titled "The nature of leadership requirements in the United States Navy in 1974." The first point in it was "The Navy's Mission"—that Zumwalt had redirected our mission more toward sea control rather than power projection. I said, "The Zumwalt inoculation is just beginning to take hold of Navy thinking. The sea control programs are largely low-mix hardware whose future is uncertain. It will require a man of strong conviction in the new leadership to carry out the Zumwalt initiatives and prevent tactical air from regaining momentum and then full control of the Navy." This was clearly prophetic. It has happened just this way.
The second topic was "Personnel Policies. Zumwalt's moves to shape personnel policies in cognizance of today's youth and of the Navy's dependence on them have clearly been costly and generated a resistance based on tradition. Their implementation has caused confusion and distrust at middle and upper levels. Today younger persons respect the intent of the Zumwalt moves, if not their entire content. They are, however, concerned that there will be a volte faceunder new leadership."
Then I went on to talk about the fact that we needed at least to continue the general direction rather than experience a costly period of trauma in the opposite direction: "Our younger people and potential recruits enjoy and appreciate the image of a progressive Navy. Most of the forward-looking changes are inconsequential to combat readiness—such as haircuts and living conditions. What is needed is a leadership philosophically tilted in the progressive direction. Any other would let the reaction over-correct and lose more than we have gained in these past four years. The losses would be with the younger people in the all-volunteer force, and we can't afford that."
Thirdly, I listed integrity as a requirement for leadership in the 1974 period. We discussed some of this last time. This feeling was strong with me then, and it still is: "The succession of accusations about military integrity is still taking its toll—Pueblo, My Lai, General Cole, master sergeants, General Lavelle, Cambodian bombings, spy rings. Grave damage has been done to the military reputation with implications for recruiting and retention. On the other hand, the career officer is becoming inured to this kind of improper performance, accepting it as a fact of life. The underlying fabric of the profession is slowly rending. The new Navy leadership must, more than anything else, bear and foster an image of high integrity and accountable responsibility." I don't know what I intended to do with this paper or what I did with it. It is in the file here, and there is no heading on it.
John T. Mason, Jr.: Sort of a memo to yourself?
Admiral Turner: Yes. Just "The Nature of Leadership Requirements in the United States Navy in 1974." I can remember writing it. I doubt it ever went anywhere.
I haven't yet discussed why I didn't go to the Sixth Fleet, have I?
John T. Mason, Jr.: No.
Admiral Turner: It is somewhat related. I will back up a year. You remember that one of the reasons I started off with such a bang in Newport was that I had only 12 months to do. There was a Chafee-Zumwalt deal, approved by Warner, who was taking over from Chafee, that I'd go to the Sixth Fleet in a year.[1] Sometime in the spring of 1973 I received a phone call from Zumwalt, explaining to me that he would have to change that plan. He said the reason for it would become obvious when I saw the flag changes that were coming up. He had to leave me at Newport for another year, but he still had the Sixth Fleet in mind for me at the end of that time. At the time of the change of my orders from the Naval Academy to the War College, the deal was that I would not go to the Academy, because I couldn't stay there a short time of only a year, that I could do that at Newport. They wanted me to go to the Sixth Fleet in 1973.
Shortly after Zumwalt called me and said the deal was off, Warner happened to come to Newport. I had breakfast with him, and he told me that Dan Murphy was getting the Sixth Fleet.[2] I anticipated that the reason Zumwalt had derailed me was that he was going to move Worth Bagley over there. He was the shining light that Bud was pushing. It then came out that Bud wasn't that modest. He was giving Worth four stars and moving him to CinCUSNavEur without any three-star command experience. He had been only OP-090.[3]
John T. Mason, Jr.: Following in the master's footsteps!
Admiral Turner: I then made a trip to Washington and asked to see Bud. Warner had explained to me that Murphy, having been Laird's aide, had done a tremendous job there.[4] There was a crisis in late 1972 in which Murphy played a key role in tying Kissinger and Laird together; it was an outside-the-Pentagon matter. Laird was now leaving, and as his farewell gift to his executive assistant he asked him what he wanted (I suppose), and Murphy said, "The Sixth Fleet," so Murphy went. When Murphy and I were both captains, he was number-two aide to the SecDef when I was aide to the Secretary of the Navy; we both made rear admiral on the same list. He had stayed in that job and had moved up to number-one aide as a rear admiral. He was now moving directly to vice admiral without any rear admiral experience at sea.
I think he did a good job when he got the Sixth Fleet. I am not trying to take anything away from Dan, though I think it is typical of the improper kind of detailing that comes out of pressure by Secretaries, be they of Defense or Navy. I went and talked to both Warner and Bud in Washington. I told Bud I would like to have the Seventh Fleet if I couldn't have the Sixth and continue on the track of staying on at the War College only a year. I do not remember the reason he said no to that. Warner virtually denied ever having heard that I had been promised the Sixth Fleet by Chafee and Zumwalt. So that evaporated. I couldn't quite understand in my mind how they could have me in mind for the Sixth Fleet for the following year, because they wouldn't detail Murphy to the Sixth Fleet and expect him to stay only a year. I went back to Newport.
John T. Mason, Jr.: In a sense it is fortunate that you did, so you had two years at Newport, because getting your program inaugurated was essential.
Admiral Turner: It probably would not have survived if I had stayed only a year. At the end of the year it wasn't that obvious that this was a very good program.
John T. Mason, Jr.: Only one phase of it under way. 
Admiral Turner: No, no. We had done all three phases in the senior course, and one of those phases repeated in the junior course. The whole course was taught, but Tactics was shaky even when I left, and it was very shaky at the end of the first year. I doubt that people like Phil Crowl would have come back and taken up permanent residence if I weren't going to be there. It would have been very difficult to keep it going. Yes, I was ill advised even to ask to move.
By the spring of 1974 the first issue was not whether I would go to the Sixth Fleet but who was going to be CNO. I told Warner when he came up one time in 1974 that I really wanted to be considered for CNO and told him why. He told me very flatly that that was out of the question. I argued with him and told him that a friend had put in my name for president of the University of Minnesota, and if I didn't get the chance of being CNO I hoped that that would come through. I had some pretty strong words with John. We were very good friends even so.
John T. Mason, Jr.: Why did he say it was out of the question?
Admiral Turner: He never explained fully, but I feel that Bud had caused such trauma that they weren't about to have another innovator follow him. They felt down in Washington that a period of stability was more what was needed. This, of course, was contrary to the thought in my memo that some philosophical continuity was important so as not to have suffered the pain of Zumwalt without getting as much of the benefits as one could. I am still very close to John Warner. We are good friends, and his words to me at that time were, "This is just too soon. In 1978 it is either you or Hayward."[5] Hayward had been his aide when I was Chafee's aide, so he liked us both.
Holloway was appointed, and I believe all the predictions in the memo I have just read unfortunately came true.[6] Holloway, step by step, eased back. In some ways, in my opinion, it might have been better if he had said, "This is what I feel about the Zumwalt program, and we are going back this far," and so on. Instead, he just sort of oozed back, and nobody knew where he stood, because there wasn't a clear policy line.
---
[1] John W. Warner served as Secretary of the Navy from 4 May 1972 to 9 April 1974.
[2] Vice Admiral Daniel J. Murphy, USN, commanded the Sixth Fleet from 11 June 1973 to September 1974.
[3] Vice Admiral Worth H. Bagley, USN, served as Director of Navy Program Planning, OP-090, from May 1971 to April 1973. As a four-star admiral Bagley served as Commander in Chief U.S. Naval Forces Europe and Commander in Chief U.S. Naval Forces Eastern Atlantic from August 1973 to May 1974.
[4] Melvin R. Laird served as Secretary of Defense from 22 January 1969 to 29 January 1973.
[5] Admiral Thomas B. Hayward, USN, served as Chief of Naval Operations from 1 July 1978 to 30 June 1982.
[6] Admiral James L. Holloway III, USN, served as Chief of Naval Operations, 29 June 1974 to 1 July 1978.
About this Volume
Based on 20 interviews conducted by John T. Mason Jr. from June 1981 to August 1982, the volume contains 937 pages of interview transcript plus a comprehensive index. The transcript is copyright 2011 by the U.S. Naval Institute; the interviewee placed no restrictions on its use.