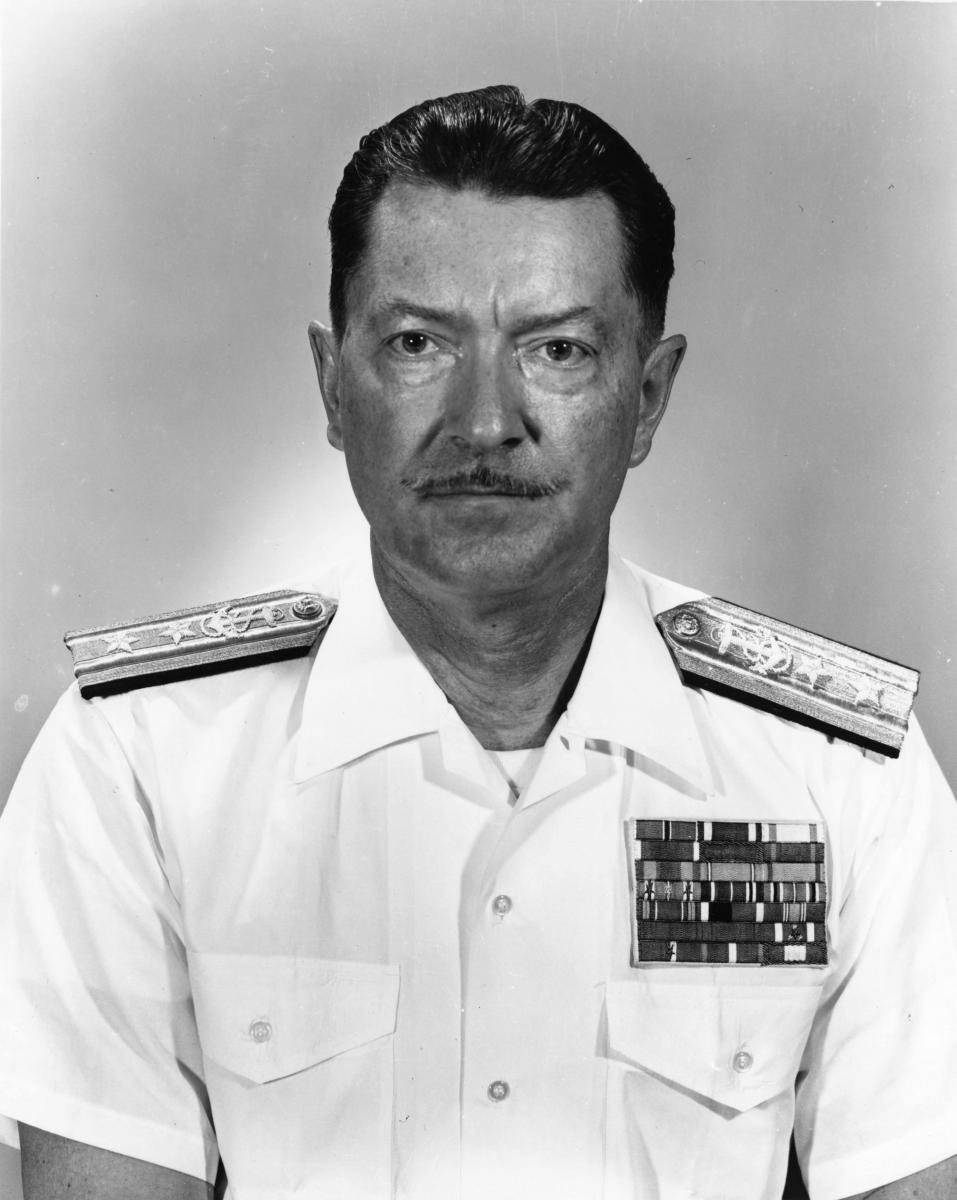 Tolley, Kemp, Rear Adm., USN (Ret.)
(1908–2000)
Admiral Tolley's colorful life and skill as a storyteller make him the perfect subject for an oral history. In Volume I he discusses his early years as an Army brat and his midshipman years leading to graduation in 1929. His career followed relatively normal channels as junior officer with duty on board the USS Florida (BB-30), Texas (BB-35), Canopus (AS-9), Houston (CA-30), and Mindanao (PR-8) in the 1930s. 
Then came a series of free-form tours as a Russian language student with loose intelligence duties in China, Manchuria, and Eastern Europe. Tolley gives not only a narrative of events during this period before World War II, but also provides the reader with the flavor of the locale. Next came duty on board the USS Wyoming (BB-32), service as an aide to Commander, South China Patrol on board the USS Mindanao (PR-8), and as executive officer on board the USS Tutuila (PR-4). 
In the late 1930s Admiral Tolley went back to China for a short period of intelligence work, followed by a year at the Naval Academy in 1940, and then back to Asiatic duty as executive officer on the Yangtze gunboat USS Wake (PR-3), during which time he narrowly escaped capture by the Japanese.
Admiral Tolley begins the brisk-paced concluding volume of his oral history with his speculations on the widespread foreknowledge of the Japanese attack on Pearl Harbor among our leaders in Washington. He talks about the Roberts Commission and the naval officers whose lives were affected so greatly by the "surprise" attack. 
After all the offbeat junior officer duties he described so colorfully in his first volume, as Tolley advanced in rank his billets became more ordinary, though his enduring storytelling ability makes them seem anything but. He served as navigator on board the battleship USS North Carolina (BB-55) in the last year of World War II, during that ship's participation in action off Leyte, Iwo Jima, and Okinawa. After the war, he became intelligence officer on the OpNav staff, commanded the attack transport USS Vermilion (AKA-107), and directed the intelligence division at the Armed Forces Staff College, where his unorthodox teaching methods were frowned upon (although his classes were very popular). 
Other tours included operations officer on the staff of Commander Amphibious Group Two and command of Amphibious Squadron Five, during which time he was tasked with forming an evacuation plan for Taiwan. He developed such good rapport with the Japanese that, after his retirement in 1959, he was recalled to active duty to participate in the dedication of the Mikasa memorial. In 1967 he was recalled a second time to serve as convoy commander in the Pacific. Throughout his narration, Tolley's engaging sense of humor, complemented by his flair for the dramatic, is in evidence.
Transcripts of this oral history are available in many formats including bound volumes, and digital copies.
Order Oral History
On a Meeting Between Churchill and Stalin
Admiral Tolley: So, Stalin expected the invasion in 1942, his back was to the wall. He was so upset about it that when he wanted to send a blistering telegram he didn't care who he sent it to nor what he said. The things he sent to Roosevelt at that time and Churchill, made it clear that it just wasn't enough to send him back a mollifying answer, that they had to send people over there. So Churchill and Harriman were sent; poor Ambassador Standley was in the back seat, he was around but he wasn't enough, it had to be Harriman and Churchill. They started off from Teheran in four big Liberator bombers and they had Churchill and crew and his advisers in one, Harriman in another, a third was loaded with staff officers and the fourth was with British General Wavell. Wavell never made it, his airplane had to sit down someplace but the others appeared on the air field. We were all out there as a reception committee, all hands and the ship's cook from the  embassy, everybody who could find a place in a car. The guard and band were there, Molotov was there and they all shook hands and the national anthems were played and they played the Star Spangled Banner through twice and then Molotov got in his car and they slammed the door and it sounded like the State Department safe clanging shut--it was an armored limousine--and we all jumped in our cars and back we went to Moscow, the streets all having been cleared and lined with NKVD troops; so the conferences then started with the hope on our side that we would convince Stalin of the futility of trying to make this landing in spite of the fact that it might momentarily take some weight off his back.
John T. Mason Jr.: Where was the landing to be?
Admiral Tolley: Where it eventually took place--on the channel, it was supposed to be a cross-channel landing, but as I say, they were absolutely in no position to consider such a thing at that stage. The American troops weren't over there, they simply didn't have the warm bodies or anything to present there. But it was very difficult to convince Stalin of this. He was losing tens of thousands of men on the front every day, and what's the point of not losing a few Americans and British and Frenchmen at the same time--even things up. So they conferred and they got almost nowhere. The day of the farewell banquet--they always wind up with a big hurrah--Stalin and Churchill had been in the last stages of a knock-down and drag-out argument and Stalin made some disparaging remark about the British fighting ability and the army in general that was too much for Churchill. He stood up and threw his cigar down and said, "I didn't come here to have the British Army insulted," and he stalked out without the usual goodbye handshake, which was a pretty serious attitude to take at that stage of the game. After all Stalin, was Russia, he was it--he had insulted Churchill and Churchill insulted him right back.
That night, the banquet was supposed to be carried through as scheduled. It was held in the Kremlin in one of the huge old Czarist halls. Present thereat was my boss, Captain Duncan. Of course Standley was there, and five or six generals-—Spaulding who was on the supply mission, General Follett Bradley, General Maxwell from Iran, supply mission, and another general whose name escapes me now; quite a delegation. The British had an equivalent number of high rankers. Churchill had arrived thirty minutes late and he was wearing what he called his 'siren suit'. It was a thing like a suit of coveralls and it went from his ankles all the way up and it was a belted sort of thing--a covering like mechanics wear. He normally wore it when he was making a long trip, or when he was about to dive into an air-raid shelter back home. The connotation here was that he was ready to jump on his airplane right then--everybody assumed that that was what he wore it there for; the other thing was to sort of discredit the Russians. Stalin was there in his best dress uniform--great for protocol--with his marshall's star and all that, so it was in effect a further insult.
Well Stalin apparently realized he had gone too far that afternoon with Churchill and he was trying to jolly the old boy along, make cracks and so forth, and Churchill came in with a very long, dour face with his cigar hanging down
instead of up like it was when he was jubilant. So as the dinner went on with the usual number of toasts in wine and vodka and champagne and whatnot, and toward the end of it apropos of nothing at all old Stalin stood up and launched into a dissertation on the value of intelligence and the fact that it sometimes decided more than battles and, as an example, says he, "Witness the miserable, incredibly bad overall bungling of the Gallipoli campaign in 1917." Well, of course, that was Churchill's baby—that's what he got fired from the cabinet for because it didn't get across. Stalin went on a little farther and of course old Churchill was getting redder in the face all the time and squirming around, so Stalin, very well satisfied with himself, proposed a toast to intelligence officers, that they were the unheralded, unsung heroes of the war in every war.
Everybody joined in that and everybody sat down, then old Jack Duncan stood up. He had been lapping up the booze like all the rest of them, and he was way down at the foot of the table. As a captain he was well down below the salt, a long way from where Stalin was at the head of the table, and he said, "Mr. Stalin, I would like to propose a toast too, to the intelligence officers because I am one and I would like to say that since I have been over here I have been unable to function as one because I can't make contact with anybody that would come across with any information." He would never have said this had he not been in the state he was, I expect. Well, Stalin stood up and said, "Mr. Captain, that is the first honest thing I have heard all day," and he was looking at Churchill. He said, "I want to drink to that too," so he picked up his glass, walked all the way down to the end of the table, clicked his glass with Duncan's and they had a drink. 
Volume II
Based on three interviews conducted by John T. Mason, Jr., from September 1975 through August 1976, the volume contains 370 pages of interview transcript plus an index. The transcript is copyright 1984 by the U.S. Naval Institute; the interviewee placed no restrictions on its use.
About Volume I
Based on three interviews conducted by John T. Mason Jr. from June through August 1975, the volume contains 484 pages of interview transcript plus an index. The transcript is copyright 1983 by the U.S. Naval Institute; the interviewee placed no restrictions on its use.