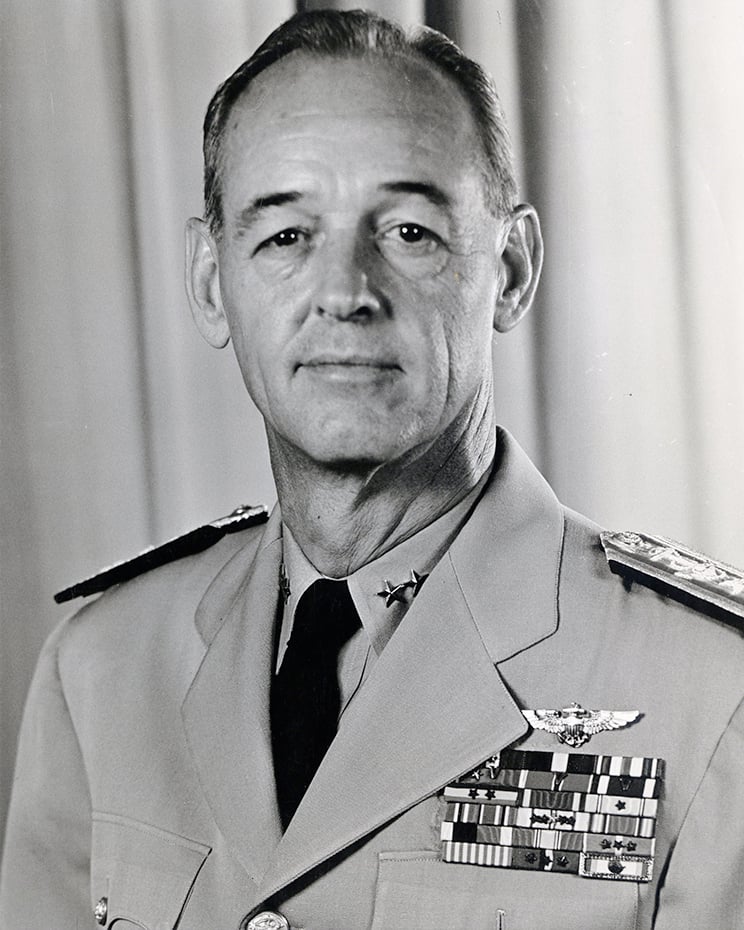 Thach, John S. (Jimmie), Adm., USN (Ret.)
(1905–1981)
This is a delightfully told memoir from the man who was probably the Navy's foremost fighter plane tactician of World War II. He is best known as the inventor of the "Thach Weave," whereby U.S. fighters could successfully combat Japanese Zeros. Thach tells of devising the maneuver at home with kitchen matches.
In a series of enjoyable tales, Thach describes his Naval Academy years, graduating in 1927, early experience in patrol planes and fighters, flying with Butch O'Hare, early combat operations against the Japanese, culminating in the Battle of Midway, teaching tactics at the Navy's Operational Training Command, making training films to indoctrinate new pilots, and then acting as operations officer when he returned to the combat theater on the staff of Vice Admiral John S. McCain, Commander Task Force 38.
The second volume contains Thach's account of service on the staff of Fast Carrier Task Force, Pacific (Task Force 38), culminating with his presence on the deck of the USS Missouri (BB-63) for the Japanese surrender. After the war, he was director of training at Pensacola and special assistant to Vice Admiral "Black Jack" Reeves in fighting off attempts by the Air Force to take over naval aviation. He commanded the escort carrier USS Sicily (CVE-118) in the early stages of the Korean War as Marine Corsairs provided close air support, then was senior naval aide to the Assistant Secretary of the Navy for Air, John Floberg.
Thach commanded the large carrier USS Franklin D. Roosevelt (CVB-42) during a Mediterranean deployment and had a tour as commander of naval air bases in the Sixth Naval District. After serving as senior member of the Weapon Systems Evaluation Group, he commanded Carrier Division 16/Task Group Alfa in hunter-killer antisubmarine-warfare work. As a vice admiral, he commanded Anti-Submarine Warfare Force Pacific Fleet and was Deputy Chief of Naval Operations (Air). After being promoted to four stars, he served as Commander in Chief U.S. Naval Forces Europe.
Training "Butch" O'Hare
Admiral Thach: So, I established what we called a "humiliation team." It was composed of myself, my executive officer, Don Lovelace, Noel Gayler and my gunnery officer whose name was Rollo Lemon. We would take these newcomers to the squadron, take them up and give them all the altitude advantage they wanted. Then we'd fly towards each other and see if they could come down and get on our tails and stay there long enough to shoot. A pilot who has just achieved the wonderful accomplishment of getting his wings is usually rather full of himself and sometimes a little cocky. So this was a good thing to let them know that they didn't know everything right off the bat and show them that they had a lot of work to do. We could even eat an apple and lick these kids, or read a newspaper. I used to take an apple up and eat it just to . . .
Commander Kitchen: Show them!
Admiral Thach: Well, anyway, this was true with one exception. One person who came to my squadron fresh out of the training command was a young man by the name of Butch O'Hare, and the first time I took him up and gave him altitude advantage, he didn't make any mistakes and I did everything I could to fool him and shake him, and he came right in on me and stuck there and he could have shot me right out of the air. So I came down and I got hold of Rollo Lemon and I said, "Well, I've had one of these new youngsters up but I want each member of the Humiliation Team to go up with him and give him a chance. He's pretty good, and I'll just wager a little bit, that he'll get on your tail the first time and stay there." "Oh," he said, "they never do." I said, "I know that." "Well," he said, "where is he?" Up they went and, sure enough, Butch did it again. It wasn't long after that before we made him a member of the Humiliation Team, because he had passed the graduation test so quickly.
Commander Kitchen: How did he gain that skill? Were you able to evaluate that?
Admiral Thach: I think Butch O'Hare, when he learned how to fly an airplane, he learned how to fly it real well. He was a good athlete. He had a sense of timing and relative motion that he may have been born with, but also he had that competitive spirit. When he got into any kind of a fight like this, he didn't want to lose. He wanted to win. He really had a dedication to winning, and he probably had worked a lot of this out in his own mind, then read as much as he could, and when he first got to the squadron he studied all the documents that we had on aerial combat and he just picked it up much faster than anyone else I've ever seen. He got the most out of his airplane. He didn't try to horse it around. He learned a thing that a lot of youngsters don't learn that when you're in a dog fight with somebody, it isn't how hard you pull back on the stick to make a tight turn to get inside of him, it's how smoothly you fly the plane and whether you pull back with just enough of turn on your aircraft so that it remains efficient and isn't squashing all through the air causing more drag, which defeats the purpose of what you're after, to get around in the shortest time, that is the tightest turn consistent with not losing ground due to rough handling of the aircraft or working the controls in such a way that they cause a drag on the forward motion of the aircraft.
About Volume I
Based on five interviews conducted by Commander Etta-Belle Kitchen, USN (Ret.), from June 1970 through March 1971, the volume contains 461 pages of interview transcript plus an index. The transcript is copyright 1977 by the U.S. Naval Institute; the restrictions originally placed on the transcript by the interviewee have since been removed.
Volume II
Based on five interviews conducted by Commander Etta-Belle Kitchen, USN (Ret.), from May through August 1971, the volume contains 393 pages of interview transcript plus an index and appendices. The transcript is copyright 1977 by the U.S. Naval Institute; the restrictions originally placed on the transcript by the interviewee have since been removed.