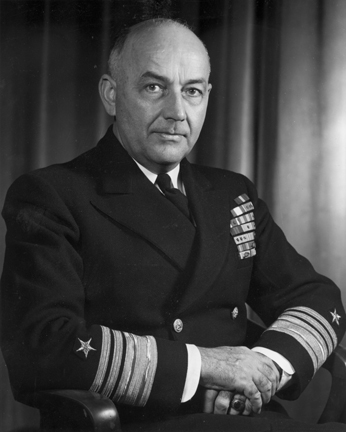 Struble, Arthur D., Adm., USN (Ret.)
(1894–1983)
The most significant part of Admiral Struble's memoir is comprised of descriptions of his role in the area of amphibious warfare in World War II and Korea. Struble graduated from the Naval Academy in 1915 and served in several ships as a junior officer, including the refrigerated stores ship USS Glacier (AF-4) during the early part of World I and soon after commanded the destroyers USS Stevens (DD-86) and USS Shubrick (DD-268). In the 1920s he was in the crew of the battleship USS California (BB-44) and remained on board as a member of the staff of Commander Battleships and later Commander Battle Force. He was involved in amphibious landing exercises in the early 1930s on the staff of Commander Battleship Division Three, 64-65. Duty in the battleship USS New York (BB-34) and the heavy cruiser USS Portland (CA-33) was sandwiched around service as communications officer of the 12th Naval District. He had tours in the politico-military Central Division of OpNav in the late 1930s and early 1940s. At the outset of World War II he commanded the light cruiser CA Trenton (CL-11). 
In 1943-44 Struble served as chief of staff to Commander Task Force 122 for the American naval portion of the invasion of Normandy, France, on D-Day. Shortly after, he commanded amphibious groups that liberated the Philippine Islands in the war against Japan. He had a number of encounters with Army General Douglas MacArthur during that campaign and a few years later during the Korean War. After the war's end, Struble commanded Mine Force Pacific Fleet and Amphibious Force Pacific Fleet. He served 1948-50 as Deputy Chief of Naval Operations (Operations) and in 1950-51 was Commander Seventh Fleet at the outset of the Korean War. The oral history contains Struble's detailed recollections of the September 1950 invasion of Inchon, Korea. In 1951-52 he was Commander First Fleet and from 1952 to 1955 was assigned as a U.S. representative to the United Nations.
Transcripts of this oral history are available in many formats including bound volumes, and digital copies.
Order Oral History
About this Volume
Based on 12 interviews conducted by John T. Mason Jr. between May 1976 and February 1977. The volume contains 369 pages of interview transcript plus a comprehensive index. The transcript is copyright 2011 by the U.S. Naval Institute; the interviewee placed no restrictions on its use.