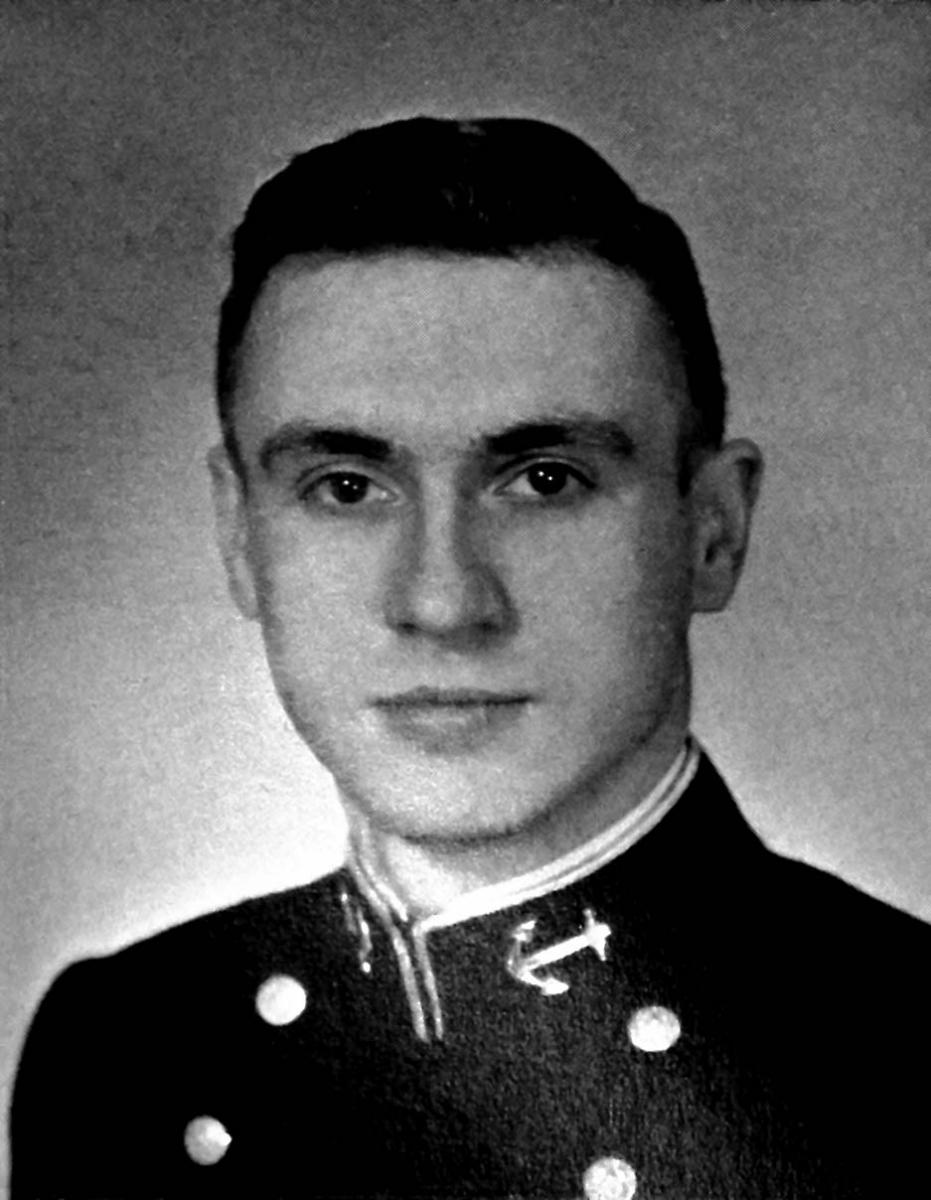 Smoot, WIlliam T. — Participant in the Bay of Pigs Operation
(1937–1994)
Most of the oral histories in the Naval Institute collection deal with the active service of career naval personnel. Mr. Smoot spent only four years on active duty, and this memoir covers only one operation from one tour of duty. But it is a powerful one, because Smoot had an unusual vantage point during the abortive attempt to invade Fidel Castro's Cuba at the Bay of Pigs in April 1961.
Smoot was an officer in the escort destroyer Eaton (DDE-510) and watched firsthand the covert support provided to the Cuban rebels. He saw the landing craft and the invasion site, listened to voice radio transmissions, and went ashore in a motor whaleboat to rescue rebels who were stranded there. Smoot's destroyer came under fire on one occasion while in the Bay of Pigs.
Transcripts of this oral history are available in many formats including bound volumes, and digital copies.
Order Oral History
Memoir
(Note: Due to edits, corrections, and/or amendments to the original transcription draft, there are some inconsistencies between the recording and the text.)
Mr. Smoot: We stopped, and we took these barges alongside and gave them food and water.  Some of the people were very sunburned and didn't have hats.  We gave them things to wear that we had.  We really weren't quite sure what to do with them.  We called whoever the commodore was talking to and asked that we should be relieved of the burden of these barges.  That night, after dark, an APA appeared and took the barges from us.  They also took some people from the barges who were ill and that we had taken aboard previously.  The APA looked like the Cambria to me.  I spent a midshipman cruise in the Cambria, and this looked very much like it, but I'm just guessing.  Many of those ships looked alike, especially the APAs.
I hadn't eaten since breakfast, and I went down to the wardroom to get something to eat.  As soon as I sat down, the commodore called me again, and he called Dick Kauffman up to his cabin.[1]  He said, "I have a job for you two."
John T. Mason, Jr.:  Dick Kauffman was the other chap he said this to previously?
Mr. Smoot: He said, "I want you to take the whaleboat and a rubber raft, and I want you to go into the swampy side of the Bay of Pigs and pick up as many people as you can get into a rubber raft and a whaleboat."
John T. Mason, Jr.:  Now, this was approaching the night of the 17th?
Mr. Smoot: Yes, this was the night of the 17th.  We said, "Who are we looking for, and who do we want?"
He said, "I'm going to send one of these Cuban UDT boys with you."  Well, in the meantime the Cuban UDT boys had gone in and come back; three of them had come back.  The fourth one did not come back, and Gray did not come back.
We said, "Are we supposed to be armed?"
He said, "Yes, I want one man in the boat to take a rifle, and I want each of you to take a .45, and I don't want you to get out of the boat.  In those circumstances, I don't want you to bring anything back except people, and under no circumstances are you to leave the boat."
I don't know if you've ever taken a whaleboat through breakers.
John T. Mason, Jr.:  No.
Mr. Smoot: Well, it's a difficult thing to do.  It was a double-ender, which made it a little easier, but when you're towing a rubber raft it's a little hard.  We went through one set of breakers, actually had a sort of a grounding, just a touching, then deep water again.  We came into a second set of breakers, and then it sort of flattened out into almost what you would visualize as a shallow lagoon right up to the beach, where just small waves lapped on the beach.
It was dark, totally dark.  There was no moon, and my impression was that it was pitch black.  We took a signalman, we took a radioman, and we took a bowhook, and there were two of us in the whaleboat.  We were given a password which, in retrospect, seems absurd, but it was "John sent me."
John T. Mason, Jr.:  By the way, do you speak Spanish?
Mr. Smoot: I speak no Spanish whatsoever.  I speak French and a little Italian, and that's about all.  Dick Kauffman speaks Spanish very fluently.
We went in, and we decided that the only way to find somebody was to turn a light on.  We had battle lamps which we turned off and on in no particular sequence.  The noise from this small surf was enough to block any voice that you could hear, so we weren't able to distinguish human sounds.  Dick and I decided that if we were going to find anybody we had to get out of the boat and go on the beach, which we did.  The first person we found was an old Cuban fellow lying half in the water and half on the beach.  He just was absolutely petrified when he saw us and started to gibber in Spanish.  Dick said that he thought we were militia.  We were dressed in old wash khakis without insignia, tennis shoes, and no hats.
Dick explained to him that we were friends and that we were going to take care of him.  He had been shot in his thigh and wasn't able to walk.  We carried him to the boat, which meantime was paralleling the beach, grounding about every 200 feet.  This fellow turned out to have been a sergeant in Batista's army.[2] He was very loyal to the old regime and very much against Castro.  I would say he was 65, maybe older.  We asked him if he knew where any other people were.  Incidentally, he was stark naked.  He did not have one stitch of clothing on.  His feet had started to swell.  Later, when we got him back to the ship, his feet looked like two melons.  This had come from running through the swampy area in bare feet and cutting his feet on the roots of these trees.  He had opened up wounds, and there already had been some infection.
He said that the group of men he'd been with had gone back into the jungle, into the swamp.  Dick and I decided that it wouldn't be too wise for both of us to go back in there, since we really weren't supposed to be there at all.  We rationalized that being on the beach was really not being on the island, because the beach was wet, and we were still in the water.
We asked this fellow the name of his outfit, and he told Dick in Spanish.  Dick wandered up and down the beach calling.  Finally, one man came out, two men came out, three men came out, five people came out.  They recognized us as Americans, and in this group was Gray.
John T. Mason, Jr.:  Who was an American.
Mr. Smoot: Who was an American--CIA, I assume.  We asked him where the rest were, and he said that most of them had actually been swimming across the bay, from the side on which the beach is located to the opposite side.
That night we found two more.  That made a total of seven, plus this old sergeant.  Felix was his name.
It was early in the morning now, and we were supposed to be back before it got light.  So, we put these people in the boat and in the rubber raft, and we went back.  We just headed right out to sea and headed . . .
John T. Mason, Jr.:  Did you have any difficulty getting over the shoals with a load on board?
Mr. Smoot: No.  Strangely enough, as we went farther down the beach, the water got deeper.  We found this out, so the next time we came in, we went farther up the beach.
John T. Mason, Jr.:  Were these men in bad condition too?
Mr. Smoot: No, these men were in pretty decent shape.  It's interesting to note that Dick and I picked up a total of about 17 people over the next several nights.  These people were trained in different camps, and we picked up several people who were stark naked.  Later the doctor explained to me that--I'm not a psychologist--this is a fairly common thing in a state of abject panic and great fear.  When you want to get away and you're being pursued, mentally you want to get rid of every impediment to your speed.  This is something that is a reasonably common happening--just get rid of everything that you think is holding you down.  They had no shoes; they didn't even have underclothes on.
Other people we found had taken their shoes off, tied them with their laces around their waists, had saved something to put on their heads.  You could tell a very strong difference in training at the various camps at which these people we trained.  As it turned out later, these people were from different camps.  The ones who were well-prepared were from a particular camp, and the ones who weren't were from another camp.
---
[1] Lieutenant (junior grade) Richard Kauffman, USN.
[2] In the mid-1930s Fulgencio Batista, a sergeant in the Cuban Army, had led a successful revolt against the regime then in power. He himself became head of the country and ruled essentially as a dictator until ousted by Castro's forces in 1959.
About this Volume
Based on a single interview conducted by John T. Mason Jr. in April 1973, the volume contains 29 pages of interview transcript plus an index. The transcript is copyright 1996 by the U.S. Naval Institute; the interviewee placed no restrictions on its use.