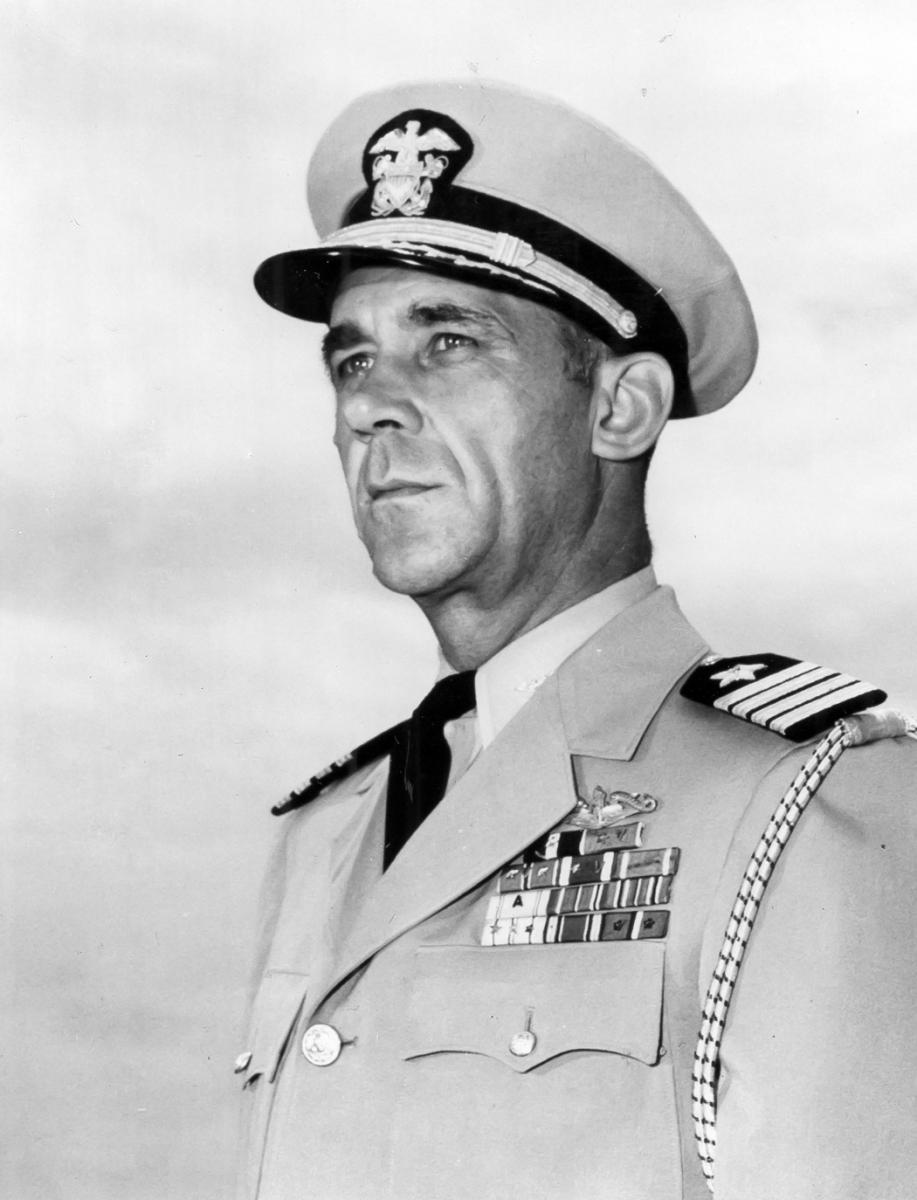 Smoot, Roland N., Vice Adm., USN (Ret.)
(1901–1984)
After graduating from the Naval Academy in 1923 and earning his MA in Eengineering from Penn State in 1930, Smoot served in the submarine USS Narwhal (SS-167) until 1933. During World War II he was CO of the USS Monssen (DD-436), which was one of the escort ships for the USS Hornet (CV-8) transporting Colonel Jimmy Doolittle's flyers for their famous 1942 strike on Tokyo. 
His ship later participated in the Battle of Midway; assault and occupation of Guadalcanal; the first Battle of Savo Island; and the Battle of the Eastern Solomons. In 1944 he was Commander Destroyer Squadron 56 involved in the Battle of Surigao Strait and the assault on Iwo Jima. His later career included duty as CO Newport News; Commander Cruiser Division Three; Commander Mine Force, U.S. Pacific Fleet; and Commander, U.S. Taiwan Defense Command.
Transcripts of this oral history are available in many formats including bound volumes, and digital copies.
Order Oral History
Interview
In this clip from his second interview with Commander Kitchen in December 1970, Admiral Smoot recalls meeting the famous "Chesty" Puller when his ship, the USS Monssen (DD-436), evacuated Puller and his Marines from a beach on Guadalcanal in September 1942.
Admiral Smoot: I never will forget one where I was close to the shore up towards the north end of the island, answering-call for firing ashore. My men were looking at the beach. They looked up on a hill and saw a man wigwagging at them, way up high in the hills. We were all pretty leery of Japanese at that time.
He was saying, "Send boat ashore." I wasn't going to send a boat ashore and get trapped by some Japanese. I didn't know what it was. We couldn't tell who it was. They were in Army drill, and in that uniform the Japs and Americans looked exactly the same when they were that far away. We didn't know who it was, and I wasn't going to take any chances.
I tried to figure out some way. I asked my signalman, "Isn't there some kind of a recognition system that we have?" No, we didn't. There's another incredible thing that was later corrected.
Then on a hunch our signalman wigwagged the question, "Who won the World Series in 19—?" and it came back correct. This seemed pretty good to us. So we sent a boat in and out came the famous Chesty Puller and his aide and a couple Marines.
Chesty Puller said, "I've got a whole group of my men up there in the hills." This was a great guy. He came up on the bridge and said, "I've got to get some men out of trouble. They are trapped up there. I doggone near lost my life getting down to the beach. Let me tell you where to shoot."
So he went up into control with my Gunnery Officer, and we just turned loose on this island. We just ploughed it with bullets, straight up and down the middle. Then we spread the fire power up two sides, and the Marines came down to the beach between. We sent for landing boats and they arrived in good time.
We stayed there and supported them through, this whole operation, until they got out of that trap and they all got back to their group again. This was a result of our fire power, and just happening to look up and see a lone signalman deep in the jungle.
This was a fortunate thing. Of course Chesty was duly, thankful, and we became great and close friends.
After it was all over and while I was steaming slowly back to the landing area to let Chesty off, with his aides, he went down into my clean cabin with white tablecloth and had a great big hot steak dinner, took a hot shower, and cleaned up. The boys washed his clothes and dried them. We fixed him up with fresh underwear, gave him a bag of cookies and cakes and cigarettes and whatnot. Everything we could do to help in their rugged life ashore we did.
As he went over the side I said, "Chesty, glad we could help you out." He said, "Thank you very much. God, I wouldn't have your job for anything in the world." I said, "You mean to tell me you'd go back and go into that messy stuff over there and get yourself filthy and live on C rations. You've come to see the kind of life I lead out here and you prefer yours?" He said, "I sure do. When you get hit where are you? When I get hit I know where I am."
About this Volume
Based on four interviews conducted by Commander Etta-Belle Kitchen, USN (Ret.) from November 1970 through March 1971, the volume contains 349 pages of interview transcript plus an index. The transcript is copyright 1972 by the U.S. Naval Institute; the interviewee placed no restrictions on its use.