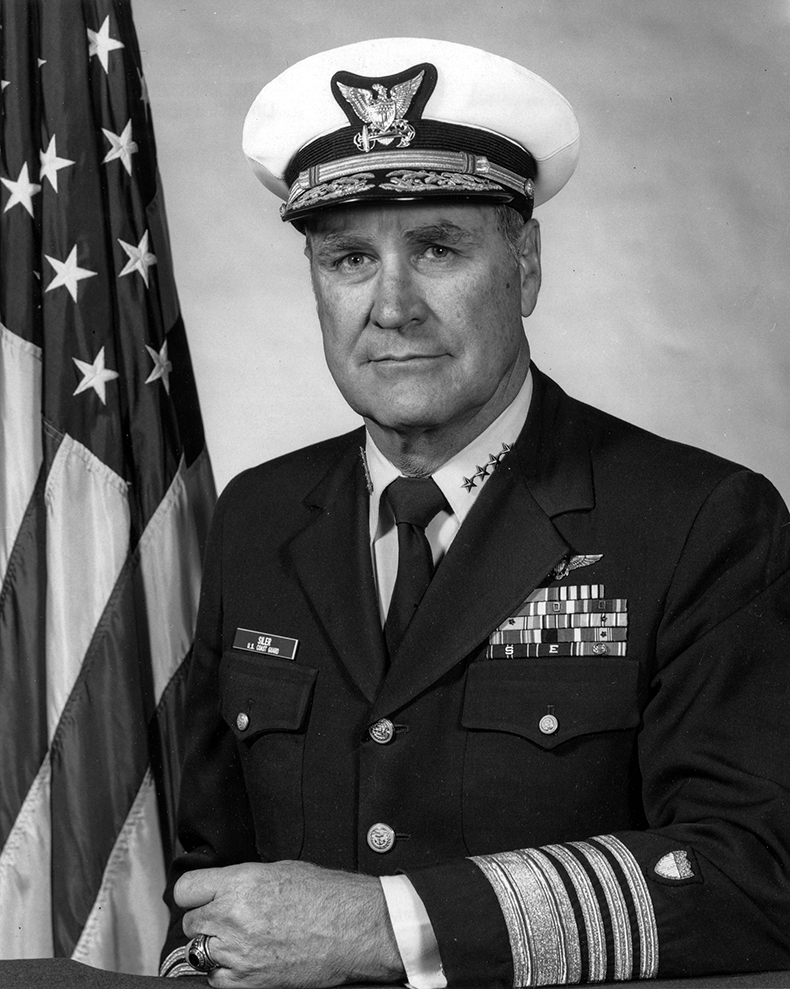 Siler, Owen W., Adm., USCG (Ret.)
(1922–2007)
After growing up in California, Siler attended Santa Maria Junior College, 1938-40, and then was a cadet at the Coast Guard Academy. He was in the class of 1944, which graduated in 1943 because of the need for wartime officers. During World War II he served in the attack transports USS Hunter Liggett (APA-14) and USS Bayfield (APA-33). Postwar service included Alameda, California; as navigator of the cutter USCGC Taney (WPG-37); and shore duty in at the 11th Coast Guard District, Long Beach. He took flight training at Corpus Christi and Pensacola in 1947-48, then had initial duty as an aviator, 1948-52, at Port Angeles, Washington.
After instrument training at Corpus Christi in 1952, Siler spent 1952-54 at Coast Guard Air Detachment, Barbers Point, Hawaii. From 1954 to 1959 he was aide and pilot for the Coast Guard Commandant, Admiral Alfred Richmond. From 1959 to 1962 Siler commanded Coast Guard Air Station Corpus Christi; served 1962-64 in the 17th Coast Guard District office in Alaska; and in 1964-66 was executive officer and then commanding officer of Coast Guard Air Station Miami. After a year as a student at the National War College in Washington, he served 1967 to 1971 in the management division of Coast Guard headquarters.
After selection in 1971 as rear admiral, he commanded Second Coast Guard District in St. Louis until 1974. Admiral Siler was Commandant of the Coast Guard, 1974-78. During his tenure he was involved in the recapitalization of the service through procurement of new ships and aircraft; enforcement of fisheries laws in extended economic zones; concerns about pollution; and expanded opportunities for women, including admission to the Coast Guard Academy and service on board cutters.
Transcripts of this oral history are available in many formats including bound volumes, and digital copies.
Order Oral History
About this Volume
Based on five interviews conducted by Paul Stillwell in December 2000. The volume contains 348 pages of interview transcript plus an index. The transcript is copyright 2004 by the U.S. Naval Institute; the interviewee has placed no restrictions on its use.