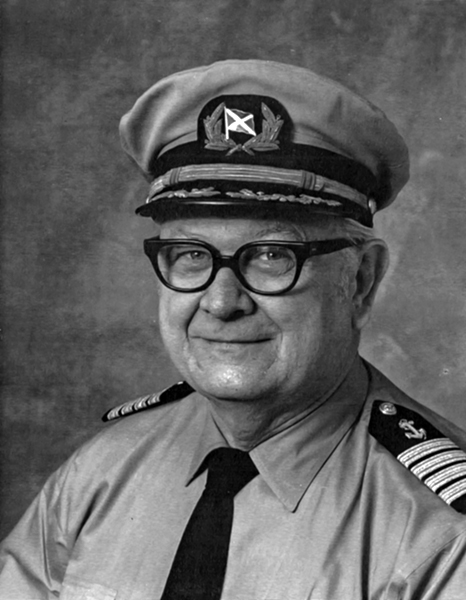 Shellenbarger, Franklin F., Capt., USMS (Ret.)
(1920–2008)
This memoir covers Shellenbarger's service in both the Navy and the merchant marine. He enlisted in the Navy in 1938 and before his enlistment expired in 1941 he was assigned to the old sailing ship USS Constellation, the battleship USS Colorado (BB-45), the destroyer USS Herbert (DD-160), the light cruiser USS Helena (CL-50), and the flag allowance for Commander Battleships Atlantic Fleet.
After leaving the naval service, he worked for the Glenn L. Martin Company building aircraft. During World War II he was first a student and then an instructor at the Maritime Officers Training School, New London, Connecticut. He had wartime service on board the Liberty ships SS John R. McQuigg, Reverdy Johnson, and Linn Boyd. In the decades that followed he was a deck officer for American South African Lines, American Export Lines, and American Export-Isbrandtsen.
In the early 1960s he was chief mate, acting master, and ship superintendent of the nuclear-powered passenger-cargo ship NS Savannah. His experience as master of cargo or cargo/passenger ships included the SS Extavia, Flying Spray, Exiria, Export Champion, Export Ambassador, Container Forwarder, Container Dispatcher, Flying Fish, Export Agent, and Export Courier. Captain Shellenbarger's seagoing career ended in 1979, and he subsequently testified as an expert witness in legal cases. From 1994 to 2003 he was president of the Marine Society of New York.
Transcripts of this oral history are available in many formats including bound volumes, and digital copies.
Order Oral History
About this Volume
Based on five interviews conducted by Paul Stillwell from March through November 1997, the volume contains 277 pages of interview transcript plus an index. The transcript is copyright 2003 by the U.S. Naval Institute; the interviewee placed no restrictions on its use.