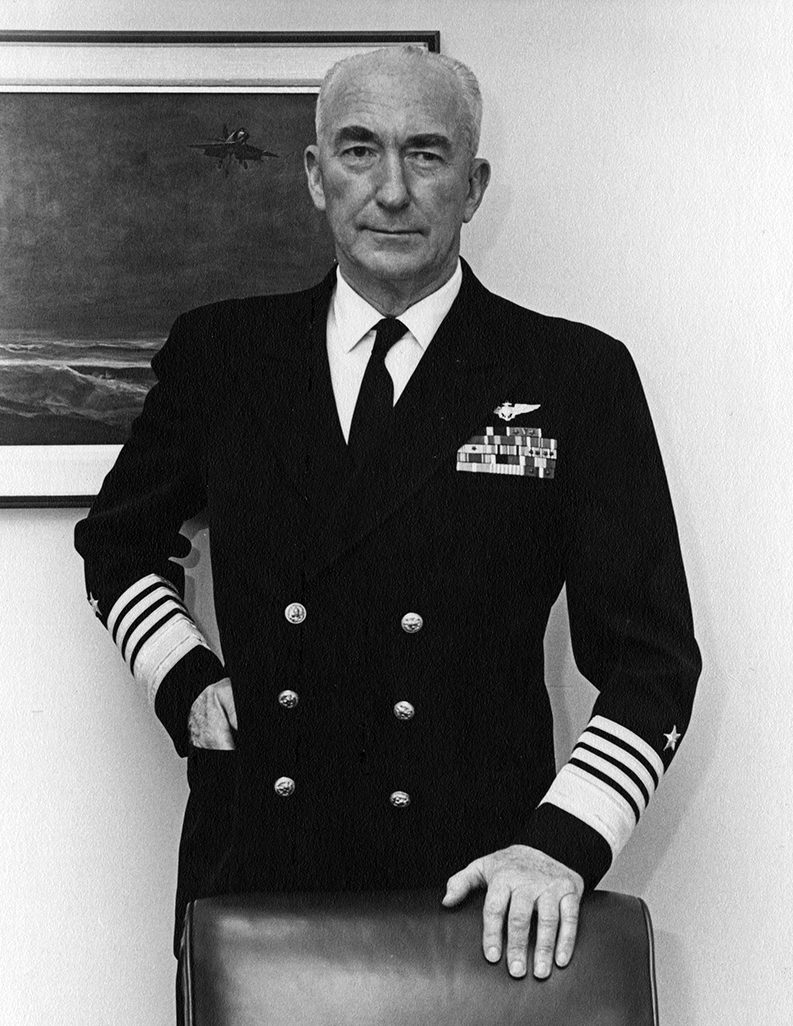 Russell, James S., Adm., USN (Ret.)
(1903–1996)
Designated a naval aviator in 1929, Admiral Russell had the normal tours both at sea and ashore and earned a master of science degree in aeronautical engineering while in postgraduate training. During World War II he led Patrol Squadron 22 (VP-42) in action against the Japanese in the Aleutian Islands campaign. After a short tour back in the States, he was chief of staff to Commander Carrier Division Two. 
In 1945 and 1946 he served as a member of the Strategic Bombing Survey in Japan. Later he commanded the USS Coral Sea (CV-43) in the Mediterranean; in 1955 was Chief of the Bureau of Aeronautics; was awarded the Collier Trophy in 1956 for development of the supersonic Crusader Navy fighter; was Deputy CinC of the Atlantic Fleet; Vice Chief of Naval Operations (1958-1961); and CinC Allied Forces Southern Europe until retirement in 1965.
Transcripts of this oral history are available in many formats including bound volumes, and digital copies.
Order Oral History
Interview
In this clip from his first interview at his home in Tacoma, Washington, on 22 November 1974, Admiral Russell talks about the shooting down and recovery of the "Akutan Zero," piloted by Tadayoshi Koga, that crashed on Akutan Island after bombing Dutch Harbor on 4 June 1942. The Zero was later shipped to the U.S. and put into flying condition for intelligence purposes.
Admiral Russell: Instead of getting Mitchell's plane back in shape, cleaning out the tanks on the bullet-proof side, the Wing Commander sent him back still flying on the one good side to deliver operation orders to me at Cold Bay, to Foley at Dutch Harbor. He landed at my place, I was very much annoyed to think that he didn't have his airplane back in shape, and he took off to make the delivery at Dutch Harbor. We always radioed in to any base before we landed to find out if the place was under attack and whether it was fit to land there, and he followed this procedure. He radioed in to Dutch Harbor as he approached, and they said, "No, we're under attack." And instead of going out into the Bering Sea and staying clear until Dutch Harbor was open, or coming back to us at Cold Bay (and these two bases were fairly close together) he elected to go into Beaver Inlet. It's a very deep fjord on the eastern side of Unalaska Island, on which Dutch Harbor is located. He was very familiar with the country because he had flown the Dutch Harbor detachment; he'd had the four weeks of duty down there and knew the country extremely well, and he remembered that this particular fjord led into rather an open bay – completely surrounded by mountains but open water – and he decided he would slide in there and wait until the attack was over.
What he didn't know was that the Ryujo's air group was coining around that side of the island, and they spotted him in there and a section of fighters peeled off and shot him down. There is every evidence that his waist gunner, who's name was Rawls, got in a lucky shot on one of the Zeros, because this Zero was found on Akutan Island, on its back, in a marsh. The reason that I believe that it was Mitchell's waist gunner who winged the Zero is this: the bullet that brought him down went in from the top and severed the oil pressure gauge line behind the dash of the Zero. This cut off the oil pressure from the gauge and flight petty officer Koga, who was flying the airplane, saw his oil pressure drop to zero, and radioed in to the Ryujosaying, "I expect my engine to freeze up momentarily. I've lost my oil pressure, and I will make a forced landing on Akutan Island. Please send a submarine to pick me up."
His plan was to land on the island, destroy his airplane by burning it, and walk down to the beach on Akutan Island to be picked up by a submarine which they had cruising in the vicinity of Dutch Harbor. What he didn't realize was this lovely mountain meadow which he picked out to make his landing was a bog, as most level places in the Aleutians are, and he lowered his wheels. If he'd left his wheels retracted I think he would have gotten away with it very handily, but he didn't do this. He lowered his wheels, these immediately caught in the bog, flipped him over on his back and he broke his neck and was killed.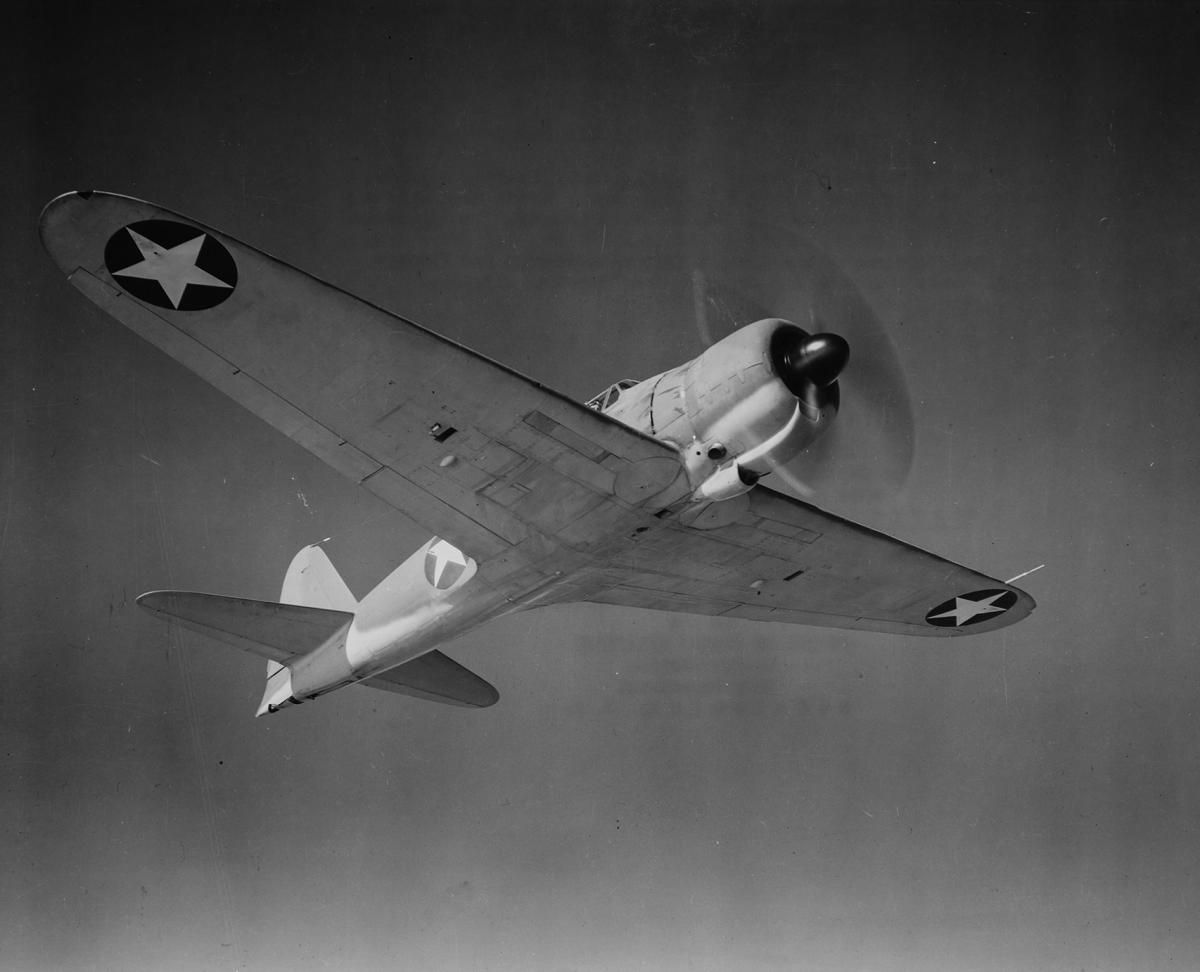 We found this airplane thirty days later. The airplanes were out looking for a missing Catalina, and, flying over Akutan Island, they were amazed to find this airplane with red apples on its wings bottom up in the marsh on Akutan Island. A salvage party was put together at Dutch Harbor. They went over to Akutan Island to the scene of the wrecked Zero and disassembled it enough so they could get it down to the waterfront and get it on a lighter. Towed back over to Dutch Harbor, it was put in a freighter, and brought down to the naval air overhaul facility at the naval air station at North Island, San Diego. It was repaired and flown beginning in early October of 1942. It was a Zero Mark II, one of the early Zeros, a beautifully put together machine. I saw it at Dutch Harbor. Repaired, it was used to develop tactics against the Zero. Now the pilot who was assigned to it was Boogie Hoffman (Melvin Hoffman) who was a former enlisted pilot, fighter pilot, and his sole duty was to become completely familiar with that airplane and all its maneuvering capabilities, and to dogfight against our pilots.
About this Volume
Based on two interviews conducted by Dr. John T. Mason Jr. in November 1974, the volume contains 369 pages of interview transcript plus an index and appendices. The transcript is copyright 1976 by the U.S. Naval Institute; the interviewee placed no restrictions on its use.