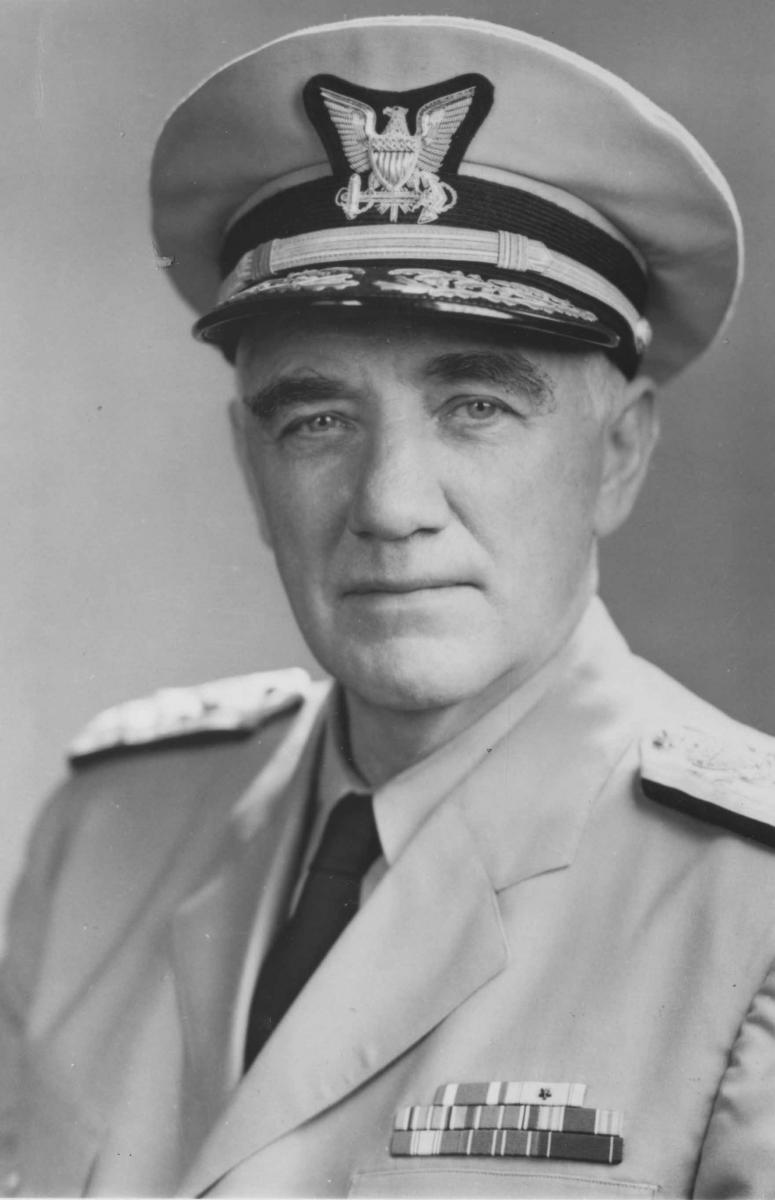 Roland, Edwin J., Adm., USCG (Ret.)
(1905–1985)
After graduation from the U.S. Coast Guard Academy in 1929, Roland's earliest assignments were as gunnery officer on board the destroyers USCGD Shaw (CG-22) and USCGD Wilkes (CG-25), which were involved in the suppression of smuggling. From 1934 to 1938, he taught at the Coast Guard Academy and was assistant football coach. Later duties included serving as commanding officer of the cutter USS Nemesis (WPC-111) and as Commander Escort Division 45, which escorted convoys to the Mediterranean. In 1944 Roland became CO of the cutter USS Mackinaw (WAGB-83), handling icebreaking in the Great Lakes to permit Navy vessels and cargoes of freight essential to the war effort to navigate in those waters. He was chief of staff at the 9th Coast Guard District in Cleveland from 1946 through 1949, and then Commandant of Cadets at the Coast Guard Academy. Volume I concludes with a discussion of his assignment to the National War College in 1955.
Volume II follows Admiral Roland's career after he completed his courses at the National War College. He was then assigned as Deputy Chief of Staff at Coast Guard Headquarters. After that followed duty as Commander, First Coast Guard District, Boston, and in 1960, Commander, Third Coast Guard District and Commander Eastern Area in New York City. He was appointed Assistant Commandant of the U.S. Coast Guard in February 1962 and four months later became the Commandant. In discussing his tenure, he talks about his role in bringing Coast Guard forces to readiness prior to their employment in the Vietnam conflict and their subsequent involvement.
Transcripts of this oral history are available in many formats including bound volumes, and digital copies.
Order Oral History
Lightships and Light Towers
(Note: Due to edits, corrections, and/or amendments to the original transcription draft, there are some inconsistencies between the recording and the text.)
John T. Mason, Jr.: Now we come to another subject. You've talked about it during various phases of your career, but not in terms of the service performed by the Coast Guard during the time that you were Com­mandant and that is aids to navigation. I think you inherited some sort of a program, did you not, a long-range program for the liquidation of various stations and that sort of thing? How did you implement that when you were Commandant?
Admiral Roland: Well, one of the things that we had to eliminate was the lightships. We had a lot of lightships. I'd say we probably had about twenty-five or thirty on the East Coast and maybe not that many on the West Coast but quite a few. We eliminated these ships by replacing them with towers in the beginning. So, each year we had money in our appropriations request to build a certain number of towers. When we did this we would retire the lightship that had been in operation. Lightships were very expensive because a ship at any time is an expensive thing to operate, but we had to have more men aboard ship in order to make it secure and safe. There had to be spare ships to replace those on station when they were in for repairs. In salt water, of course, you have to bring them in every year.
John T. Mason, Jr.: What is the size of a lightship?
Admiral Roland: I think they probably ran up to maybe about 150 to 160 feet. There wasn't one class — there were several different kinds. They were built for specific stations. For instance, Nantucket was a pretty seaworthy ship and that was probably 150 to 160 feet long. Others, for instance, there was one up at Portland [Maine] that was fairly close in shore. So, that one wasn't quite as large.
But for every two ships on station we probably had one extra ship that was a standby. The lightships had their names on them. Like at Nantucket — in big letters Nantucket all along the side on both sides. The relief ships had Relief written on them. So, when the Nantucket was in port and the relief ship was out there would be a ship out there that just said Relief on it.
John T. Mason, Jr.: What kind of complement was carried on a lightship?
Admiral Roland: They ran up to twenty men, but mostly they were less than that — there were ten. Then, of course, in the beginning you would send them out and they'd be out for a month or more and that was it. You just sent them and occasionally a ship would go out and throw them supplies and things and some groceries and things like that. But they didn't come in. The men on her didn't come in. Now, I think there is only one lightship left now.
John T. Mason, Jr.: Where would that be?
Admiral Roland: I think it's off the West Coast off San Francisco. I think that's the only one left. Beginning several years ago while we still had a lot of them in operation, we began relieving these people. They would stay out a third of the time and we would relieve them. We would send a boat out to relieve a third of the crew and they would come in. Then a little later we would relieve another third of the crew, so we kept relieving them, cutting down the time at sea. We had to do it or we wouldn't have had the personnel.
John T. Mason, Jr.: That would be very boring duty, it seems to me.
Admiral Roland: Oh, Lord, yes. But there were some people that liked it. We did that on light stations, too, that were out on islands. There was a boatswain's mate — I don't know whether I told you the story or not — up at Isle of Shoals.
John T. Mason, Jr.: Off New Hampshire.
Admiral Roland: Yes. He was a young man, probably thirty years old. He looked like Li'l Abner, you know, great big muscles all over him. He could do everything. If anything went wrong out there, we didn't have to send any electricians out or any mechanics, he would take care of it and he was good. He'd been doing this for years. He would go out there and would be out there for months. Then he'd come in for a couple of days and he'd go back out again. Then they instituted a system where after he had been out there for a month he got eight days off or something like that or maybe it was three weeks and he got eight days off. I went out there one time and talked to this fellow and said, "How do you like this?" He said, "Well, I'll tell you. I'm married and I have seven children. I come out here and get things going out here. Then I go in and I'm in there for a week or so and it's just time to get things fixed up again. Then I'm glad to come back out here and get a rest."
There aren't very many people like that but he liked it. He would have spent the rest of his life there.
John T. Mason, Jr.: He made a career of that.
Admiral Roland: When I talked to him I was the District Commander up there and we took him out of there while I was there because he had been there a long time. It just wasn't right to leave him there. So, we put him in another job and he did the other job well. He was a good man.
John T. Mason, Jr.: Now the lightships have been replaced by radio beacons?
Admiral Roland: Well, now we have replaced with towers. And there are quite a few of these — these towers that look like oil drilling rigs. Now they are replacing them with buoys, big buoys.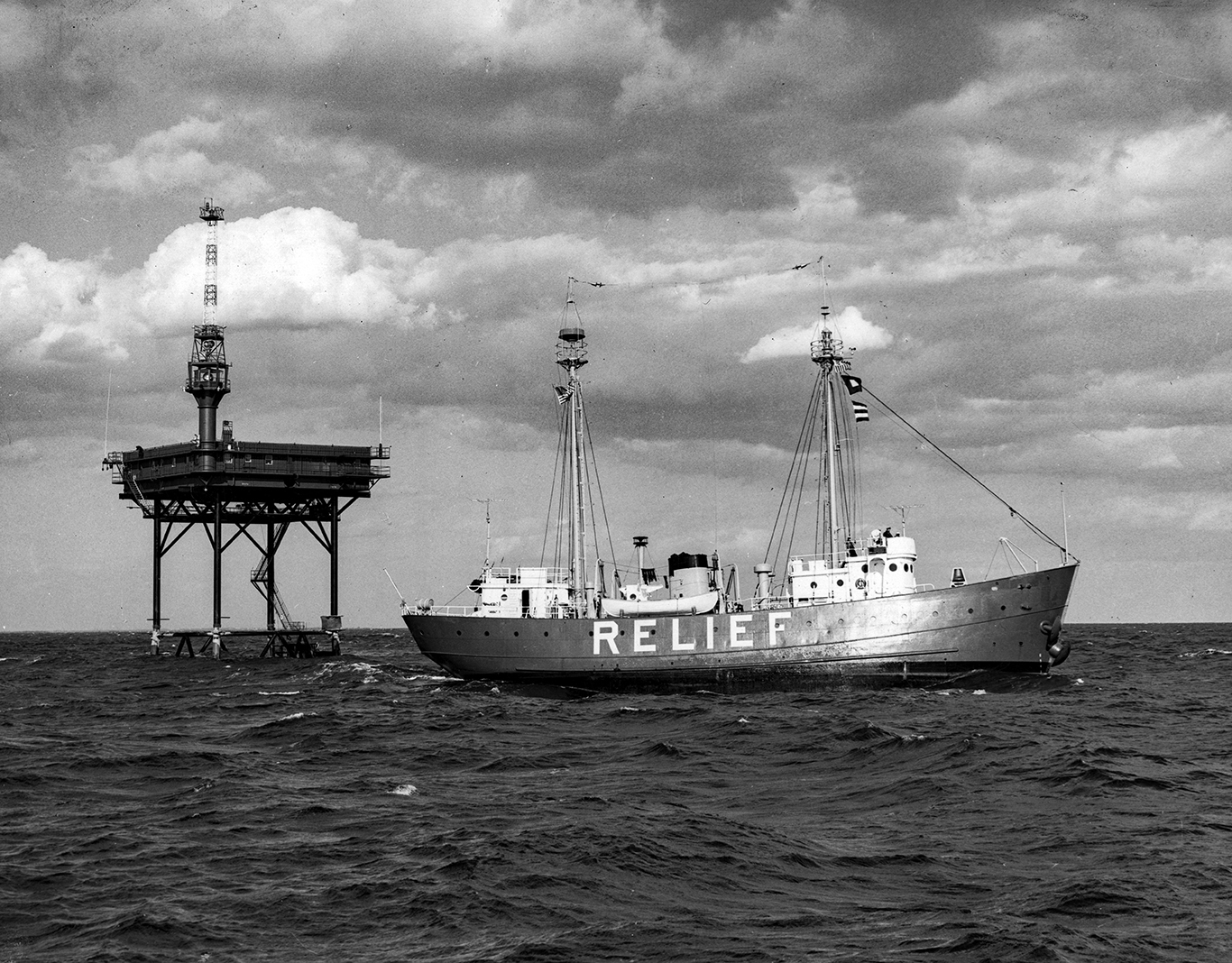 John T. Mason, Jr.: The towers didn't prove successful or did they prove vulnerable.
Admiral Roland: They proved successful but the buoys are more economical and of course with the buoy you don't have any personnel. With the towers we had personnel, not many about two or three men aboard at a time. But with the buoys, we'd put a buoy out there and a tender visits the buoy occasionally. The equipment now is good enough so you don't have to have people there all the time. If something goes haywire, of course, the tender goes right off to it and takes care of it.
Volume I
Based on four interviews conducted by John T. Mason Jr. from January through March 1976, the volume contains 384 pages of interview transcript plus an index. The transcript is copyright 1977 by the U.S. Naval Institute; the interviewee placed no restrictions on its use.
Volume II
Based on four interviews conducted by John T. Mason Jr. from May through October 1976, the volume contains 364 pages of interview transcript plus an index. The transcript is copyright 1977 by the U.S. Naval Institute; the interviewee placed no restrictions on its use.