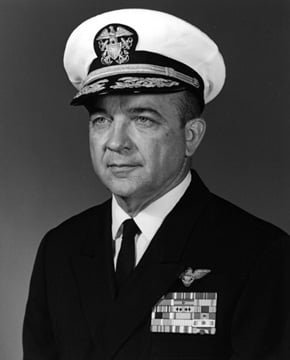 Richardson, David, Vice Adm., USN (Ret.)
(1914–2015)
After growing up in Mississippi, Richardson attended the Naval Academy, where he was on the boxing team. Following his graduation in 1936, he served as a junior officer in the battleship USS Tennessee (BB-43), and was on board when she went aground in San Francisco in 1937. He completed flight training in 1940 and reported to Fighting Squadron Five; the squadron was at times in USS Saratoga (CV-3), USS Ranger (CV-4), USS Yorktown (CV-5), and USS Wasp (CV-7). He flew F3Fs and F4Fs, including combat in the latter during the Guadalcanal campaign in 1942. Later in the war he was involved in tactical aviation training in Florida and carrier group readiness training in Hawaii.
After the war Richardson studied at the Royal Navy Staff College in London, later at the U.S. Naval War College, where he helped write analyses of wartime battles. He commanded Carrier Air Group 13 in the USS Princeton (CV-37), helped plan for the NATO military structure, and then was XO of the escort carrier USS Badoeng Strait (CVE-116) off Korea. After duty in aviation planning for ComAirPac and OP-05, he was on the CinCSouth staff in Naples, then commanded the oiler USS Cimarron (AO-22) and ASW carrier USS Hornet (CVS-12). He had a tour from 1961 to 1964 in the OP-06 organization in OpNav, then served as Commander Fleet Air Norfolk during his first flag tour. In 1966 Admiral David McDonald, the CNO, chose Richardson to command Task Force 77 during carrier air strikes against North Vietnam. In that billet, Richardson did much to integrate intelligence, planning, and operations.
After a tour as Assistant DCNO (Air), he served as Commander Sixth Fleet in the Mediterranean, 1968-70. That tour was notable for Richardson's role in creating the Ocean Surveillance Information System to monitor Soviet naval operations. His final active tour was as Deputy CinCPacFlt prior to his retirement in 1972. Since that time he has remained quite active in various roles in connection with the naval intelligence community.
About this Volume
Based on three interviews by Paul Stillwell, conducted in March and April 1992. The volume contains 316 pages of interview transcript plus a comprehensive index. The transcript is copyright 1998 by the U.S. Naval Institute; the interviewee has placed no restrictions on its use.