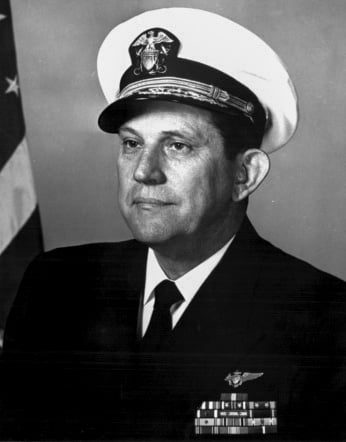 Martin, William I., Vice Adm., USN (Ret.)
(1910–1996)
Two of the main contributions of this oral history are in describing Admiral Martin's work as a naval aviation pioneer, particularly in the area of night and all-weather flying, and his repeated contacts with Admiral Arleigh Burke. Martin served as the latter's executive assistant during Burke's tenure as Chief of Naval Operations and thus observed him on a daily basis.
After Martin graduated from the Naval Academy in 1934, he served 1934–37 in the battleship USS Idaho (BB-42), then received flight training at Pensacola Naval Air Station, 1937–38.  Subsequent aviation assignments included: 1938–40 in Scouting Squadron Two (VS-2); 1940–42 as a flight training instructor at Pensacola and Corpus Christi. During World War II combat action, he was executive officer, then commanding officer of Scouting Squadron 10 (VS-10); commanding officer of Torpedo Squadron Ten (VT-10), and Commander Night Air Group 90 — all on board the carrier Enterprise (CV-6). In the summer of 1945 he served on the U.S. Fleet staff for anti-kamikaze experimental work.
From 1945 to 1948 he was a test pilot at the Naval Air Test Center, Patuxent River. He served 1948–50 as executive officer of the Fleet All-Weather Training Unit Pacific (FAWTUPAC), and was a student at the Naval War College, 1950–51.  From 1951 to 1953, Martin was all-weather flight coordinator in OP-05W, the Air Warfare Division of OpNav, then served 1953–55 as commanding officer of FAWTUPAC.  He commanded the aircraft carrier Saipan (CVL-48) in 1955–56, notably in providing rescue and relief following a 1955 hurricane that hit Tampico, Mexico.
In 1956–57 Martin was CNO Arleigh Burke's executive assistant. He served 1957–58 as chief of staff to Commander Carrier Division Five; in 1958–59 commanded the Airborne Early Warning Wing at Argentia, Newfoundland; and commanded Carrier Division 19 in the Pacific, 1959–60. In 1960–61 he was deputy chief of the U.S. Military Assistance Advisory Group in West Germany. After a tour from 1961 to 1963 as Chief of Naval Air Reserve Training, he commanded Carrier Division Two, leading the planning for Operation Sea Orbit, an around-the-world cruise by the world's first nuclear-powered task force. He served as Assistant CNO (Air) from 1964 to 1967; commanded the Sixth Fleet, 1967–68; and was deputy and chief of staff for Commander in Chief Atlantic Fleet, 1968–71. After his retirement from active naval service, Admiral Martin worked for Grumman Aerospace Corporation.
Navy vs. Air Force: The B-36 Battle
In this audio selection from his oral history, Vice Admiral Martin recounts his role in the post–World War II congressional showdown between naval aviation and the Air Force — in particular, the Air Force's B-36 Peacemaker (the largest-ever U.S. warplane) and the push to unify American air power beneath the Air Force banner.
(Note: Due to edits, corrections, and/or amendments to the original transcription draft, there are some inconsistencies between the recording and the text.)
Admiral Martin: Radford was always this way. He wanted to know what the young fellows were up against. I think it just became a goal of his. Here he was an aviator, and he really wasn't qualified to fly at night or in bad weather, and he just took this on as a goal. Because of that he could be extremely helpful to the all-weather effort there. His understanding of the needs of naval aviation was most unusual. As you know, he came up with the integrated maintenance system. I have forgotten the short title for that, but he had a big effect on naval aviation from the time he was a captain right all the way through four stars.
During this period he was very concerned as to what was happening to naval aviation and what appeared to him to be a threat by the Air Force that had this unification thing.[*] He had opposed the way they were about to do it, and here again I got in on just the fringes of that until it became a matter of concern to the Congress. They decided to have an investigation of the B-36, which was supposed to take over all of the offensive air of the country.[†] This is when he said we shouldn't put all of our eggs in one basket, as you remember. The House Armed Services Committee was determined to have what they called a B-36 investigation. But it was actually getting into the deepest concepts and strategy of the country. So it was a misnomer to call it the B-36 investigation, but that had to be dealt with first, before they could go on to other things. During a period of 18 months, Admiral Radford sent me to Washington eight times.
John T. Mason: Your special mission being what?
Admiral Martin: My mission was to assist in picking the technical panel that would shoot down the B-36, that would deal with the airplane itself, in order that Admiral Radford and others could deal with the more important points of the nation's defensive strategy.
John T. Mason: You had to have an intimate knowledge of the B-36 yourself?
Admiral Martin: Not too intimate, just how it performed and what its general performance characteristics were. The Air Force didn't want us near it. Not that I personally tried to get near it, but I was told by others that they wouldn't let anybody fly in one of them. I don't think that was essential, though, to deal with it. We knew what its performance characteristics were. The Air Force had some really ridiculous claims that because its wings were bigger and because it had four engines that it would fly higher than anything else. That just wasn't the case. When we were test flying, we were flying above 50,000 feet, and the B-36 couldn't do any better than that. It was really a very vulnerable airplane because those four big propellers and the size of the aircraft itself would give a tremendous reflection to radars. It would be picked up over 200 miles away by that radars of that period even.
John T. Mason: Why did the Air Force select this particular plane then as a focal point?
Admiral Martin: I don't think it has ever been published, and maybe you couldn't document it, but it was the belief of some in the Navy that the Air Force and the Army had a conspiracy at a very closely held level — that the Air Force would assist the Army in taking over the Marine Corps, if the Army would help the Air Force take over all of Navy aviation and Marine aviation. I don't know if that could be documented even today, but it certainly seemed to be their aim, and Admiral Radford had expressed himself strongly enough on this — by putting such a large proportion of the defense budget into the Air Force for strategic purposes only, left the tactical side out of it, and the Air Force was neglecting their tactical air forces all the time. It was just out of balance, so the Armed Services Committee decided to have this investigation.
I think it was the eighth time I was sent to Washington by Admiral Radford, and he came over to Barbers Point to see me off. He told my family, because I had been going so frequently, "Bill will come back quickly from this, because he is going over on this plane, and he is coming back with Admiral Fiske." Fiske was then the commander of Trust Territories in the Pacific.[‡] On the strength of that, I took an extra shirt, extra underwear, and a toothbrush. I got over there in September, and I didn't get back until November.
John T. Mason: So much for his word.
Admiral Martin: So much for his word. I hadn't even taken my winter uniforms or anything like that. But the whole thing broke while I was there. The congressional committee investigation commenced, and that took quite a while. When it was clear that it was going to happen, there was a lot of preparation that had to be made, selecting those who would testify, and I personally—
John T. Mason: That was part of your role?
Admiral Martin: That was part of my role. Commander Bill Leonard, who later became a flag officer—he was such a capable test pilot, he was with me in the tactical test division at Patuxent River—was asked to testify on the ability to shoot down the B-36 in the daytime, and I was selected to be the one to take care of the aspect of being able to deal effectively with the B-36 at night.[§] Others were handling various other aspects of it—ordnance and so on. This is a little amusing: at that time, Congressman Dewey Short, who had given me my appointment to the Naval Academy, was number two on that committee under Carl Vinson.[**] I was staying with Dewey at his apartment out on Connecticut Avenue; his wife was visiting her sister in Europe. Each night during this period I would go back there with him, and Dewey and I would have our talks about it.
John T. Mason: Connivance?
Admiral Martin: It turned out that way. It wasn't planned, but it turned out to be very helpful. Dewey asked me one Friday evening, "Now, Bill, you've been above 40,000 feet?"
I said, "Well, I've got quite a bit of jet time, but I don't think I have spent much time above 40,000 feet."
He said, "Have you conducted a night intercept in this Skyknight?"[††] That was the Navy's first plane designed from the beginning to be a night fighter. It was a Douglas twin-engine aircraft.
I said, "Yes, I've had night interceptions in it, successfully."
He said, "Above 40,000 feet?"
I said, "No."
He said, "Don't you think you had better go down to Patuxent River? You are liable to come up before this committee next Monday. Don't you think you ought to go down and do that before you appear before the committee? You're going to be asked that, and you'll be a lot more effective if you've done it."
So I called Admiral Soucek at Patuxent River, and he said, "Come on down, and we'll work on it this weekend."
So that Saturday I got the McDonnell Phantom I and easily went above 40,000 feet and conducted some intercepts above 40,000 feet in the daytime.[‡‡] Then we had two Skyknights down there that were operating well, but each time I took it up at night I was having trouble of one kind or another, and it wasn't until after midnight on Sunday night that I got it above 40,000 feet with all systems working and successfully completed a number of night air intercepts against aircraft much, much smaller than the B-36. I was very happy he did that, because the next day I was before the committee, and I was asked if I had personally done those two things. I was very happy that I was much more competent.
John T. Mason: You didn't tell him it was that very day?
Admiral Martin: While I was before this committee, and I knew this was going on back at Patuxent River, Fox Turner and Hugh Tate, both of them, took Navy jet fighters above 50,000 feet and took beautiful photographs of the Capitol — 50,000 feet down. This was right after Vandenberg had said the B-36 was not vulnerable, and this was a ridiculous claim.[§§] While I was testifying, they brought an envelope in to me. That very morning Fox Turner and Hugh Tate, these young junior officers, had taken photographs above 50,000 feet of the Capitol, right where we were. These photographs were passed on to members of the committee with the announcement, "These were taken by Navy fighters this morning above 50,000 feet." It was a very interesting time and completely convincing.
---
[*] In 1949, the Navy and Air Force were competing for scarce defense dollars.  Secretary of Defense Louis Johnson accelerated production of the Air Force's B-36 bomber and canceled the aircraft carrier United States (CVA-58) soon after the beginning of construction. The Navy fought back, as detailed in Jeffrey G. Barlow, Revolt of the Admirals (Washington, D.C.: Naval Historical Center, 1994). See also Paul Schratz, "The Admirals' Revolt," U.S. Naval Institute Proceedings, February 1986, pages 64-71.
[†] Consolidated Vultee, based in San Diego, built the Air Force's B-36 bomber, known as the Peacemaker. The B-36D model was equipped with four J-47 jet engines in under-wing nacelles and six piston engines that drove propellers. The jet engines enhanced the plane's maximum speed from 376 miles per hour to 435 miles per hour. It first flew in 1946 and subsequently was operational in the Strategic Air Command from 1948 through 1959.
[‡] Rear Admiral Leon S. Fiske, USN, Deputy High Commissioner Trust Territory of the Pacific Islands.
[§] Commander William N. Leonard, USN.
[**] Dewey J. Short, a Republican from Missouri, served in the House of Representatives from 1929 to 1931 and from 1935 to 1957. Carl Vinson of Georgia entered the House of Representatives in 1913 and was appointed to the Naval Affairs Committee in 1917. He became the ranking Democrat in 1923 and chairman in 1931. When the Armed Services committee was formed in 1947, Vinson became chairman and held that position, except for two short periods when Republicans held the House, until his retirement from Congress in 1965. The aircraft carrier Carl Vinson (CVN-70) is named for him.
[††] The Douglas F3D Skyknight was an all-weather jet fighter used by the Marines as a night fighter and for electronic countermeasures. It was first delivered to VC-3 in 1951. The plane's two-man crew of pilot and radar operator sat side by side. The F3D-2 version was 46 feet long, wingspan of 50 feet, gross weight of 26,850 pounds, and top speed of 600 miles per hour. It had four fixed forward-firing 20-millimeter guns.
[‡‡] The FD-1 Phantom I, soon redesignated the FH-1, was a jet fighter built by McDonnell. It first entered fleet squadrons in 1947. The FH-1 had a wingspan of 41 feet, length of 39 feet, gross weight of 12,035 pounds, and top speed of 479 miles per hour. It was armed with four .50-caliber machine guns.
[§§] General Hoyt S. Vandenberg, USAF, was Air Force Chief of Staff from 30 April 1948 to 29 June 1953.
About this Volume
Based on seven interviews conducted by John T. Mason Jr. between October 1979 and January 1980, the volume contains 317 pages of interview transcript plus a comprehensive index. The transcript is copyright 2013 by the U.S. Naval Institute; the interviewee placed no restrictions on its use.