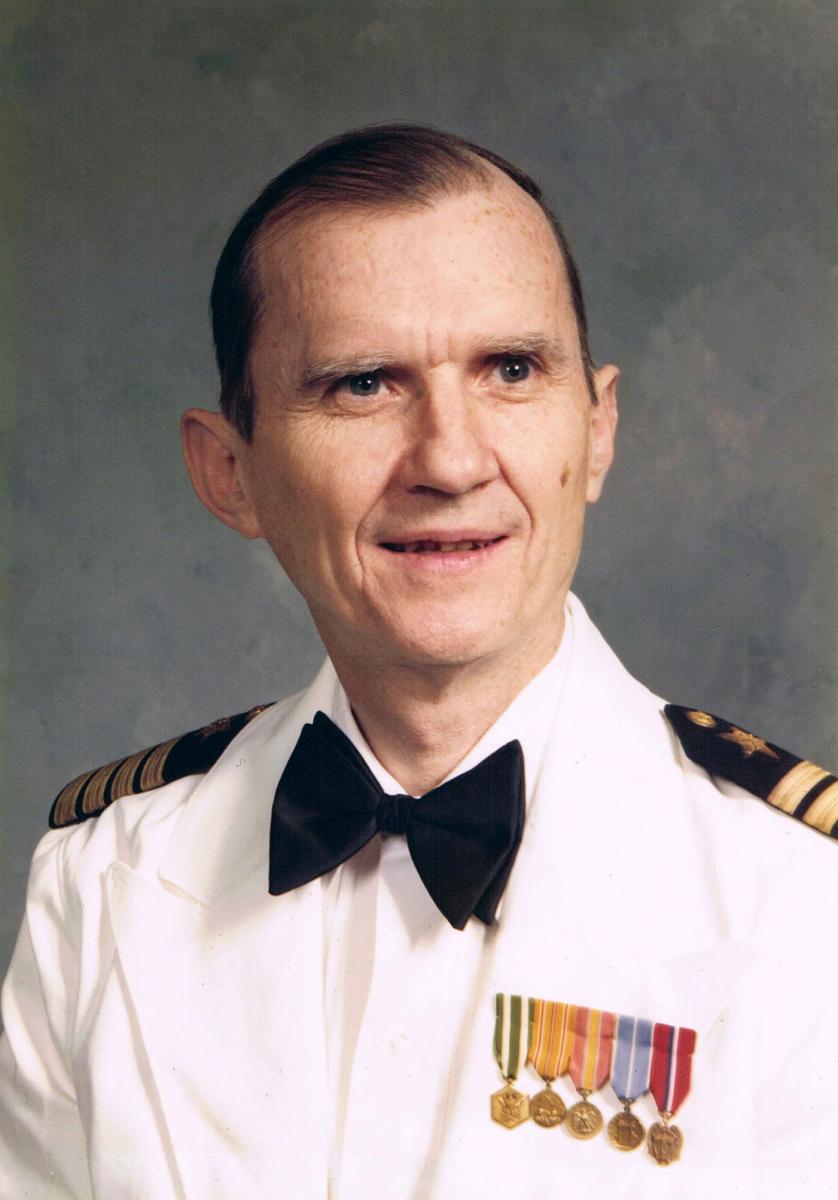 Manson, Frank A., Capt., USN (Ret.)
(1920–2005)
Of particular interest in this oral history was Manson's close association with a number of four-star admirals whom he discusses candidly: Louis Denfeld, Forrest P. Sherman, Robert B. Carney, Arleigh A. Burke, Harold Page Smith, Harry Don Felt, Robert L. Dennison, David L. McDonald, John S. McCain Jr., and Claude V. Ricketts. Manson was commissioned in the Naval Reserve in 1942 and went through the naval training school at Ithaca, New York. In 1943–44 he was part of the staff of the Boston Representative of Commander Destroyers Atlantic Fleet. He had combat experience in the crew of the destroyer USS Laffey (DD-724) in 1944–45. Shortly after World War II, he was selected as a public information specialist and augmented into the regular Navy. He served in the late 1940s on the Secretary of the Navy's Committee on Research on Reorganization (SCOROR) and participated in the writing of volumes of the Battle Report about the Navy's combat operations in World War II—as well as a later Battle Report volume on the Navy in the Korean War.
In the late 1940s and early 1950s he served as speechwriter to CNOs Louis Denfeld and Forrest Sherman. From 1951 to 1953 he was historian at the foundation of NATO's Allied Forces Southern Europe (CinCSouth) and from 1953 to 1956 served as speechwriter for two Chiefs of Naval Operations, Robert Carney and Arleigh Burke. From 1956 to 1958 he was head of Plans and Policies Analysis, Office of Progress Analysis, in OpNav. He was coauthor, with Commander Malcolm Cagle, of the 1957 book The Sea War in Korea. As a student at the Naval War College, 1958–59, he developed a "White Fleet" concept for the humanitarian use of Navy ships. In 1959 Life magazine published a cover story on his idea. From 1959 to 1963 Manson served as public information officer for CinCNELM in London, in 1963–64 served in the Navy's Office of Information (Chinfo), followed by duty in 1964–68 as public affairs officer for NATO's Supreme Allied Commander Atlantic (SACLant). His final tour of active duty, in 1968, was as head of the book and magazine section of the office of the Deputy Secretary of Defense (Public Affairs). His post-retirement activities in the foreign relations field were on behalf of the American Legion and Veterans of Foreign Wars.
Transcripts of this oral history are available in many formats including bound volumes, and digital copies.
Order Oral History
"The Ship That Would Not Die"
In this audio clip from his oral history, Captain Manson describes the chaotic scene on board the legendary USS Laffey in the battle for Okinawa — during which the destroyer stood fast against bomber assaults and the most relentless kamikaze attacks of World War II.
(Note: Due to edits, corrections, and/or amendments to the original transcription draft, there are some inconsistencies between the recording and the text.)
Paul Stillwell: What were you personally doing during this kamikaze attack?
Captain Manson: Well, for the most part, a lot of us were sort of watching it as much as anything, because the flagship had sent us a special fighter-director team. It included two Air Force officers, I believe, one young Navy type, three altogether. They were especially good at directing our combat air patrol and fighter direction. So the job I had been doing when we were on the fast carrier strikes against Tokyo was done by the experts. I had been keeping track of incoming bogeys from the combat information center.[1] So here I was, mainly following the action, since we were alone out there with one LCS.[2] We hadn't been hit during the first few minutes of action. Our guns were blazing, rapid fire, and we were getting strafed early with no injuries. You could hear the bullets hitting the ship.
Paul Stillwell: Was this on a picket station?
Captain Manson: Yes, we were on radar picket station number one, which was 60 miles north of Point Bolo. Number one was on a direct line from Kyushu to Okinawa. So mainly I was going around the ship, checking gun crews to see if they had any requirements, if they needed something they didn't have or get whatever it might be. Once we started getting hit and getting hurt, I started helping the wounded with the morphine syrettes. Then the doctor had some bourbon and different kinds of liquor aboard for medicinal purposes. I got about four or five bottles of it, and I went around to the gun crews, all of them, and I gave anybody that needed it a good stiff shot. They needed it, drank it like water.
Paul Stillwell: Did they seem to welcome that?
Captain Manson: Oh, yes. Some had put a white cream on their faces as burn protection. Oh, I mean, their eyes were bloodshot. They were really fighting to save their ship. So for quite a long time I was involved in going around the ship from gun to gun with morphine syrettes and liquor. But, of course, we eventually got to the point where we were virtually out of action, and there wasn't much that anybody could do. Except the damage control crews were skilled at putting out fires and saving the ship, dealing with battle damage. They were busy rigging pumps, trying to dislodge the rudder when it was jammed hard left.
Paul Stillwell: Damage control.
Captain Manson: Damage control. They were pumping, trying to get the bilge pumps to work. Finally, two tugs came out there and tied up on either side of us. The tugs were really what saved us.
Paul Stillwell: Were they able to pump out enough to bring the stern back up?
Captain Manson: Yes, with the help from the tugs, they did. It took quite a while.
Paul Stillwell: I've seen pictures of how badly the Laffey was damaged, and it is remarkable that she survived.
Captain Manson: Oh, yes, it is. I'd say it's a miracle because so many ships had sunk out there under conditions that were certainly no worse than ours. Kerama Retto looked like a destroyer cemetery — so many mangled ships there.[3]
Paul Stillwell: So where did you go from there?
Captain Manson: We went back to Kerama Retto, or near there, and we stayed there for about six days. They pulled us near or alongside an ammunition ship to put on soft patches and do different things. I thought, "Man, if they could find something besides an ammunition ship or some other type, that would have been just as well with me."
Then I was asked, I believe the first night we were back in the anchorage, to go over to Admiral Turner's flagship, to meet with the flag officers and the press and report on the action.[4]
Paul Stillwell: Was this the Eldorado?
Captain Manson: Yes. So the skipper and I got into a huddle over the best we could make out what had happened. You might say it was the two of us just back and forth until I thought I had a pretty good grasp of how many planes had come in and how many bombs, how many we had shot down, where we were hit, as many things as we could put together. It's hard to know exactly everything that happens when you're under a massive attack like that. You don't have time or inclination to take notes.
Paul Stillwell: You were too busy getting out of the way.
Captain Manson: Well, sure, and you don't count them. You're just waiting to see where the next one's coming in.
Paul Stillwell: Why were you selected as one of the spokesmen?
Captain Manson: Actually, a few months before that, CinCPac had put out a directive that every ship must have a PR officer, and I was designated.[5] The skipper called me in and said, "See this?" 
I said, "Yes, I've seen it." 
He said, "You're it." So that's how come.
Paul Stillwell: Were you a regular officer of the deck in the watch-standing rotation?
Captain Manson: No. I had been off and on until Lieutenant Runk returned.[6] He had been sick for a few months. When he returned, he became a regular deck watch stander. He was an excellent ship handler. I suppose I could have done all right during the kamikaze attack, because the skipper had the conn. The thing that used to give me trouble on watch standing was anticipating the tactical maneuvers of the carriers. I had not had enough experience to know and to anticipate. Well, I had done it some, but we had others that were better than I. Then, of course, after the action, I went back to standing regular rotation watches because so many officers had been wounded and had gone from the ship. I did OOD for as long as I remained aboard the ship.[7] I was usually OOD coming into port and getting under way. But during Commander Becton's tour we didn't enter port all that much. It was more often an anchorage.
Paul Stillwell: How did the press conference go on Turner's flagship?
Captain Manson: Well, we had an air raid aboard at the time I was giving this press conference. I almost got choked, as did everybody, breathing that smog or smoke in the flagship's wardroom. I told them, a hundred or so, as best I could what happened. When the information I gave them was released in Washington, it made headlines in all the newspapers, magazines. Books were written, and it had a fantastic pick-up back in the States, just absolutely unbelievable. We had survived the heaviest aerial attack of World War II against a single ship.
Paul Stillwell: How many hits altogether?
Captain Manson: Well, we actually had five direct hits. We had two that glanced the ship, just grazed it and knocked off a yardarm, one of them did, and I forget what the other one did. Then we had I'm still not sure how many bombs, but it was two, I think, two bombs, one 500-pounder. We had one small bomb land on our deck that Lieutenant Runk just personally rolled off into the ocean before it exploded.
Paul Stillwell: That takes some guts.
Captain Manson: Yes. They gave him a Navy Cross, and he deserved it. It was a fantastic group of people when you got them all together, and to think that — except for a very few — they had all been just a bunch of civilians.
---
[1] "Bogey" is a term used to designate an unidentified air contact.
[2] LCS – landing craft (support).
[3] Kerama Retto is a group of small islands off the southwest coast of Okinawa. It was used as an anchorage and logistics base during the Okinawa campaign.
[4] Vice Admiral Richmond Kelly Turner, USN, served as Commander Task Force 51, the Joint Expeditionary Force, for the Okinawa operation. Captain Manson expanded on describing this briefing about the kamikazes in an article that is an appendix to this volume of oral history.
[5] CinCPac – Commander in Chief Pacific Fleet.
[6] Lieutenant Theodore W. Runk, USNR. He was awarded the Navy Cross for his role in this battle.
[7] OOD – officer of the deck.
About this Volume
Based on six interviews conducted by Paul Stillwell from December 1987 to April 1988, the volume contains 361 pages of interview transcript plus an appendix and a comprehensive index. The transcript is copyright 2014 by the U.S. Naval Institute; the interviewee placed no restrictions on its use.