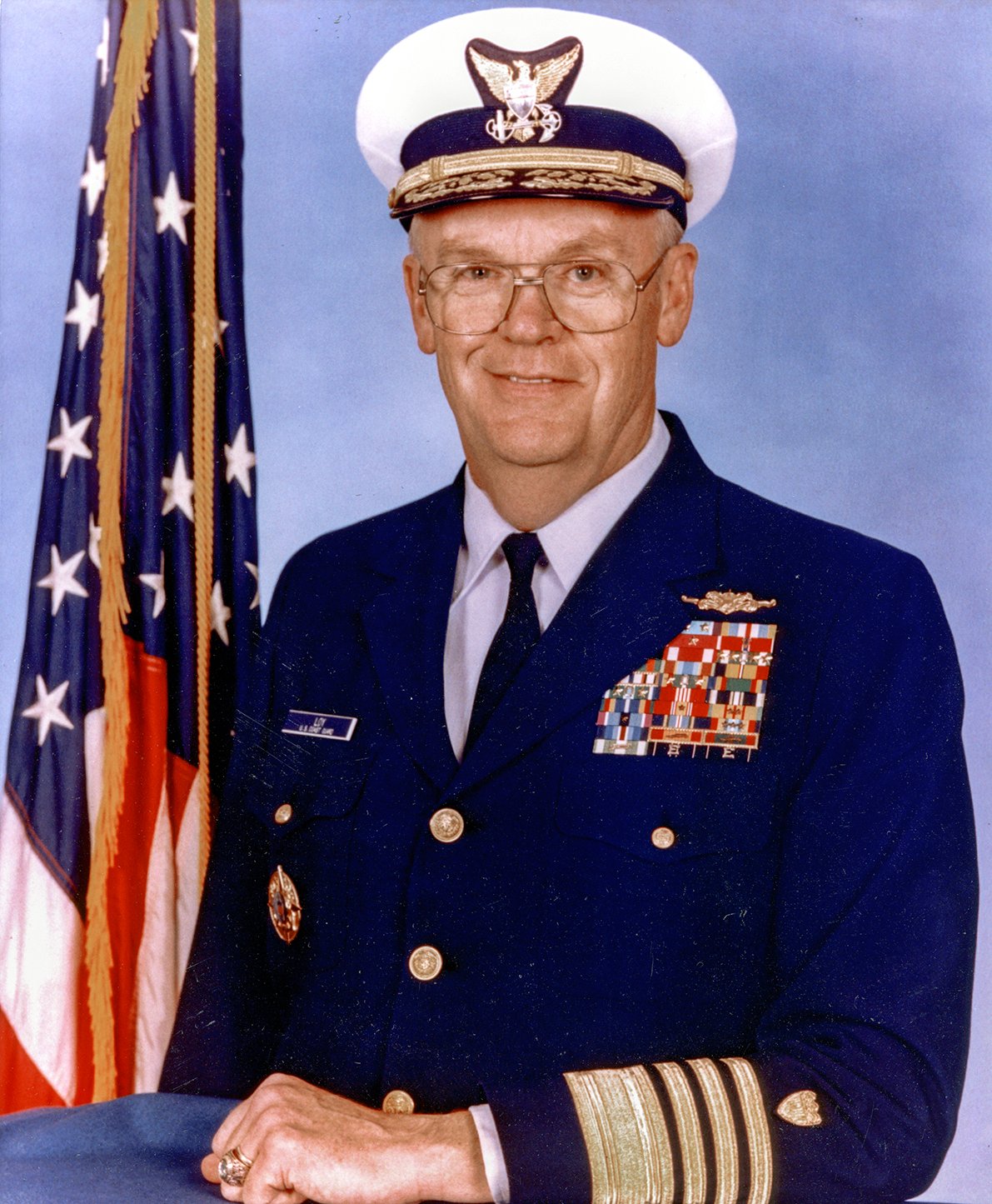 Loy, James M., Adm., USCG (Ret.)
(1942–)
This memoir traces the life of Admiral Loy from his boyhood in Altoona, Pennsylvania, to the culmination of his service career, as Commandant of the Coast Guard from 1998 to 2002. The terrorist attacks of 11 September 2001 occurred on his watch, and he was responsible for leading his service's reaction to them. Loy was a Coast Guard Academy cadet, 1960-64, and played on the basketball team. As a junior officer he served in the high-endurance cutter USCGC Absecon (WAVP-374) in 1964-65, commanded the patrol boat USCGC Cape Falcon (WPB-95330) in 1965-66, and commanded the patrol boat USCGC Point Lomas (WPB-82321) in Vietnam in 1966-67. He was on the long-range planning staff at Coast Guard Headquarters in 1967-68, a postgraduate student at Wesleyan University in 1969-70, and on the faculty of the Coast Guard Academy from 1970 to 1974. He served 1974-76 as executive officer of the medium-endurance cutter USCGC Courageous (WMEC-622) and from 1976 to 1979 at the Coast Guard Officer Candidate School, Yorktown, Virginia.
From 1979 to 1981 he commanded the medium-endurance cutter USCGC Valiant (WMEC-621) and in 1981-84 served in the Officer Personnel Division of Coast Guard Headquarters. Loy commanded the high-endurance cutter USCGC Midgett (WHEC-726) in 1985-86 before serving from 1986 to 1989 as executive assistant to the Commandant, Admiral Paul Yost. Loy's final billet as a captain was in 1989-90 as chief of the operations division, Coast Guard Atlantic Area. From 1990 to 1992 he commanded the Eighth Coast Guard District in New Orleans, then headed the Personnel and Training Division in Coast Guard Headquarters from 1992 to 1994. In 1994-96 was he was Commander Coast Guard Atlantic Area and from 1996-98 served as Coast Guard Chief of Staff at headquarters in Washington before becoming Commandant. After retiring from active military duty, he served 2002-03 as Deputy and Administrator of the Transportation Security Administration and 2003-05 as Deputy Secretary of Homeland Security.
Transcripts of this oral history are available in many formats including bound volumes, and digital copies.
Order Oral History
Interview
In this selection from his third interview with Paul Stillwell at the Department of Transportation, Washington, D.C., on 17 October 2002, Admiral Loy recounts a harrowing storm on board the cutter USCGC Absecon (WAVP-374) off the coast of Greenand as a junior officer:
Admiral Loy: Well, our version of the perfect storm in my career was on Absecon. I was involved in the worst weather I was ever involved in of 12 years going to sea during the year and a half that I was on Absecon. We were on Ocean Station Bravo, which is off Greenland, and it was just one of those perfect storm-like gathering of cells. There were at least two systems that we could define as we watched the weather maps that the weathermen constructed for us. They came together and sat there and just pounded Ocean Station Bravo for about ten days.
Our obligation of course was to stay there and emanate this navigational signal, but we were just getting the bejesus beat out of us in doing so. It got to point where we were logging number eight seas, and I have never since been in such a sea, let alone actually logging it. But we were for several days logging number eight seas, and our only choice was to plow directly into the primary swell system until we got to that end of the box that we were supposed to stay in, turn around and run down swell, turn around and run back into it, turn around and run back down it. We had people just literally hanging on. There wasn't much in the way of meals going on.
Jack Forrester was on the bridge for most of three days, sipping a little coffee or a little soup in the CO's chair, which he had strapped himself into so as to be there and really watch carefully the young OODs as we were doing those turns. I had the midwatch one night in the middle of this, and on that watch I needed to make the turn from going directly into the swells to going back down the swells.[1] There was a port on the centerline of the Absecon's forward bridge bulkhead. I was glued to that centerline port and knew that I had to time my order to the helmsman with an acceleration of the outboard shaft adequate to kick the stern around and come all the way through the primary swell system, which is at this point were 25- and 30-foot seas. It was terrible.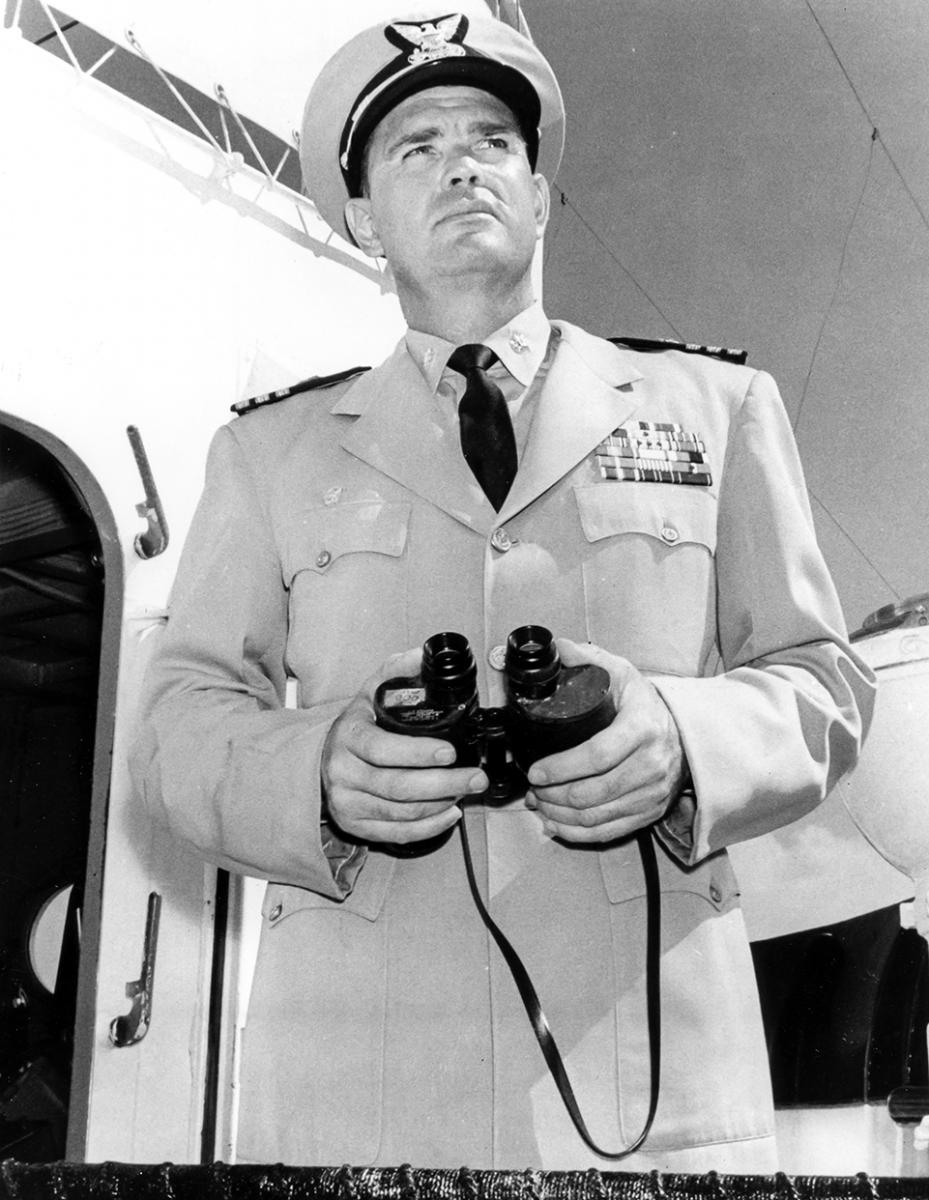 I was grooved up there and getting my timing exactly right and issued the order to the helmsman to go to left full rudder. I put my hand on the engine order telegraph to accelerate the outboard shaft. A hand came down over my hand, dead of night, darkest bridge I've ever been on. It was Jack Forrester's hand, and he picked my hand up and put it over on the right handle of the engine order telegraph. Never said a word. The only people on the bridge that ever knew it were he and I. There was no fun at the wardroom table the next day or anything where he was telling the story. It was probably one of the most impacting moments of my life, that he would, after all that time sitting up on the bridge, be so savvy, and without screaming at this stupid young ensign that was about to put the ship in jeopardy and oppose the commands that he had just given to the helmsman, that he would pull that off in that magnificent fashion. He became one of my heroes if he wasn't already.
---
[1] On board a Coast Guard ship the midwatch typically runs from 2345 at night to 0345 in the morning.
The Coast Guard in Vietnam
In this clip from his fifth interview with Paul Stillwell at the Transportation Security Administration, Washington, D.C., on 19 June 2003, Admiral Loy recounts the most memorable incident from his time in Vietnam.
Paul Stillwell: Is there any one incident you would pick out as the most difficult or the most terrifying or most memorable?
Admiral Loy: Yes. It may surprise you, because it was a little taste of almost stateside-type Coast Guard humanitarian SAR in the middle of the year in Vietnam. I remember it was the only time that I was recalled from patrol because of weather. It was just a hellacious storm that was going by. This was while we were up north. I was in Area Two-Echo, which was as far to the south as you could get and still be controlled by Danang. All the boats were recalled because of this horrific weather. So we just beat the hell out of ourselves going from as far away as we could get into Danang Harbor. And literally just as we were putting the lines over, there was this report that a Jolly Green Giant full of Marines had gone down in the Danang Harbor entrance in the middle of this storm. It went down near Spanish Beach. When you were entering east to west into Danang Harbor, then you came around the corner to the south, and there was a beach called Spanish Beach. That was a piece of no-man's land turf inside the massive Danang Harbor complex. And that's where the Jolly Green had gone down. They had been supporting an air traffic control contingent of Marines on top of Monkey Mountain.
We were sortied immediately to come to the aid of these Marines. As I remember the numbers, there were about 30 Marines on this bird. We got about 15 of them out of the water and aboard Point Lomas. The other half of the crew went to the beach instead of trying to stay with the Jolly Green, which had gone down but was still sticking out of the water. The guys that went the other way were now 15 or so Marines on Spanish Beach with no support, nowhere to go, and no means to protect themselves.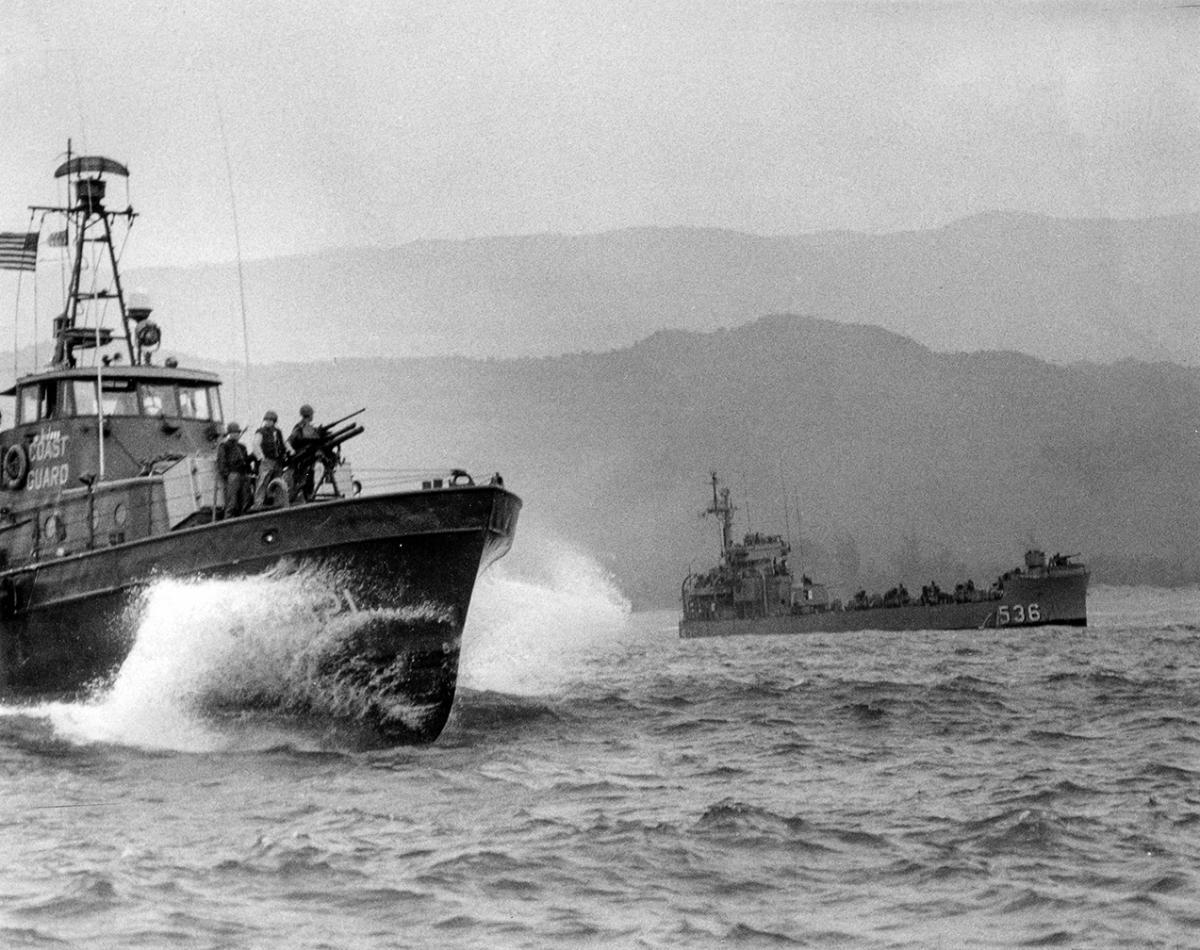 Our challenge for the rest of the evening was to make it a place where if there happened to be a bunch of VC, they would choose to avoid Spanish Beach. We actually had to call back and get another WPB to bring us more illumination ammunition, and we just tried to keep it looking like daylight through the course of the night. I think the helo went down about 2:00 in the morning, so we had about four hours of darkness that we wanted to keep light. In addition to getting about half these guys on board and taking good care of them, the other notion was to let the Marines who chose to go to the beach stay collected there and not become a target for the VC.
So we just sat there for four hours, getting the living hell beat out of us by this weather, and staying abreast of an adequate illumination activity set that kept those guys safe. At first light, a land-based Marine contingent from III MAF came in and got them out of there. But I'll never forget that incident, both because it was the only time we were recalled from patrol, and then because we just got beat to smithereens getting back to Danang. Just after we got the lines over, we got this new deployment. And then to go back right out in the heart of this weather and take care of this case, that's one of those nights I'll never forget.
About this Volume
Based on 15 interviews conducted by Paul Stillwell from August 2002 to August 2006, this volume contains 621 pages of interview transcript plus appendices and a comprehensive index. The transcript is copyright 2014 by the U.S. Naval Institute; the interviewee placed no restrictions on its use.