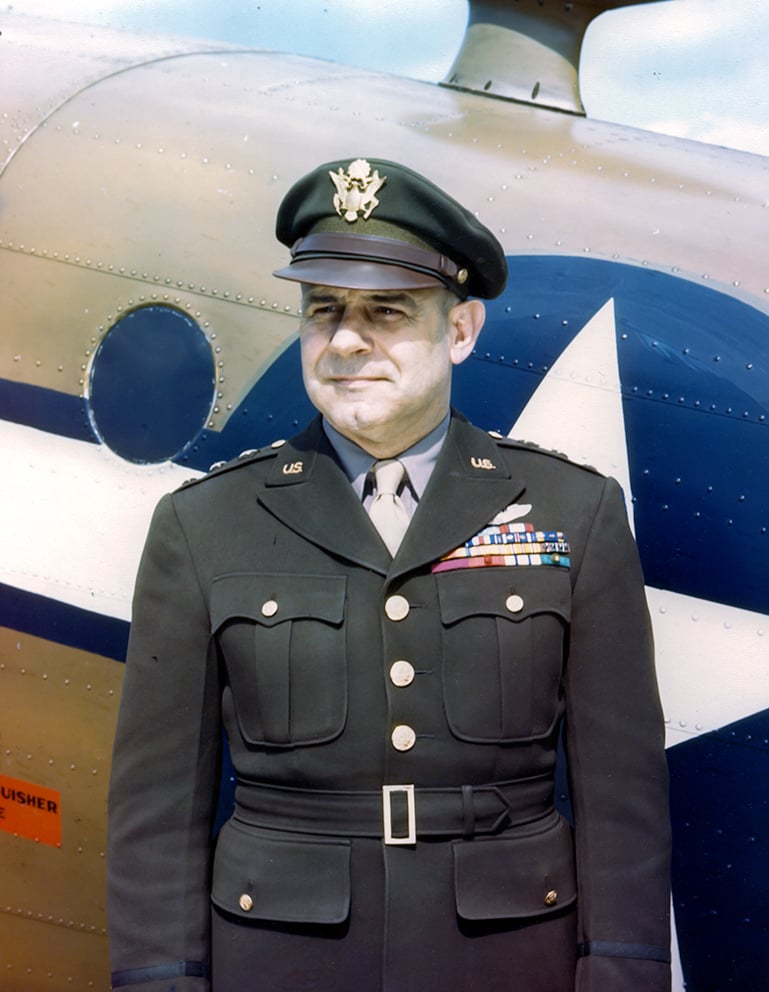 Doolittle, James Harold (Jimmy), Gen., USAF (Ret.)
(1896–1993)
General Doolittle describes in detail the background and preparation for the air attack he led on Tokyo in April 1942 – the famous Doolittle Raid. Among aspects he covers are mechanical difficulties, crew training, and the personalities he dealt with in bringing off this daring attack.
Transcripts of this oral history are available in many formats including bound volumes, and digital copies.
Order Oral History
Interview
In this excerpt from his February 1983 interview with Captain Ryan, General Doolittle describes the preparations for the celebrated raid and accommodations on board the USS Hornet (CV-8) as the raiders steamed toward Japan.
General Doolittle: When we went aboard, there was perhaps just the least bit of coolness between the Navy people and the Army people. We felt a little out of place on a carrier, and they felt a little out of place having us there. But when we went under the San Francisco Bridge, over the radio said, "Hear ye, hear ye." And everybody aboard was told not exactly where we were going, not exactly what we were going to do, but that this was a mission against Japan. From then on, there was complete rapport. There was no—as a matter of fact, the Tokyo fliers were given the best of everything. If they were rooming with a chap, he gave him the best place in the room, the best bed. Captain Mitscher, as you say, gave me his quarters, because he said, "You will want to be holding meetings from time to time with either all of your people or some of them at a time, and consequently it would be more convenient for you to have a place where you can do that. My quarters makes that possible, and that's the only place on the ship," whereupon he moved into the smaller quarters himself and made his quarters our meeting place. So we could not have had better cooperation from then on. As I said, the boys felt a little out of place on a carrier, and the carrier people felt a little out of place, they felt they were a little out of place, but after that first "Hear ye, hear ye," there was complete and utter cooperation at every level. I don't know whether any of the books said, but prior to Admiral Halsey leaving San Francisco in the Enterprise, he and I had met in a little restaurant where we had a table way back in the corner.1 And we discussed the operation from every point of view. We tried to think of every contingency that might possibly arise and have an answer to that contingency.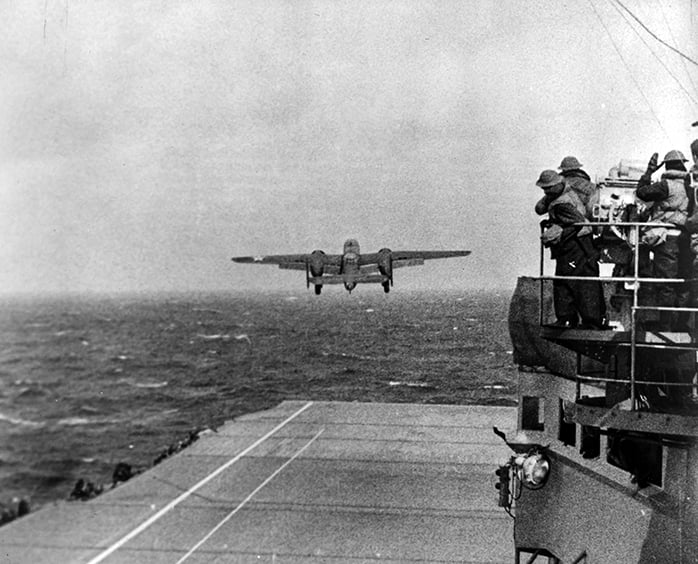 One of the things that we considered was being apprehended before we got to Japan. And the plan was that if we were within range of Japan, we would go ahead and bomb our targets, fly out to sea and hope, rather futilely, to be picked up by one of the two submarines that were in the area. If we were within range of the Hawaiian Islands—say, Midway—we would immediately clear their decks and proceed to Midway so they could utilize the task force properly.
If, on the other hand, we weren't within range of anyplace we could go, we would push our aircraft overboard so that the Hornet's deck would be cleared, and they could protect themselves. I believe that Admiral Halsey and I really sat down and considered every possible eventuality—one of which eventuated.
---
1. Vice Admiral William F. Halsey, Jr., USN, Commander Carriers   Pacific and, at the time of the Doolittle Raid, Commander Task Force 16.
About this Volume
Based on an interview conducted by Captain Paul B. Ryan, USN (Ret.) in February 1983, the volume contains 53 pages of interview transcript plus an index. The transcript is copyright 1987 by the U.S. Naval Institute; the interviewee has placed no restrictions on its use.