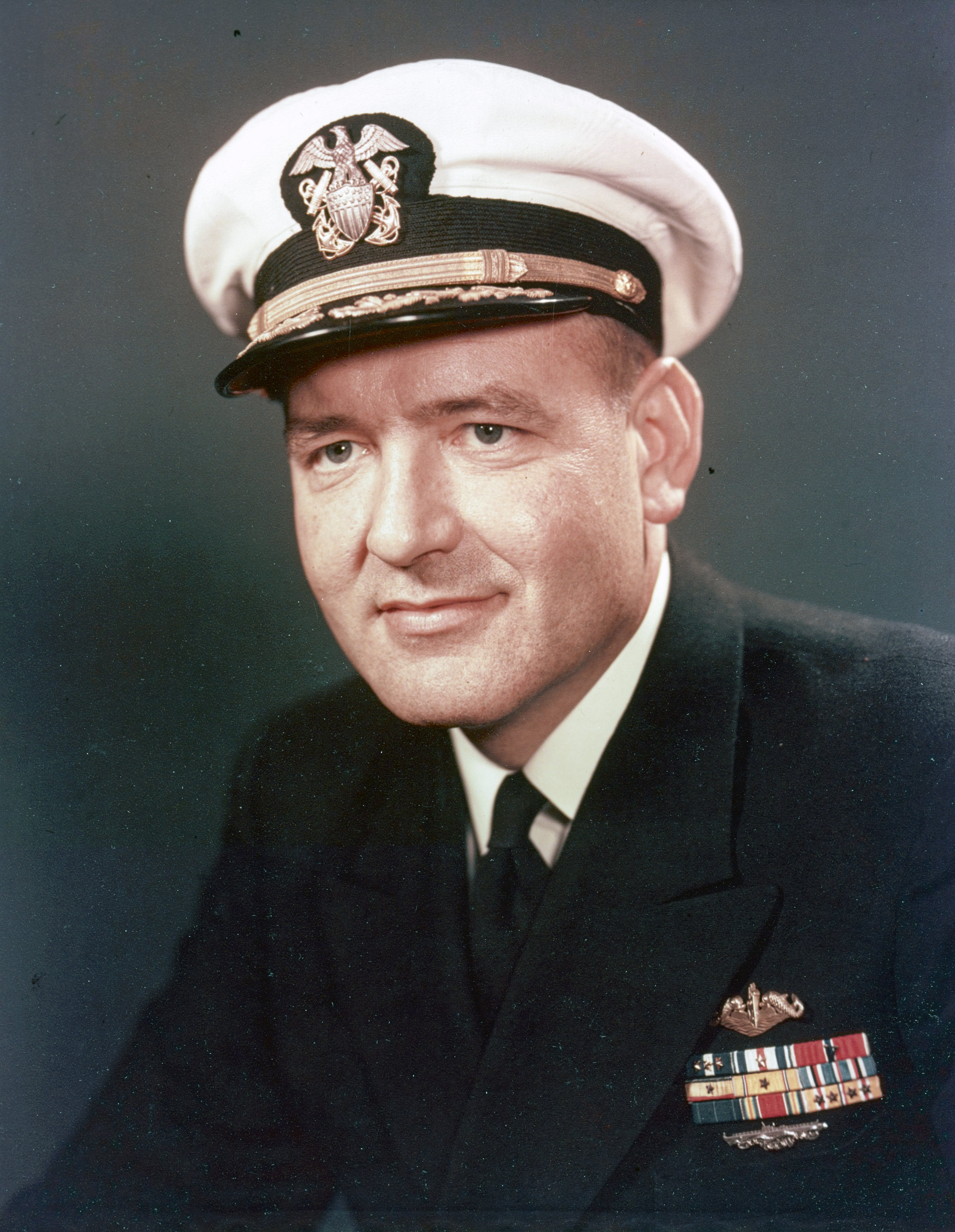 Cutter, Slade D., Capt., USN (Ret.)
(1911–2005)
Cutter turned down a music scholarship at an Illinois college to attend the Naval Academy, where he became an All-American football star and standout on the boxing team. Following graduation in 1935, Cutter embarked on a career heavily intertwined with sports. His first duty was as football coach for the team of the battleship USS Idaho (BB-42). After submarine school he coached football at the Naval Academy with collateral duty in the USS S-30 (SS-135). World War II found him in the crew of the USS Pompano (SS-181), where he made a name for himself as a brilliant submariner – a reputation that was further enhanced by his wartime commands of the USS Seahorse (SS-304) and the USS Requin (SS-481). Cutter provides an excellent picture of wartime sub duty: the attributes required of a good skipper and opinions of all the top names, description of the experience of undergoing a depth charge attack, the quality of food on board subs, and the craziness of submariners letting off steam between patrols. After the war, Cutter took charge of the Navy sports program, taking an armed forces team to the 1948 London Olympics, where he refereed boxing. His first volume ends with discussion of his assignment as executive officer of the tender USS Sperry (AS-12) in 1949–50.
In the second volume, Cutter picks up his career with his unsatisfying service as Commander Submarine Division 32 in the early 1950s. He moved on to a more interesting assignment as director of the Special Services program, where he was concerned with officers' clubs and liquor sales. Next came a stint in the Navy Information Office in the mid-1950s, where he became embroiled with the problems of security leaks, Admiral Rickover, and the USS Nautilus (SSN-571). He commanded the command ship USS Northampton (CLC-1) when she was Second Fleet flagship. Other tours discussed include NATO duty in Naples, director of athletics at the Naval Academy in the late 1950s, and director of the Navy Museum, from which he retired in 1966. Cutter's reminiscences of his varied career are enhanced by his humility and humor, evident throughout.
Transcripts of this oral history are available in many formats including bound volumes, and digital copies.
Order Oral History
Excerpt
In this clip from his oral history, Captain Cutter describes the heyday of the sub hunters during the Pacific War, lauding the accomplishments of his fellow famous sub skippers, the sacrifices made, and the honors earned.
Paul Stillwell: By 1945 there wasn't much to shoot at for submarines, though. You really had command during the best time for a submarine skipper.
Captain Cutter: Sure, I did. O'Kane did. Fluckey did. And the fellows who got the most ships sunk were lucky to be there at the right time. Morton wasn't, as a matter of fact. Morton was there before the hunting got real good, and so was Dealey. But they went out, and they found their targets. They went into harm's way — as one of the old timers said. They were great.
Paul Stillwell: Most of those guys you named all got Medals of Honor; what separated you from them, or do you know?
Captain Cutter: Well, I think I got my results. As I told Admiral Lockwood, I got my results by skill. I didn't have to go beyond the call of duty, which you have to get for Medal of Honor. And how you write up your patrol report. Nobody thought of that; nobody worried about it. Dealey got one. Morton didn't get one. O'Kane did. Fluckey did. Of the top five, O'Kane, Fluckey, Morton — Morton didn't, I didn't — and Dealey did. So three of the five did. But I'm alive, and Morton isn't, and neither is Dealey. O'Kane was taken prisoner and took a tremendous beating. He never has recovered physically, I don't think. He lost a kidney, I believe. They beat the hell out of him. Gene, of course, came through with flying colors and made flag rank, as he should have done. Still hale and hearty and still living in Portugal, I believe.
About Volume I
Based on two interviews conducted by Paul Stillwell in November 1982 and December 1982, the volume contains 344 pages of interview transcript plus an index. The transcript is copyright 1985 by the U.S. Naval Institute; the interviewee has placed no restrictions on its use.
About Volume II
Based on two interviews conducted by Paul Stillwell in July 1983 and June 1985, the volume contains 272 pages of interview transcript plus an index. The transcript is copyright 1985 by the U.S. Naval Institute; the interviewee placed no restrictions on its use.