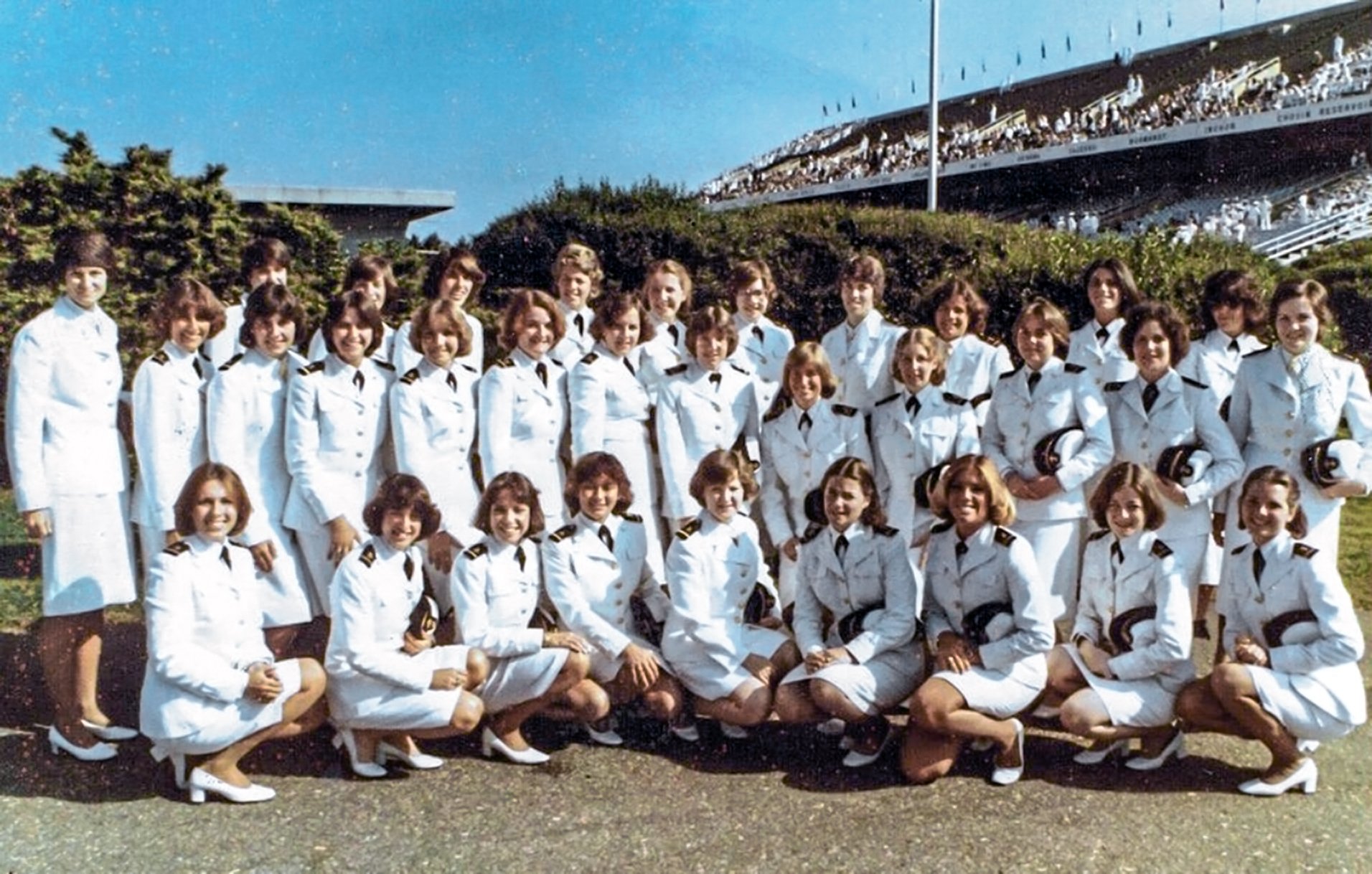 U.S. Naval Academy Class of 1980 — Women of the Academy
(Lts. Sandy Daniels, Tina-Marie D'Ercole, Maureen P. Foley, Chrystal A. Lewis, Barbette Henry Lowndes, and Pamela Wacek Svendsen)
On 28 May 1980, 55 female midshipmen graduated from the U.S. Naval Academy for the very first time in history. These interviews, recorded between 1984 and 1987, document the early Navy career perspectives of six of those pioneering women: Sandy Daniels, Tina-Marie D'Ercole, Maureen P. Foley (now Maureen Foley Nunez), Chrystal A. Lewis (now Chrystal Lewis Campbell), Barbette Henry Lowndes, and Pamela Wacek Svendsen.
In her for preface to this collection of oral histories,Vice Admiral Jan Tighe, USN, notes of these women, "Those of us that entered the Academy in their wake benefited greatly from the struggles of that first class. We also likely suffered from their mistakes, whether perceived or actual, based on truth or fiction since these legends persisted in the memories of the brigade upper-class midshipmen that the first class left behind. While generations of women who came after them have had a role in shaping the environment for women at the Academy today, I doubt any of our experiences compare to that of the first class.  
"Their varying perspectives, backgrounds, and experiences share some important similarities, most notably the fact that they were not prepared or aware of the quite hostile environment they were entering in 1976. Nor could they have prepared themselves to be ostracized by peers, seniors, and in some cases faculty members as most came from loving and supportive families and friends who had accurately heralded them in high school as leaders, scholars, athletes, or all three."
Daniels, Rear Adm. Sandy L., USNR (Ret.) (1958–)
The early career assignments of naval aviator Rear Adm. Sandy Daniels, USNR (Ret.), included the Naval Research Laboratory, Space Science Division, and Naval Space Surveillance Center. After transitioning to the Reserve component in 1991, she served in the Navy Reserve Space Program and as director of the Navy Space and Network Warfare Program before being selected for flag rank. Among her responsibilities in that capacity were those of director, Warfare Integration on the Chief of Naval Operations' staff (N6F); senior advisor for Space to the Deputy Chief of Naval Operations for Information Dominance (OPNAV N2/N6); reserve deputy Commander, U.S. Pacific Fleet; and Patrol and Reconnaissance Group/Patrol and Reconnaissance Group Pacific. With a master's in science, technology, and public policy with a space policy emphasis, she also worked in industry as a contractor. Rear Admiral Daniels retired from the Navy in October 2015.
---
In this excerpt from Susan B. Sweeney's interview with Lt. Sandy Daniels at her residence in Upper Marlboro, Maryland in December 1987, Lieutenant Daniels speaks of what it was like to be female and perceived as "different" in a male dominated environment.
Lieutenant Daniels: The biggest problem with the approach the Academy took with inducting the women was that they made such a fuss about it, and started from the basis that we were so different from guys—like we were another species or something—rather than start from the approach that we're all people therefore we have a lot in common. And then perhaps some socialization has caused, maybe, these differences and you might want to work with this, that, and the other. But it always seemed like they were starting from, "There is this other species here that we're dealing with. They are really weird."
At one point during the plebe summer, they got all the women together to go march over to look at a couple of films. We thought, "What is this stuff?"We were absolutely rolling. And I kept thinking, "This is what they showed the men? This is how they were telling them that we're like, you know, worrying about drying in between our toes—and doing our nails every 30 seconds?" I mean, come on. This is a great way to really welcome us in here. But we thought it was a scream. We just couldn't believe it. And we knew that they'd [the men] had this same indoctrination. We knew they had told the guys, for example, that women cry, we're allowed to cry in society, so therefore you can keep talking to a woman, she's still actually functioning.
[. . .] I figured that I had suffered through four years and I was going to do exactly what I wanted to do, which was fly. There wasn't anything else in the Navy that I could see that I wanted that badly. The ships that we could get on were pretty limited, and I thought, "No this isn't my thing." I had always wanted to learn how to fly from day one. I wasn't going to change my mind now. Not after four years.
Campbell, Chrystal Lewis (1958–)
Chrystal Lewis Campbell, who grew up on Marine Corps bases and air stations, served eight years in the Navy. Her duties included jet transition training, weapons delivery, and carrier qualification, Fleet Composite Squadron Five (VC-5) at NAS Cubi Point, and flight instructor, specializing in the "out of control" or Spin Recovery program. She flew the A-4E Skyhawk in support of U.S. fleet training and Western Pacific foreign navy training. VC-5 deployed all over East Asia including Japan, Korea, Indonesia, Guam, Thailand, and the Philippines. After leaving naval service, as a line pilot for Delta Air Lines Campbell accumulated more than 10,000 flight hours.
D'Ercole, Comm. Tina-Marie, USN (Ret.) (1957–)
Comm. Tina-Marie D'Ercole, USN (Ret.), served for 20 years, retiring in 2000. Her assignments included technical representative in the Space Program Office, Aerospace Engineering duty officer (as the first non-aviator space systems engineer in that community), deputy program manager at NAVAIR, plant representative at Teledyne Ryan Aeronautical Corporation for the unmanned aerial vehicle program, and military deputy to the director of the Joint Research and Development Center of the Naval Command, Control and Ocean Surveillance Systems command. She holds master's degrees in electrical engineering (with a space systems concentration) and national resource strategy.
Lowndes, Capt. Barbette Henry, USN (Ret.) (1957–)
Capt. Barbette H. Lowndes, USN (Ret.), served 27 years of active duty in the Navy followed by eight years as a civil servant. At the time of her retirement from the military she was a captain in the Supply Corps. After graduating from the Naval Academy with a bachelor's in oceanography, she earned master's degrees in business management and national security and strategic studies, as well as graduating from the Senior Executive Institute at the University of North Carolina Kenan-Flagler Business School. Now serving on the board of trustees for the USNA Alumni Association, she was formerly president of the San Diego chapter.
Nunez, Maureen Foley (1958–)
Following her graduation and commissioning, Maureen Foley Nunez served as a plane captain branch officer, a communications officer, and finally an instructor in leadership at the U.S. Naval Academy. In 1984 she earned a master's degree in administrative science from Johns Hopkins University, and since that time she has worked in financial management and organizational leadership in positions of increasing responsibility. 
Svendsen, Pamela Wacek, MD (1958–)
Dr. Pamela Wacek Svendsen owns and directs the Wellness Center at Navarre, Florida, where she practices family medicine. She served on active duty in the Navy for seven years before raising children and then graduating from medical school and completing a residency. She has practiced since 1998 in Mississippi and Florida. The clinic incorporates conventional and alternative medical treatments in patient care.
About this Volume
Based on six interviews conducted by Susan B. Sweeney from November 1984 through December 1987, the volume contains 452 pages of interview transcript plus an index. The transcript is copyright 2016 by the U.S. Naval Institute; the interviewees have placed no restrictions on its use.