China is deeply invested in cementing its position as a stakeholder in the Indian Ocean. Through a series of loans and investments, Chinese state-owned enterprises (SOEs) are creating partners reliant on their capital, aiming eventually to leverage dependency to compel alignment with China's interests. A May 2018 Department of Defense report on China's military power addressed the naval implications of China's port investments in the Indian Ocean for the United States.[1] While China may not have access to an international network of bases to support military operations, they are creating areas of political space in which they are the dominant partner.
Chinese involvement in overseas ports serves a greater purpose than just navy basing. Rather than simply orchestrating a handoff of foreign ports between SOEs and the People's Liberation Army Navy (PLAN) for military bases, the Chinese Communist Party (CCP) uses both the SOEs and the PLAN to represent national interests abroad and, in turn, secure its own hold on domestic political power. The CCP  is mobilizing resources to create the conditions to achieve its goals of regime preservation, economic prosperity, and international power.[2] (For more on regime preservation and China's approach to foreign policy, see Kevin Rudd's "Can China and the United States Avoid War?" in the December 2018 Proceedings.)
While the CCP works to frame the Maritime Silk Road in economic terms, commentators often discuss the initiative alongside the "string of pearls" theory, which posits China is developing a network of foreign ports for wartime use. The facts do not fully support the theory, however. Chinese-backed port facilities in the Indian Ocean currently lack wartime infrastructure, security measures, and survivability defenses.[3]
China's decisions regarding overseas ports and naval basing are better understood through a lens of international political economy, a framework in which regime preservation is the driver behind foreign policy decisions and interstate relationships, achieved through economic means. Maintaining avenues for economic growth is critically important and overseas ports offer a lifeline to trade routes and trading partners.
The process by which the CCP asserts its stake in foreign ports can be understood through the examples of five ports in the Indian Ocean where SOEs have injected capital for infrastructure and ultimately secured financial control over the port. China has invested billions of dollars into the ports of Hambantota and Colombo, Sri Lanka; Gwadar, Pakistan; Kyaukpyu, Myanmar; and Malacca, Malaysia, to support its strategic vision. These types of investments illustrate the valuable political leverage China is seeking and winning throughout the Indian Ocean region.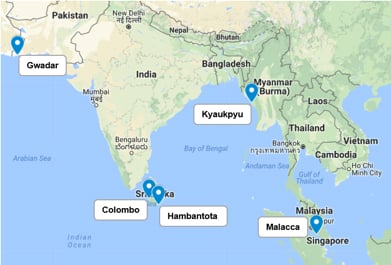 (Credit: Google Maps)
Influencing Neighbors
China's periphery diplomacy attempts to foster better relations with its neighbors—particularly those oriented westward—and signals its awareness of tensions with the United States in the Pacific. The program of overseas port development is a prime example of how economic and military goals converge to serve broader CCP national priorities. China is likely to gain military advantages through the Maritime Silk Road, but the program is not simply a grand design to develop a network of foreign bases.[4] Instead, it is creating space for future flexibility; it lays a foundation on which to build (or not) in future decades. However, the country must strengthen its foothold in these port cities to achieve sufficient levels of influence. Wherever they are successful, the SOEs—and hence the CCP—will have a say in future use and development.
China has been aggressive in securing large stakes in the five ports for its SOEs. China Merchant Holdings owns an 85 percent stake in the port of Colombo, a deal made under suspicions of corruption between the Sri Lankan government and the Chinese SOE involved.[5] Gwadar, another of China's strategic port investments, has long been the focus of negotiations between the Chinese and Pakistani governments and is accompanied by rumors of more Chinese navy port calls in this deep-water port which would cement China's presence.[6] Malacca Gateway was launched as a joint development by local and Chinese firms, with majority funding provided by Chinese companies. It is a similar story in Kyaukpyu, where Chinese SOEs funded 85 percent of the project. Taken together, these examples speak to China's forceful pursuit of its strategic vision.
The road to financial control
The government can direct investment and gain access to crucial ports through its influence over SOEs without raising the concerns that use of military power would elicit. The investment details of these five ports make clear that the funding schemes and the mechanics of SOEs' involvement are decisive factors in securing overall financial control. Long-term leases or majority equity stakes held by state-owned enterprises create de facto political control for the Chinese government over foreign ports.
The relationships fostered under the Maritime Silk Road create an unequal power relationship between China and its partners. Partner overreliance on Chinese funds can lead to economic dependency.[7] Hambantota presents a cautionary tale that has not gone unnoticed by other host nations considering soliciting Chinese investment into their own ports. The Sri Lankan government is $8 billion in debt to Chinese state-owned entities as a result of that failed port project.[8] This has led to some resistance to and suspicion of Chinese government intentions as host nations consider the vast leverage such a debt can carry.
Follow the Money
Development funding schemes form the basis of SOEs' ability to gain financial control of ports. The process that takes many years—and therefore often goes unnoticed, conveniently for the CCP's long-term strategic goals. These Indian Ocean partnerships rely on build-operate-transfer (BOT) contracts, loans, and foreign direct investments.
BOT agreements allow private companies to develop infrastructure, typically for public use, while still recouping their investment. Foreign governments award construction contracts to Chinese SOEs for port infrastructure and, in return, the SOEs operate the port for decades afterward before handing over ownership to the local government. BOT contracts are the clearest examples of Chinese SOE financial control, as ownership rights are built in. The transfer component of these agreements is intended to occur long after China's desired economic and political gains are achieved.
Foreign direct investment, another common form of agreement, is more difficult to link with financial control until the project is complete. It often overlaps with two other investment schemes: equity and leases. Equity (stock representing ownership interest) and leases on the port (agreements that cover land use) both can be used to recoup investment, especially if a host nation cannot repay the loan or investment. This situation is explored further alongside the mechanics of SOEs' investment.
Mechanics of investment
Chinese SOEs use a variety of investment schemes to start development on a port. However, these contracts are not static. As SOEs are closely tied to the CCP, China has powerful options for negotiation and persuasion at its disposal.
Contracts were renegotiated in the cases of Hambantota and Colombo, Sri Lanka, and Kyaukpyu, Myanmar. In these three instances, SOEs made demands or decisions poorly received by their partners.[9] As criticism grew, the SOEs were amenable to renegotiating the contract to maintain their stake in the port.
Because SOEs are under the direct supervision of the state, they can call upon influential government leaders to reassure commercial partners. If a partner is reluctant to continue the relationship, or anxious about the SOE's actions during the development, a high-ranking Chinese official can visit the project as a symbol of assurance, as happened with the Colombo project when a new Sri Lankan administration was concerned about China's commitment. Chinese Foreign Minister Wang Yi visited to reassure local authorities that China would align its Maritime Silk Road project more closely with Sri Lanka's development plans.[10]
Not all tools are as diplomatic as sending a senior leader in a show of solidarity. In response to disagreement between an SOE and the host nation, the firm may also take retaliatory measures until the dispute is resolved. In the case of Gwadar, China Overseas Port Holding Company demanded that the renminbi be allowed as legal tender in the Gwadar port city. When the Pakistani government rejected this, the firm suspended funding for three key highways elsewhere in Pakistan pending receipt of "new guidelines" from Beijing.[11] Such postponement of unrelated infrastructure projects is seemingly coordinated with broader Chinese government strategy that individual SOEs do not control, indicating harmonization between SOEs and central government resources.
The mechanics of achieving financial control require constant adjustment. The process, although different in specifics for each port, is broadly similar. The SOE makes a demand, weighs the reaction of their partners, and either withdraws the demand or adjusts the agreement if necessary. While each is a situation-dependent process, the intention of such flexibility is to create similar outcomes in every port: Chinese financial control.
Years of investment have resulted in significant financial stakes for the SOEs in these ports. The results are summarized in Table 1. (Note that an exclusive lease does not mean sovereign territorial rights, but rather exclusive commercial rights.)
| | | |
| --- | --- | --- |
| Port | Lease Term (Years) | Current Equity (%) |
| Colombo Harbor, Sri Lanka | 35 | 85 |
| Port of Gwadar, Pakistan | 40 | Unknown |
| Hambantota Port, Sri Lanka | 99 | 70 |
| Malacca Gateway, Malaysia | 99 | 49 |
| Kyaukpyu Deep Sea Port, Myanmar | None | 70 |
Table 1: Chinese Financial Control Totals in Selected Ports[12]
Expansion with Chinese Characteristics
China's involvement in overseas ports is a manifestation of "expansion with Chinese characteristics," reshaping the strategic landscape of the Indian Ocean. China's transactional strategic culture leads to flexibility, as it constantly bargains for political space while adapting to the realities of its expanding presence. As a function of a government system that allows for total oversight by the party, the CCP can integrate economic and military resources to serve its own goals as a ruling party. To remain in power and legitimate, the CCP must continue to provide economic prosperity and strength internationally. Investment in ports support new markets, trading partners, and shipping lines to bolster China's economic might.
Chinese SOEs have helped finance at least 35 ports around the world in the last decade, so this phenomenon is not isolated to one geographic region.[13] The 2018 Department of Defense China military power report assessed that China's leaders may decide on a "mixture of military logistics models, including preferred access to commercial overseas ports and a limited number of exclusive PLA logistics facilities, probably collocated with commercial ports."[14] Even if this model does come to fruition in the coming decades, access to such ports is secured not through military power, but rather economic investment and financial leverage. For China, the flag follows trade. By understanding other elements of China's national power and how it syncs these efforts with its strategic goals, the United States can more completely comprehend China's overseas maritime development to pull the threads of the Maritime Silk Road.
---
---
Ensign Asdal is a surface warfare officer on the USS Farragut (DDG-99) in Mayport, Florida. She is a graduate of the U.S. Naval Academy and the University of Oxford.