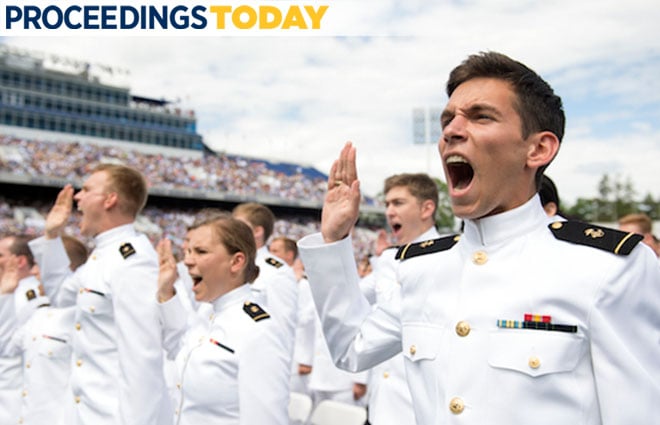 In the year since the tragic accidents involving the USS Fitzgerald (DDG-62) and the USS John S. McCain (DDG-56), the Navy writ large, and the surface warfare officer community in particular, have identified many causes for substandard seamanship skills across the fleet. But one area not adequately addressed is how nuclear-trained surface warfare officers (SWO[N]s) will gain the required seamanship proficiency needed to operate and command ships at sea.
Tinkering with the SWO(N) career path will not help much. The best solution is to simply stop hiring SWO(N)s. The demise of nuclear-powered cruisers obviated the need for nuclear-trained surface commanding officers. The only surface ships operating on nuclear power are aircraft carriers, which, by law, must be commanded by naval aviators.[1] With no requirement for nuclear-trained leaders eligible for surface command at sea, it is long past time to transition management of aircraft carrier nuclear propulsion plants to the nuclear engineering duty officer (EDO[N]) community and release the SWOs to focus on driving surface ships. To facilitate this, the Navy should expand the EDO(N) ranks to replace the SWO(N)s. The SWO(N) career path has been good to me, but the operating environment has transformed significantly since I joined the ranks.  
Proficiency versus Qualification
The CNO-directed Comprehensive Review of Recent Surface Force Incidents revolves around the ideas of proficiency and qualification.[2] To operate a warship safely, one first must qualify to do the task. But qualification represents the minimum level of knowledge required to be "recognized as being trained to perform a particular job."[3] The recently implemented reforms to the SWO training pipeline and career path aim to raise the level of proficiency in the SWO community.[4] The challenges of the SWO(N) career path places those officers at a significant disadvantage in maintaining these new proficiency requirements.
Nuclear-trained officers serve two masters—their parent warfare community and Naval Reactors. Significantly, all nuclear-trained officers are required to serve in positions related to nuclear power at least every five years. Since all submarine officers are nuclear-trained, the two masters align in most areas and meeting nuclear timing fits nicely with submarine-specific career requirements.[5] Aviators join the nuclear community after completing squadron command and— once transitioned to nuclear-aviation—the career path is relatively confined and able to satisfy both masters reasonably well.[6] Satisfying the demands of the SWO(N)s' two masters is far more problematic, however, as their priorities are in tension on several points. With only aircraft carriers available for nuclear sea-going billets, SWO(N)s are forced to serve on carriers to maintain nuclear proficiency. To meet career milestones required for promotion and selection for command-at-sea, SWO(N)s also must serve on board conventionally powered surface ships. Removing SWO(N)s from the carriers eliminates this competition for their attention, allowing them to focus on proficiency as surface warriors.
The History of SWO(N)s
With the introduction of nuclear propulsion in the 1950s, Admiral Hyman G. Rickover chose line officers to train intensively in the engineering aspects of nuclear power to command these new weapons of war.[7] Since the first nuclear-powered vessels were submarines, the first nuclear-trained line officers were submariners. The first nuclear-powered surface vessel, the guided missile cruiser USS Long Beach (CGN-9), commissioned in 1961. Lacking senior nuclear-trained surface officers, the first commanding officer was a submariner.[8] Soon, however, as additional nuclear-powered surface ships entered service, the Navy needed nuclear-trained surface officers to command them. In total, the Navy built nine nuclear-powered surface combatants, each requiring 18–25 SWO(N)s, from division officers to the commanding officer. This manning requirement provided a viable, upwardly mobile career path for surface nukes. Since the Navy needed nine nuclear-trained commanding officers at any given time, it made sense to have a cadre of nuclear-trained surface officers from which to draw. Service on board a nuclear-powered surface combatant also gave SWO(N)s access to SWO activities such as shiphandling and tactical employment.
Nuclear power proved advantageous for powering aircraft carriers as well. The first nuclear-powered aircraft carrier, USS Enterprise (CVA[N]-65), commissioned in 1961, just months after the Long Beach. Because of the law requiring that naval aviators command aircraft carriers, Rickover was obliged to train aviators in nuclear power to command the Enterprise. The aviation community, however, did not want to divert naval aviators to nuclear power to operate Enterprise's nuclear propulsion plant, so SWO(N)s already training to run the nuclear surface fleet filled that role.
The Waning Need for SWO(N)s
The balance of nuclear surface billets began to shift with the end of the Cold War. The calls for reductions in military spending coincided with the planned refueling of the nuclear-powered cruisers. Because the overall operating cost of the Ticonderoga-class guided-missile cruisers was one-third that of the newly refueled California-class nuclear cruisers (even when accounting for the cost of fuel for the gas-turbines) the Navy began decommissioning the nuclear-powered surface combatants.[9] By the end of the 1990s, all nuclear-powered surface combatants were gone.
The Navy continues to build nuclear-powered aircraft carriers, so despite the loss of the cruisers, there remains a significant need for nuclear-trained officers to staff the carriers.  The challenge, however, is that service on board a carrier, while providing experience and proficiency in nuclear power, is wholly divorced from surface warfare.
Surface Nuke Proficiency Disadvantage
Nuclear-trained surface officers spend approximately 50 percent less sea time on surface combatants than their non-nuclear trained peers. Although SWO and SWO(N) career paths have changed in the past two decades, this disparity remains consistent. The recently revised SWO career path calls for surface warfare officers to begin service with 48 months at sea, split into a 30-month initial tour and follow-on 18-month tour on board surface combatants.[10] These tour lengths are designed to address directly the seamanship proficiency concerns noted in the Comprehensive Review. SWON(N)s serve only 21 months on board a surface combatant before leaving sea duty for a year of nuclear power training. They then serve 22–28 months in a nuclear engineering position on board an aircraft carrier while their non-nuclear peers continue gaining proficiency at sea.[11] After a 36-month tour ashore, both career paths return to sea. Conventional SWOs return to sea for two 18-month department head tours in mid-level leadership on board a surface combatant. Again, SWO(N)s serve only half this time on surface combatants, serving their second tour on board an aircraft carrier in mid-level leadership operating the nuclear propulsion plant. Thus, when SWO(N)s arrive at their prospective commanding officer tour, they have, on average, just over three years of surface combatant experience. Their conventional SWO counterparts arrive at this same milestone with an average of seven years of surface combatant experience.
The issue of proficiency also impacts nuclear power competence. Since all submarines are nuclear powered, every shipboard submarine tour involves interaction with nuclear power. Regardless of their shipboard positions, all submarine officers qualify and maintain a minimum level of proficiency operating the nuclear power plant. A typical submarine officer spends 30–36 months as a deck-plate leader, 24–36 months as a mid-level leader and 18–24 months as second-in-command aboard a submarine—a total of 7–9 years before assuming ultimate responsibility for the submarine and its nuclear propulsion plant.[12] The penultimate nuclear job for a SWO(N),  reactor officer on board an aircraft carrier, carries nuclear propulsion plant supervisory responsibility similar to that of a submarine commander. A SWO(N) arrives at their reactor officer tour having served only four years supervising carrier nuclear propulsion, 40 percent less time developing nuclear proficiency than their submariner counterparts.[13]
During Admiral Philip Davidson's road show communicating the results of the Comprehensive Review, several junior SWO(N)s voiced concern that their current career path would preclude them from meeting the new SWO logbook and shiphandling certification requirements. And they are right. Aircraft carriers provide a poor environment for SWO(N)s to learn ship driving. Do aircraft carriers need highly competent ship drivers? Most definitely. But the demands of nuclear power operations preclude SWO(N)s from getting the bridge time needed to gain that proficiency without sacrificing their proficiency in nuclear power.
Transition Carriers to EDO(N)s
Aircraft carriers are complex machines manned by experts in their various fields. With the expectation of the air and operations departments that fight the ship, limited duty (LDO), restricted line, or staff corps officers who specialize in their particular area of responsibility lead all departments aboard the carrier save one—the reactor department. An ordnance LDO leads the ordnance department, a deck LDO leads the deck department, an EDO or engineering LDO leads the engineering department, and appropriate staff corps officers lead their respective departments. It is time the carrier commanding officer have the same level of career expert leading the reactor department—the EDO(N)s.
The Navy should stop hiring SWO(N)s and instead phase in EDO(N) junior officers in their place. This would allow the Navy to recruit highly competent engineers to be engineers, focused on qualification and proficiency in nuclear-powered aircraft carriers. And it would enable SWOs to concentrate on qualification and proficiency in surface warfare.