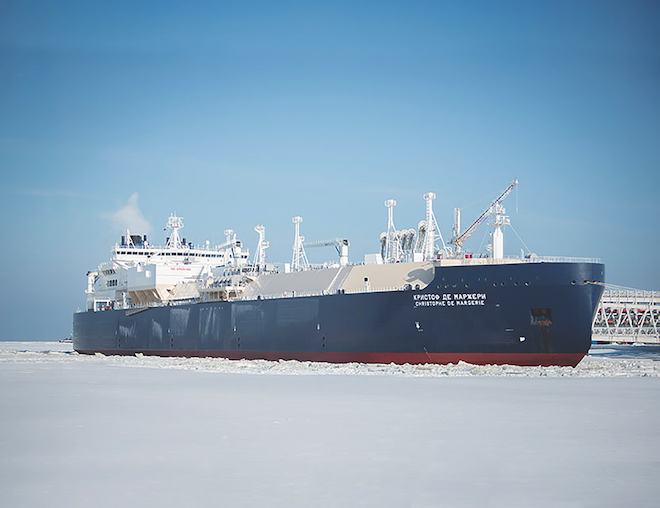 The Christophe de Margerie-class ships are highly capable icebreaking LNG carriers designed to break five feet of ice while sailing continuously. (Sovcomflot)
The largest natural resource development project in the Arctic today is located in western Siberia on the Yamal Peninsula. A liquefied natural gas (LNG) production facility and new port of Sabetta have been built on the western shore of the Ob Gulf above the Arctic Circle and inland from the Arctic Ocean. The new Arctic marine transportation system emerging out of Sabetta is destined to be a hub for ship traffic along Russia's national Arctic waterway—the Northern Sea Route (NSR)—defined in Russian law as extending from the western navigation strait Kara Gate to the Bering Strait. 
The Russian Federation's motivation to invest in and construct this remote Arctic complex is linked to the long-term viability and growth of its national economy, which is dependent on its vast natural resources in the Arctic, both onshore and offshore. This infrastructure will facilitate new maritime links to global markets in Europe and the Pacific using a fleet of specialized, icebreaking LNG carriers sailing in Arctic waters.
Russian and international stakeholders and actors are making this Arctic marine transportation system a reality. Marine technology from Finland's Aker Arctic Technology has been used in the design of the icebreaking LNG ships that are being constructed by the South Korean shipbuilder Daewoo Shipbuilding and Marine Engineering. Only one of the 15 vessels in this initial fleet, the Christophe de Margerie, is owned by Russian shipping interests (Sovcomflot, Russia's largest shipping company). Shipping investors and owners for the other 14 ships include Japan's Mitsui O.S.K. Lines (MOL), China LNG Shipping, Sinotrans (Hong Kong), and the global shippers Teekay LNG Partners and Dynagas. 
The massive dredging operations to create deep draft channels into the new port were conducted by the Belgium firm DEME. Large, heavy-lift polar vessels built in China and operated by the Dutch firm Red Box Energy Services carried huge facility modules into the Arctic Ocean for construction of the LNG plant. Investment in the Joint Stock Company Yamal LNG, owner of the project, has come from the Russian oil and gas company Novatek (50.1 percent); Total, the French oil and gas company (20 percent); China National Petroleum Company (20 percent); and China's Silk Road Fund (9.9 percent). This large and complex Arctic project has enjoyed close international cooperation since 2012.
The new marine transportation system is designed for ships to sail out of Sabetta north to the NSR and head either east or west. Year-round navigation from Sabetta across the Kara and Barents seas and west to European ports can be maintained by the LNG carriers sailing independently or with Russian polar icebreakers as escorts. Voyages from the Ob Gulf to the east into the Bering Strait and the Pacific Ocean likely will be conducted during a navigation season of six to seven months; however, extended navigation seasons are technically feasible using Russian nuclear icebreakers escorting LNG carriers in convoy. The second ship of the class, the Eduard Toll, already has made history by sailing unescorted in January 2018 from the Pacific west to Sabetta in wintertime sea ice. 
The Christophe de Margerie-class ships are large vessels (length 981 feet, beam 164 feet, and draft 38 feet) with more than 80,200 deadweight tonnage. They are highly capable icebreakers designed to break five feet of ice while sailing continuously. The double-acting Finnish hull design allows these carriers to break heavy ice sailing both forward and astern. Their diesel-electric propulsion plants generate more than 86,000 horsepower distributed to three rotating Azipod propulsion units. Each ship is manned by a crew of 29 and can carry 226,000 cubic yards of LNG.
The economic and strategic implications of this new Arctic marine transportation system are clear. Russia will benefit economically by exporting Arctic LNG to global markets. Russia also will have the capacity to maintain nearly year-round marine access to its entire Arctic coast using a large fleet of polar icebreakers and a fleet of icebreaking commercial carriers. Equally intriguing for an energy project in Siberia is the continued involvement of a range of European and Asian partners operating in the Russian maritime Arctic.
---
Dr. Brigham, an oceanographer, is a distinguished fellow and faculty member at the University of Alaska Fairbanks and a fellow at the U.S. Coast Guard Academy's Center for Arctic Study and Policy. During his Coast Guard career, he commanded four cutters, including the USCGC Polar Sea (WAGB-11), on Arctic and Antarctic voyages.