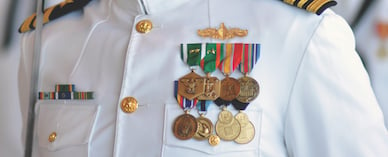 The recent changes to the surface warfare officer (SWO) qualification are concerning, specifically the restriction on who may qualify. This seems to add to the stress of qualification for junior officers rather than fix a root cause of training deficiencies. SWO-qualified chief warrant officers (CWOs) and limited duty officers (LDOs) provide a level of experience and maturity that our ships need to be safe under way. 
I served on active duty for 41 years, first as an enlisted electronics technician, then as CWO, LDO, and, ultimately, as an unrestricted line SWO. When I was selected for CWO, I was allowed, with my commanding officer's agreement, to work on SWO qualification while waiting to be commissioned. SWOs had priority, and I had to be in the back of the line, but I was able to complete the qualification to coincide with my commissioning. 
I went on to qualify as an engineering officer of the watch during my first commissioned tour. Also during that tour, I was selected for LDO. I did all this because it made me a stronger contributing member of the wardroom. In subsequent commands I qualified as command duty officer; staff tactical watch officer; tactical action officer; underway command duty officer (USS Kitty Hawk [CV-63]); and, later, Fleet Forces Command battle watch captain. 
I had no illusion of being selected for command at sea, but I felt as a commissioned officer that it was my duty to be ready if ever called on. It was important to me to support the Navy and the SWO community as best I could. I know many CWOs/LDOs who feel the same way.
My qualifications provided all my commanding officers maturity and experience in critical watch stations. In those tours I also became an impromptu training officer for the junior officers just starting out on the watches. My qualifications provided credibility to those young officers; had I been just another watchstander, the training would have been less effective. 
As officers rotate out of commands it is important to maintain a core group of qualified and experienced watchstanders. CWOs/LDOs typically have longer tour lengths than SWOs, which helps provide that consistency.
Commanding officers need the flexibility to assign all the officers in their wardrooms where they are needed and will have the best impact on the ship's safety and operations. That means having a pool of personnel deep enough to stand all the watches. The SWO community long has been undermanned, and allowing CWOs/LDOs to qualify provides this depth of watchstanding personnel. It also allows unqualified SWOs to rotate to other watch stations necessary to gain their qualification. 
For the commanding officer, safety of the ship and crew and the ability to fight the ship are the primary missions. We are not commercial ships; we are professional warfighters and need to man our watch teams accordingly. 
A recent USNI News article quoted Vice Admiral Richard Brown, Commander, Naval Surface Force, comparing SWO qualification to aviation wings.1 They are not the same—not even close. Ships use teams to operate 24 hours a day. Aircraft use a single pilot for a limited air mission. That said, maybe if we trained our SWO candidates prior to assignment to ships at a similar level to how we train aviator candidates prior to assignment to squadrons, the SWO qualification could be more focused on individual ship characteristics and fleet operations instead of learning the basics. 
If the goal is to improve the Navy's watchstanding proficiency, SWO-qualified CWOs and LDOs are part of the solution, not the problem. 
1. Sam LaGrone, "New Surface Forces Instruction Restricts Who Can Earn a SWO Pin," USNI News, 26 July 2018, https://news.usni.org/2018/07/26/new-surface-forces-instruction-restricts-can-earn-swo-pin.
---
Commander Rankin enlisted in the Navy in 1975, was commissioned a chief warrant officer in 1989, and was selected for the limited duty officer program in 1991. In 2009, he reported to Naval Recruiting District, Columbus, Ohio, as executive officer and redesignated to unrestricted line officer, surface warfare. His last assignment before retirement was with U.S. Fleet Forces Command.