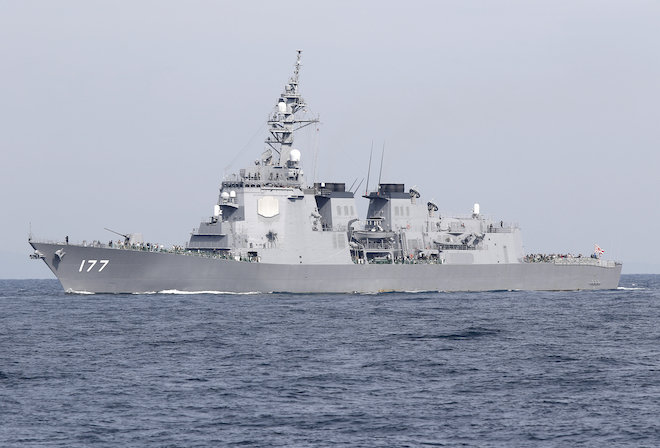 JS Atago (DDG-177)
Nine years before the USS Fitzgerald (DDG-62) collided with Motor Vessel ACX Crystal near the approaches of Tokyo Bay, the Japan Maritime Self-Defense Force (JMSDF) destroyer JS Atago struck a fishing boat in the same congested waters. The similarities between these incidents include the location, the fact that both occurred at night, and that both involved an Aegis destroyer in a crossing situation. In the case of the Atago, the primary lesson for the JMSDF was a heightened awareness that bridge teams should navigate with very close observation (sharp look-out) in a crossing situation considering the other vessel's potential for human error. 
The U.S. Department of the Navy report on the Fitzgerald collision should be read by every surface warfare officer.1Proceedings also has published good articles on the incident. In trying to determine root causes, retired Captain Kevin Eyer addressed deficiencies in training, the commanding officer's (CO's) lack of experience as a mariner, and the relationship between the CO and both the executive officer and young deck officer.2 On another level, retired Captain Robert Allee discussed the accident in the context of the 1972 International Regulations for the Prevention of Collisions at Sea (COLREG).3 These articles focus mostly on crew responsibility based on training standards and regulations. There has been far less discussion of shiphandling human error, particularly how a civilian vessel can easily misjudge the situation at night because of the distinctiveness of the Aegis destroyer. 
The Deceptive Masthead Light Profile
Rule 1(c) of COLREG stipulates the special rules made by any government with respect to shapes for ships of war. The Atago is just over 540 feet long. Therefore, if it were not a warship, the horizontal distance between the two masthead lights would need to be at least 270 feet. But because of the special rules, the horizontal distance between the Atago's masthead lights is less than 50 feet. Figure 1 compares the masthead light configuration of Atago with that of a cargo vessel of similar length.
Figure 1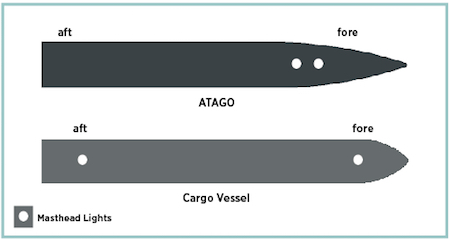 When a vessel operator observes the extremely short horizontal distance between the two masthead lights at night, that person may mistake the destroyer for a typical cargo vessel on a nearly head-on course, as depicted in Figure 2.
Figure 2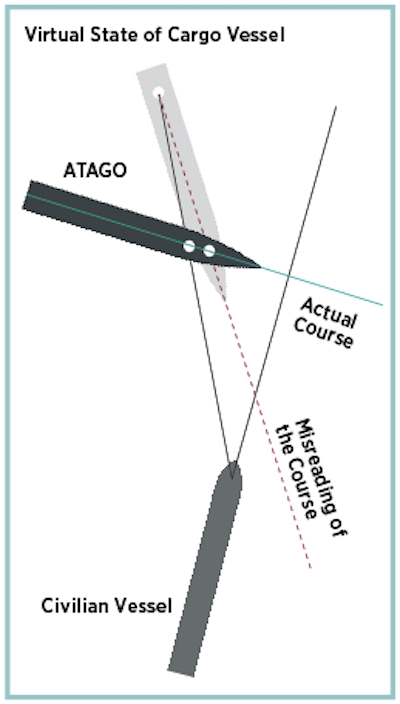 In misjudging the Atago's course due to the extremely short horizontal distance between her two masthead lights, the vessel operator might take unnecessary collision-avoidance steps. Analysis of a questionnaire survey distributed to maritime pilots, oceangoing maritime officers, domestic maritime officers, small-boat operators, and fishing boat operators showed that many mariners cannot correctly identify a vessel with an extremely short horizontal distance between two masthead lights.4 These results point to a need to better train civilian mariners in Japan and abroad.
The Problem with Stealth
Stealth technology to reduce the ship's radar cross section is aimed primarily at improving survivability against radar-homing antiship cruise missiles. The Aegis destroyer incorporated stealth features such as a plain-structure enclosed pyramidal mast, cannon shield, and inclined superstructure. This technology is advantageous in battle, but during navigation in a congested area it can be a liability. The contact size displayed on the other vessel's bridge radar makes the Aegis destroyer appear smaller than it actually is. If the civilian vessel operator detects the Aegis destroyer by radar alone, that person may think it is relatively small. 
A Japanese domestic ship seafarer recently noted that he once detected a target more than 10 nautical miles away at night with radar. As its contact image was small, he thought it should have been a small target. Shortly afterward, under the moonlight, and within two nautical miles, he was surprised when the Aegis destroyer suddenly appeared. Thus, it is possible the civilian vessel would mistake the Aegis destroyer as a small target at night. In the Atago case, the stealth profile probably did not contribute to the collision. However, this potential problem needs to be more widely recognized.
Preventing Future Collisions
In addition to better training for civilian mariners and a heightened awareness for Aegis ship bridge teams, specific mitigating steps can be taken to make night navigation safer when this class of warship sails in congested waters. For example, the Aegis officer-of-the-deck should turn on the rear-area working lights to expose the existence and crossing angle of the warship. Such lights cannot be mistaken for navigation lights specified in the rules, do not impair their visibility or distinctive character, and do not interfere with keeping a proper lookout. 
In the Atago collision, the fishing boat operator may have been confused by the destroyer's short distance between the two masthead lights. Because assessing an accident from a shiphandling human error perspective is important to avoid future collisions, all surface officers, regardless of experience level, should continually study and practice every aspect of navigation. And every vessel should at all times maintain a proper lookout by sight and hearing as well as by other means.
1. "Report on the Collision between USS Fitzgerald (DD-62) and Motor Vessel ACX Crystal, 23 Oct. 2017," Department of the Navy, Office of the Chief of Naval Operations.
2. Kevin Eyer, "Collisions: Part I, What Are the Root Causes?" Proceedings Today, August 2017; Kevin Eyer, "Fitzgerald: When a Big Ocean Gets Small," Proceedings Today, June 2017; Kevin Eyer, "CO-XO: Unique Relationship," Proceedings, 143, no. 9 (September 2017); 12.
3. Robert Allee, "Which Ship Has the 'Right of Way?'" Proceedings Today, November 2017.
4. Shoji Fujimoto, Akari Kondo, Masaki Fuchi, Tsukasa Konishi, Hiroyuki Matsumoto, and Tomohisa Nishimura, "Judging Vessel Courses via the Horizontal Distance Between Two Masthead Lights," Transactions of Navigation 2, no. 1 (2017): 1–13.
---
Lieutenant Commander Matsue is an officer student of the Japan Maritime Self-Defense Force Command and Staff College and a second-year Ph.D. student at the Graduate School of Maritime Sciences, Kobe University. She graduated from the National Defense Academy in 2004 and has served as navigator in the JS Bungo and JS Makinami.
Captain Fujimoto is an associate professor at Kobe University and an Institute of Navigation member. He holds a B.S. in nautical science from Kobe University of Mercantile Marine, an M.A. and Ph.D. in law from Osaka University, and a Master Mariner's license.