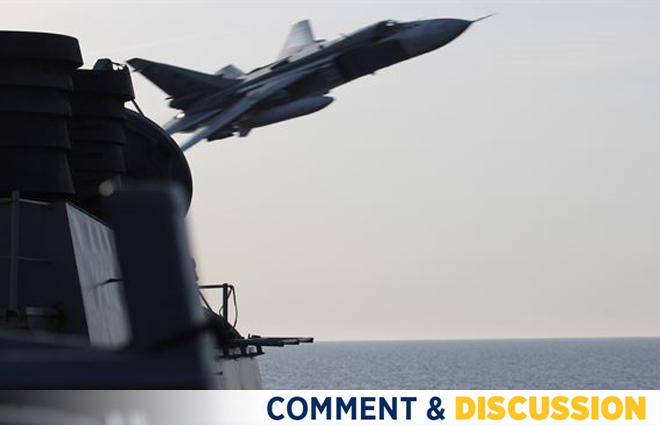 Realistic Trauma Training Hones Surgical Teams
(See J. Malone, et al., pp. 54–57, December 2018)
Captain Malone and his coauthors skirt underlying problems that will certainly impact future casualty management.
Navy Medicine has two missions, not one. The first is to provide ongoing care to our personnel and their families—a mission the authors note does not often call upon mass-casualty or major-trauma management skills. The second is care of battlefield trauma, both ashore and afloat—a mission where those skills are critical. It is true that our reserve force has full-time trauma surgeons, critical-care nurses, and emergency department personnel who care daily for major trauma, but their numbers are relatively small and the cumbersome mobilization system and the use of reserve individuals rather than teams reduces their potential benefit.
Aggressive use of the latest high-end simulations can help, but the tension between the peacetime mission and the operational mission will continue to stress the performance of both. A major rethinking of how we deliver care is better done now than in the midst of the next war.
—Captain David Scott, MD, MC, USNR (Ret.)
USS Sioux City Joins the Fleet
(See p. 9, November 2018)
The story announcing the commissioning of the USS Sioux City (LCS-11) notes the ship continues the strong historical connection between the land-locked state of Iowa and the Navy. It mentions two other Navy ships that represented Iowa, the USS Iowa (BB-4 and BB-61), as if those are the only ones that identify with Iowa.
The author did a great disservice to the many officers and sailors that served on other Navy ships that also represent Iowa. Those missing ships were just as important to the success of the Navy's mission as the battleships.
Ships omitted:
USS Adair (APA-91)
USS Benton County (LST-263)
USS Boone County (LST-389)
USS Buchanan County (LST-504)
USS Burlington (PF-51)
USS Calhoun County (LST-519)
USS Clarke County (LST-601)
USS Curtis Wilbur (DDG-54)
USS Davenport (PF-69)
USS Des Moines (CA-134)
USS Des Moines (CL-17)
USS Dubuque (LPD-8)
USS Dubuque (PG-17)
USS Fletcher (DD-445)
USS Floyd County (LST-762)
USS Fremont (APA-44)
USS Grundy (APA-111)
USS Hamilton County (LST-802)
USS Hampton (SSN-767)
USS Henry County (LST-824)
USS Howard (DDG-83)
USS Iowan (ID-3002)
USS Jefferson County (LST-845)
USS Johnson County (LST-849)
USS Keokuk (CMc-6)
Keokuk (YTB-771)
USS Lamson (DD-367)
USS Lee County (LST-888)
USS Linn County (LST-900)
USS Lyon County (LST-904)
USS Monroe County (LST-1038)
USS Montgomery County (LST-1041)
USS Muscatine (ID-2226)
USS Muscatine (AK-197)
USS Page County (LST-1076)
USS Red Oak Victory (AK-235)
USS Shelby (APA-105)
USS The Sullivans (DD-537)
USS The Sullivans (DDG-68)
—John Trtek, Life Member
Stop the Erosion of Command
(See K. Eyer, November 2018)
We live in a dangerous world requiring the Navy to be ready at a moment's notice to defend U.S. national interests across the globe. Senior naval leaders empower ship commanding officers (COs) to lead the way and make time-critical decisions.
Captain Eyer's article suggested that senior naval leaders do not trust COs because of three factors: an increase in the ratio of flag officers to ships; global communications leading to micromanagement; and a zero defect mentality within the surface warfare community. This argument does not align with our own personal experiences as COs. Sure, there are always administrative burdens, but in every operation over the last two years that we experienced, our senior leaders provided Commander's intent. They trusted us to execute operational missions as we saw fit.
Recent operational events demonstrate that warships are at the forefront of a paradigm shift from peacetime to peer competition. In April 2016, for example, Russian aircraft performed multiple aggressive flight maneuvers in close proximity to the USS Donald Cook (DDG-75). In July 2017, the USS Stethem (DDG-63) conducted a Freedom of Navigation Operation (FONOP) within 12 nautical miles of Triton Island in the South China Sea. Chinese ships maneuvered within close range of Stethem and conducted numerous provocative bridge-to-bridge conversations.
During the Donald Cook interaction with the Russian fighter, the CO fully apprised senior naval leaders of the situation as it unfolded. Not once, did the CO receive "rudder orders" or get told what to say or what to do in response. Senior leaders were more concerned that the CO had the resources required to execute the mission and defend the ship and its crew, rather than questioning what the CO was doing or how he was achieving success in a tense situation. Stethem was given the same level of autonomy during her 2017 FONOP.
Two critical documents, the CO's "Standing Orders" and "Battle Orders," provide a foundation on which to operate and fight the ship. The initiative to standardize these two documents across the fleet is a positive change. Regardless of what ship one serves on, we all know that each document is organized the same way across the fleet. More important, the guidance provided by Commander, Naval Surface Forces, provides enormous flexibility for COs to craft their own perspective from which to operate and fight the ship while following general fleet standards.
We own the fight. We are tactical experts and spend a significant amount of time focused on learning how to defeat any adversary. On board the Stethem for example, weekly warfighting council meetings are conducted to discuss how to achieve success in battle whether as an independent unit or operating as a part of a carrier strike group. Officers and chief petty officers attend the weekly meeting that manages more than 20 different warfare areas, discusses the latest intelligence, provides training in operational tactics, explores options in communications-denied environments, and acts as a vehicle to think independently about ways to win at sea.
As COs we understand the trust and confidence our senior naval leaders place in us to accomplish missions. Earlier this year, Chief of Naval Operations Admiral John Richardson updated the Navy's charge of command, identifying trust and confidence as the "two coins of the realm that enable decentralized command and operations at sea; they are the key to our effectiveness as a force."
COs are also human and will make mistakes. However, we minimize those mistakes through deliberate risk mitigation and as a team break the error chain. Whether it's an inspection, assessment, certification, or operation, we assume responsibility for everything that occurs on board our ships. We understand the burden of command, take it seriously, and know if a catastrophic event should occur on our watch, we will be held accountable. We strive to keep our crew safe while simultaneously remaining ready for battle.
Although some may think command authority has eroded, our experience leading ships at sea during real-world operations has shown that is not the case. The trust of those in command remains one of the most important responsibilities in the Navy since John Paul Jones commanded the Ranger in 1777.
—CAPT Charles E. Hampton, USN, former commander, USS Donald Cook (DDG-75) and CDR Jeff W. Benson, USN, commanding officer, USS Stethem (DDG-63)
Every commanding officer is familiar with Joseph Conrad's words about the "prestige, privilege and burden of Command" and how "the Navy must place great power, responsibility and trust in the hands of those leaders chosen for command." Captain Eyer laments the loss of this trust and responsibility. We, the leaders and commanding officers in Destroyer Squadron Nine, beg to differ.
DesRon Nine is the only squadron headquartered in Everett, Washington. We are comprised of eight destroyers, including four in Everett, two in San Diego, and two in Pearl Harbor. The ability to maintain routine contact is essential to ensuring our ships are properly manned, trained, and equipped. Enhanced connectivity mitigates the challenges of a geographically dispersed DesRon. Cell phones, email, and chat augment traditional message traffic to enrich communication between staffs and ships. But the ability to easily exchange information has not eroded trust in commanders; as commodore, I am well-informed and more easily able provide commander's intent. Frankly, I rely on my captains to command their ships and execute their tasking; I provide forceful backup when appropriate.
Operationally, I report to one admiral, the commander of the Nimitz carrier strike group; he reports to commander, Third Fleet, who reports to commander, Pacific Fleet. Administratively, I report to one admiral, commander, Surface Forces Pacific. There may be 359 admirals who oversee many Navy functions, but none of my COs reports to them. Admittedly, there are more missions, programs, and requirements, so captains must prioritize from a longer to-do list. However, from our perspective at the squadron level and on the deckplates of our ships, the chain of command is intact, and any increase in the flag officer ranks has not diminished our command authority.
Most surface warfare leaders recognize the need for recent changes in the surface warfare community in the wake of a tumultuous 2017. Captain Eyer writes that these changes are "crushing new administrative requirements," but we would argue that most changes are very much for the better. For example, the cumbersome shipboard training programs instruction was recently canceled. Also, codifying proficiency requirements for critical watchstanders and implementing the SWO logbook are proven practices in other warfare communities and require minimal time investment. Captain Eyer also takes to task the direction to standardize standing order and battle order format and terminology across ship classes. In our view, these standardized orders have been well-received across the fleet, and COs still retain the ability to tailor these orders to their specific ship, as required.
Many of these changes were discussed at the recent Naval Surface Forces Pacific Commanders' Symposium. Not once during any conversation did we hear complaints of a "zero-defect" mentality or of feeling like a sacrificial lamb. Instead, we discussed reinvigorating our surface warrior culture and providing more time for COs to train their crews and focus on warfighting. Changes to basic phase training and advanced tactical training like surface warfare advanced tactical training are just two examples. We own the fight, plain and simple.
Commander, Naval Surface Forces, Vice Admiral Richard Brown, routinely says: "As the Captain goes, so goes the ship." I strive to maintain the independent command authority and prerogative of my COs and give them the freedom they need to command their ships. Captain Eyer argues that, in the wake of last year's collisions, "It is imprudent for senior officers to simply trust the COs beneath them." I would argue that my trust in my commanding officers– and their trust in me–is absolutely necessary to build the strong, cohesive team required to conduct prompt and sustained combat operations sea.
—CAPT Kyle Colton, Commodore DesRon Nine (CDS-9); CAPT Todd Whalen, Deputy, DesRon Nine; CDR Andy Bucher, commanding officer, USS Howard (DDG-83); CDR Andy Strickland, commanding officer, USS Shoup (DDG-86); CDR Jake Braun, commanding officer, USS Chafee (DDG-90); CDR Michael Stoker, commanding officer, USS Halsey (DDG-97); CDR Matt McNealy, commanding officer, USS Kidd (DDG-100); CDR Jeremiah Jackson, commanding officer, USS Sampson (DDG-102); CDR Sean Lewis, commanding officer, USS Sterett (DDG-104); CDR Casey Mahon, commanding officer, USS Ralph Johnson (DDG-114)
As the newest commanding officer of the USS The Sullivans (DDG-68), I disagree with characterization of the disintegration of trust in COs in the surface navy. Being in Command only a short time, it would be presumptuous of me to rebut more experienced officers' sentiments about this topic, but it's important to point out from my viewpoint—and my bridgewing—that trust in me as a current CO is not eroding.
I assumed command in late November at sea while on mission in the 5th Fleet operating area. Within 72 hours, we transited the Strait of Hormuz shortly after new sanctions came into effect against Iran.  My operational commander gave commander's intent and allowed my team and me to carry out the mission. We made reports via more technologically expedient ways than in the past but the result was the same —a ship commanded by a captain and led by its officers and chief petty officers executed a mission I never doubted that the chain of command had my back—they put me in a position to succeed. There has been no micromanaging or questioning. Put simply, the chain of command has allowed me to command.
—CDR Pat Eliason, commanding officer, USS The Sullivans (DDG-68)