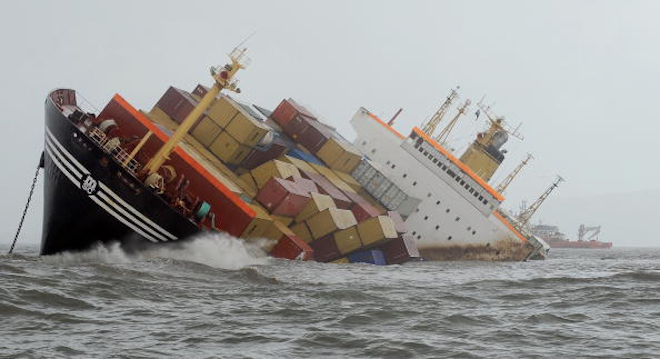 (MARAD)
MEMORANDUM
30 September 2025
From: Maritime Administrator, Maritime Administration, 
U.S. Department of Transportation
To: Secretary of Transportation
Subj: Lessons from Recent Military Actions in the Pacific and Indian Oceans
Mr. Secretary,
As public outcry increases and you are called before congressional committees to explain why the Maritime Administration's (MarAd's) Ready Reserve Force (RRF) and U.S.-flag merchant ships were unable to adequately sustain the U.S. military in the recent conflict and the significant losses of merchant ships and mariners, I would like to provide my perspective. 
The reason for our defeat lies in our past as much as in the enemy strikes on our maritime logistics supply lines of communication. There simply were too few U.S.-flag ships available, and when they were damaged, destroyed, or sunk, U.S. shipyards had only limited capability to effect repairs or replace our losses. 
The steady drumbeat to remove Puerto Rico from Jones Act trade following the three devastating hurricanes in 2017 resulted in an election-year decision to exempt
the island from compliance with the Jones Act.1 While initially planned as a temporary two-year suspension, the exemption became permanent. Alaska, Hawaii, and other non-continental territories demanded to be added, and the Jones Act effectively was nullified. The result was a quick and predictable exit of U.S.-flag ships to foreign flags, with lower costs and non-U.S. crews.
Hand in hand with this flight of the U.S.-flag fleet was the collapse of the few U.S. shipyards capable of building oceangoing merchant ships. Shipbuilding is capital intensive, and success depends on having the latest technology. As customers disappeared, there was no incentive for the shipyards to modernize, or even to remain in business. Today, the United States has no shipyards capable of building commercial merchant ships.
In an unwitting parallel, Congress relaxed cargo preference laws that ensured U.S. government cargoes would be allocated to U.S.-flag ships. Here the downward spiral should have come as no surprise. After a 2012 relaxation of the cargo preference law from 75 percent to 50 percent, the number of U.S.-flag ships in international trade dropped from 106 to 81.2
Heavy lobbying from states with large agricultural interests hurt by tariff retaliations in 2019 resulted in food aid cargoes being removed from cargo preference. As these cargoes declined, so did the number of U.S.-flag ships in foreign trade. This also caused some ships to withdraw from the Maritime Security Program (MSP) and re-flag to other countries. While MSP covers some of the additional costs of operating ships under U.S. flag, carriers in the program also rely on the cargo preference to support their U.S.-flag fleets. Without it, the cost of operating under U.S. flag was simply too high for some carriers.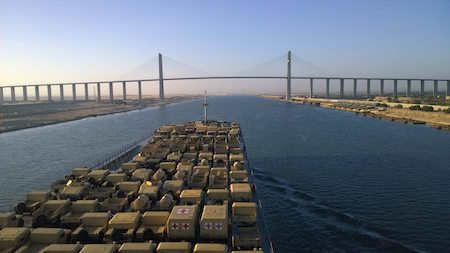 Mariner availability also was a significant problem.  A 2018 congressional report noted the United States already was experiencing a deficit of more than 1,800 licensed mariners to crew (for more than six months) all available U.S. merchant ships in the Jones Act oceangoing fleet, the U.S.-flag international fleet, and the surge ships maintained in the RRF.3 But this study assumed 100 percent participation by U.S. licensed mariners and did not factor in possible casualties in a contested maritime environment. With the recent losses of mariners and ships, the shortfall has become more critical. 
In the past, "experts" dismissed the decline in licensed mariners, arguing that automation would offset the shortage. This proved not to be the case. In fact, the introduction of complex technology on board ships required not fewer mariners but more highly skilled mariners to operate these advanced ships.
(MARAD)
With fewer U.S.-flag ships, the number of job opportunities for U.S. merchant mariners fell off sharply. The lack of meaningful training and career options for graduates created recruiting and retention issues at the nation's maritime academies. The lack of U.S.-flag ships also made it impossible for junior officers to get the sea time and experience needed to raise their merchant marine licenses, so the number of masters, chief engineers, and other senior officers has decreased each year.  
These issues made it impossible to provide a sufficient number of mariners to crew all the RRF and merchant marine vessels needed for strategic sealift. As a result, dozens of fully loaded vessels remained tied to the dock and much-needed military cargoes were not delivered.
Compounding the difficulties were operational and mechanical problems resulting from vessel age. Although MarAd and its contractors strive to maintain RRF vessels in top operational condition, a substantial number of these ships are of advanced age, with many exceeding 50 years. RRF vessels are converted commercial cargo ships originally designed for a service life of 25 to 30 years. The high operational tempo of the recent conflict combined with high-intensity battle environments caused several serious and unexpected mechanical problems, which reduced our sealift capability.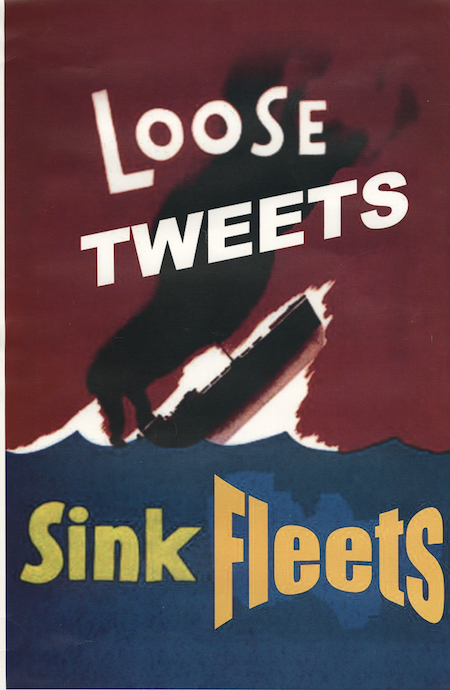 The losses of U.S.-flag merchant ships on charter to the Military Sealift Command (MSC) also hindered critical resupply of the military. For example, three of the six chartered tankers supplying Navy fuel depots around the world were destroyed. The remaining three tankers were the only U.S. tankers available, and it was not possible to charter foreign-flag vessels. This prevented MSC oilers from adequately resupplying Navy carrier task forces, which seriously curtailed their combat capability.
For many years, pundits and think tanks have misread history and concluded the lack of U.S.-flag ships and mariners is no cause for alarm. They often have cited the first Gulf War, when only a single MSP vessel was used and more than 350 ships were chartered from other countries.4 But in that war, the force of the entire United Nations was brought to bear, and the bill for chartering sealift ships was paid by Japan and Kuwait. Chartered foreign-flag ships were readily available. 
In the recent conflict, the United States faced its peer competitor with far less support, as traditional allies waited on the sidelines, torn between historical relationships, their own diminished merchant marine and naval strength, and new, seductive, and strong economic ties with our competitor. So a better example is the Falklands War, where the United Kingdom had to deal with an enemy largely on its own, with all logistics support provided by its own merchant ships flying the red ensign.
The recent conflict also exposed the myth that an "effective controlled U.S." (ECUS) fleet of foreign-flag ships owned by U.S. citizens could be used. The ossified government wartime requisition authorities were no match for the revolution in corporate ownership and financing of merchant ships that buried the effective ownership of vessels in layers of complex agreements designed to avoid taxes and reduce legal liability. In any case, there seemed to be virtually no militarily useful ECUS ships.
Another crucial feature of the first Gulf War was that ocean transits were not targets of enemy action because Iraq lacked a blue-water navy. That was not the case this time. Since 2018, the U.S. Navy has been warning it has insufficient combatants to provide escorts or convoy support for merchant ships sailing in contested waters. The reality hit home when U.S. merchant ships were targeted by enemy surface combatants, submarine-launched long-range antiship cruise missiles, aircraft, surface and aerial drones, and mines. The resulting casualties were devastating.
The U.S. tactic for merchant ships "to hide in plain sight" using deception, communication and AIS silence, electronic and visual camouflage, and ruses to blend in with other nonbelligerent shipping worked as well as could be expected, but drones and other surveillance techniques were in many cases effective in alerting predators to the ships' presence.
Unfortunately, merchant mariners also inadvertently contributed to their own losses by transmitting information on their unprotected personal devices. In one case, a text from a mariner seeking news of the birth of his child resulted in his ship being targeted. A drone-launched missile caused an uncontrollable fire that spread to the munitions cargo with the loss of all hands. These losses suggest that vessel security and cybersecurity plans have not been exercised or worked out with seafaring labor unions. Likewise, overreliance on GPS and electronic navigation systems and a lack of experience in traditional methods of navigation such as piloting and celestial navigation created a complacency that enabled the enemy to target and initiate cyber attacks on merchant ship systems. 
As the Navy comes to grips with its loss, MarAd is trying to find ways to reconstitute and support a maritime industry and merchant marine devastated by years of neglect. I believe the outcome of the recent conflict would have been much different if even modest steps had been taken to maintain a viable U.S.-flag fleet crewed by well-qualified U.S. mariners and backed by a strong domestic shipbuilding industry. The costs of such actions pale in comparison to the work we now must do to reestablish a U.S. Merchant Marine our nation can depend on for strategic sealift in times of national emergency.
Very respectfully,
/s/
E. S. Land III
Maritime Administrator
1. The Merchant Marine Act of 1920 (46 U.S.C. §55102(b), the "Jones Act") requires that transportation of merchandise between points in the United States, either directly or via foreign port, is lawful only if the ship is built in the United States, owned at least 75 percent by U.S. citizens, crewed by U.S. citizens, and documented in the United States with a coastwise endorsement. 
2. National Maritime Transportation Strategy (14 June 2018) (draft), MarAd, Table 10, "Number of U.S. Flag International Trade Vessels since 1990."
3. "Concurrent operations of the commercial fleet and sustained sealift that demands crew rotation will demand a total of 13,607 mariners with unlimited credentials. Accordingly, there is a deficit of 1,839 mariners with unlimited credentials even under the assumed condition of all these mariners being available and willing to sail." "Maritime Workforce Working Group Report," 32, www.maritime.dot.gov/strategic-sealift/mariners/mwwg-report-congress. The National Maritime Transportation Strategy (draft) (14 June 2018) documented a Jones Act fleet of 100 ships, a U.S.-flag international fleet of 81 ships, and a RRF of 46 vessels operated by MarAd and a further 15 vessels operated by the Military Sealift Command.
4. Under MSP, a U.S.-flag vessel receives a stipend of about $5 million per year to offset the cost of maintaining a militarily useful U.S.-flag ship in foreign international trade.
---
Rear Admiral McMahon is a 1977 graduate of the U.S. Merchant Marine Academy, a master mariner, and is the Emory S. Land Chair of Merchant Marine Affairs at the U.S. Naval War College.
Captain Burnett is a 1972 graduate of the U.S. Naval Academy and a surface warfare officer with more than 37 years' experience in the marine industry as an admiralty attorney in private practice and government service.