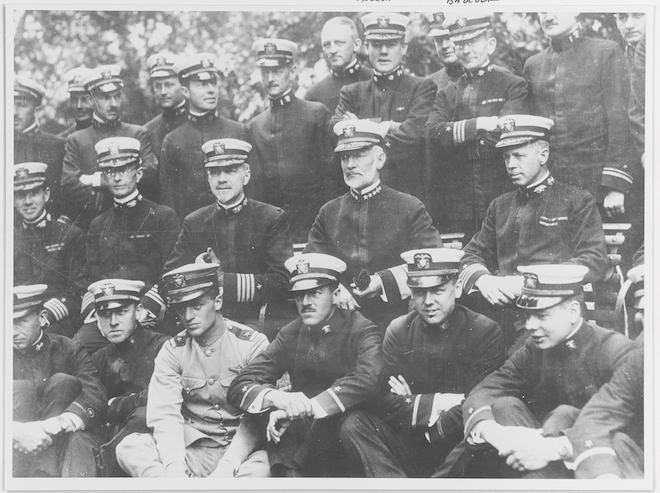 Vice Admiral William Sims (second row, second from right), shown here with his staff circa 1918, believed that good subordinates showed their leaders loyalty and initiative. (Naval History and Heritage Command)
A little more than a century ago, as the storm clouds of war hung over Europe, then-Captain William Sowden Sims was asked to deliver a lecture on military character.1 Sims already had earned a reputation for being a bit of a rebel and a reformer as he worked to improve U.S. naval gunnery and created a fleetwide competition that later would be known as the Battle E. In 1916, the Navy had begun to consider that the war in Europe might spread and mass mobilization might be required. The Navy commissioned lectures on topics such as coastal defense, torpedo boats, and other technical subjects to introduce volunteers to the concepts and methods they would need for naval service if mass mobilization was required. Captain Sims was asked to pitch in his leadership insights.
With a subject so broad that he could take it in nearly any direction, Captain Sims avoided the temptation to focus on "the great men" of military leadership. Rather than looking at the careers of Napoleon, George Washington, or David Farragut, he decided to examine what it took to become a good junior leader. In his address to the National Naval Volunteers program, Sims began by looking at a Prussian model of military leadership, which has become popular again today. 
The Prussians called it auftragstaktik and today the Department of Defense calls it mission command.2 It is a pattern of leadership focused on the superior telling the subordinate what to do, but giving them leeway in determining how to do it. With proper training and education of the subordinate, it creates an organization that generally will be predictable and efficient, but also one that can adapt quickly to new challenges or when the fog of war demands it. 
Today's writing on the subject generally focuses on the responsibilities of senior officers. Specifically, it tends to spotlight the importance of seniors trusting subordinates. But that is only half of how mission command, or classical naval leadership, works. The Navy does not really talk about the other half—what the junior officers or sailors owe their commanders. That, however, is exactly what William Sims focused on in his lecture.
Sims believed that the subordinate owed his commander, and the whole of the organization, two things. First, a good junior officer or noncommissioned officer (NCO) demonstrates loyalty. Second, a good junior officer or NCO demonstrates initiative. He told the assembled volunteers at the lecture in New York:
[Leadership] involves the two wholly essential twin qualities of loyalty and initiative… Loyalty in itself is always indispensable, but initiative without loyalty is dangerous. It is their intelligent and trained cooperation which is the vital characteristic.3
Loyalty without initiative would work fine if one's opponent operated in the same manner, and as long as subordinates were technically competent. The problem is that the moment a thinking, adapting, creative opponent challenges such a monolithic system, it can fall apart. Initiative without loyalty, on the other hand, can result in a near total degeneration of the chain of command. If everyone just does whatever they want, plans come apart at the seams and operations become impossible to execute coherently. 
Sims insisted the natural and healthy tension between junior leaders' loyalty to their commander, or workers' loyalty to their manager or supervisor, and their individual desire to exercise personal judgment was the true key to success. A successful worker or midlevel manager or leader needs to be conscious of the balance between the two. That requires reflection on commander's guidance and intent, as well as a leader's own analysis, when making decisions.
Today's leadership discussions, with their focus on buzzwords such as "disruption" and "innovation," tend to center on the importance of initiative. To balance discussions of 21st-century leadership, however, careful consideration should be given to what Sims said about demonstrating loyalty. There are many times when junior leaders (and the organization) are best served when they trust in their superiors, remembering that sometimes the superior is the one with the bigger picture.
The difficulty is knowing the right moment for initiative and the right moment for loyalty. Those moments of decision do not come with labels attached. Sims uses the word "cooperation" to discuss the relationship between the two ideals, but they naturally are more inclined to be in competition. It is important that midlevel leaders in any organization—in the military, the field-grade and company-grade officers and NCOs—reflect on balance in their own endeavors. Leaders need to think honestly about it, rather than just acting on gut instincts. In his lecture, Sims pointed out the importance of self-reflection and genuine study of individuals' own roles in leadership, even those near the bottom of the chain-of-command. Thoughtful reflection is the only way to bring loyalty and initiative into true balance, and to know which path to follow when challenges arise.
It also is important to acknowledge that superiors often demand loyalty without acknowledging the importance of initiative. This was the case when Admiral Arleigh Burke wrote a leadership essay for Proceedings in 1976, titled "Dissidence Is not a Virtue," where he appears to demand loyalty while ignoring the value of junior officer initiative.4 In his lecture in 1916, Sims did not ignore the responsibilities of senior leaders to trust their subordinates. He reflected, as Alfred Thayer Mahan had a decade prior, on the deep trust that Admiral Lord Nelson demonstrated in his service in the Royal Navy. Mahan said that trust was the key element to Nelson's success, "the inborn natural power to trust; to trust himself and others."5 Sims echoed that analysis, and suggested in the process that the balance has to be played out at all levels of command.
When it comes to the philosophy of leadership, and considering mission command in the 21st century, balancing loyalty and initiative is a matter of learning how and when to trust. This is not far from what the ancient philosopher Seneca said about valuable human relationships, particularly close relationships like friendships. For friendships to work properly and have the power to affect your life, he said that one must "trust in [the other] as you trust in yourself."6  (Being a stoic, Seneca also insisted that people should not put too high a value on things that could be taken away, which includes trust.) 
These philosophical ideas appear to be in conflict. Dealing with that conflict is part of leading a successful life. In some ways, it seems to be the same as what Sims was telling the naval volunteers. Understanding trust, and the conflict between loyalty to others and the value of your own initiative, is inherent in human interaction. It is finding balance that brings success. 
In the U.S. military today, sometimes leadership seems a matter of procedural compliance, of executing a checklist or knowing the list of things leaders are not allowed to do. I suspect this is true in a lot of large organizations. Many leadership books and military texts list attributes, bulleted suggestions of good ideas, but rarely do they admit that sometimes the attributes are in conflict. This conflict requires leaders to develop the skills to reason through ethical or leadership questions, the ability to weigh possible paths, and to understand how to work through to the proper decision rather than immediately respond with a gut reaction.
Naval officers often read the great naval thinkers of the past, such as Mahan and Sims, and focus on their examinations of naval strategy and policy. But many of them also thought and wrote about the challenges inherent at the human level of the naval profession, the problems of leadership and professionalism. Reading and thinking about their lesser known works offers insight into what, after decades of experience and study, Mahan and Sims believed it meant to be an effective leader. Their sage wisdom applies equally to young supervisors early in their careers, military officers charged to command, or C-suite executives of major corporations. They offer a reminder that leaders must learn how to trust in others and exhibit loyalty while trusting in themselves and demonstrating initiative. Most important, every leader must reason through the process of balancing these two conflicting ideals to ensure the success of their team's mission when the time for action arrives.
1. Benjamin Armstrong, 21st Century Sims: Innovation, Education and Leadership for the Modern Era (Annapolis: Naval Institute Press, 2015), 46–74.
2. Nathan Finney and Jonathan Klug, Mission Command in the 21st Century: Empowering to Win in a Complex World (Leavenworth, KS: Army University Press, 2017).
3. William Sims, "Military Character," U.S. Naval Institute Proceedings (March 1917), 440.
4. Arleigh Burke, "Dissidence Is Not a Virtue," U.S. Naval Institute Proceedings (April 1976), 78–79.
5. Alfred Thayer Mahan, Naval Administration and Warfare: Some General Principles (Boston: Little Brown and Company, 1918), 303.
6. Lucius Annaeus Seneca, Letters from a Stoic, Penguin Classics Edition (New York: Penguin, 1969), 34–36.
---
Commander Armstrong is an assistant professor of war studies and naval history at the U.S. Naval Academy. He holds a PhD from King's College, London. He previously served as a search-and-rescue and special warfare helicopter pilot. He is editor of the 21st Century Foundations book series from the Naval Institute Press.