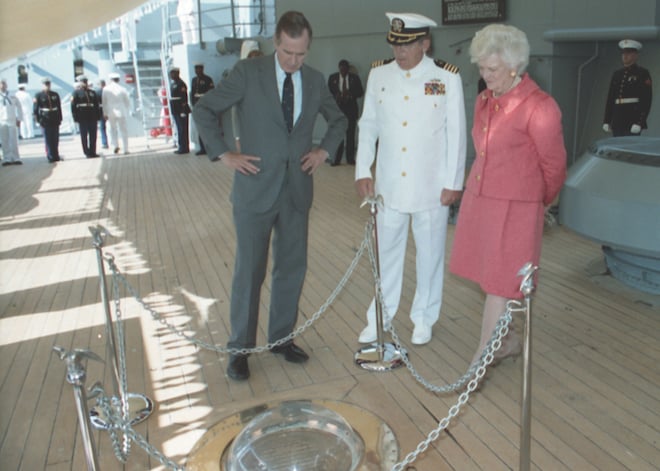 Decommissioning plans were put on hold when the Missouri was directed to participate in the 50th anniversary of Pearl Harbor. Captain Kaiss showed President George H. W. Bush and First Lady Barbara Bush around the battleship after the ceremonies. (George Bush Presidential Library and Museum)
It was just an average day in the U.S. Navy, but for Captain Albert Lee Kaiss, it was a day a dream came true: On 13 June 1990, he took command of the battleship USS Missouri (BB-63) for the second time. 
Captain Kaiss's 1986 tour as the recommissioning commanding officer of the Missouri had been cut short because of a medical problem, but unforeseen events put him in the right place at the right time. The battleship's current commanding officer had decided to retire, and there was no planned relief in the pipeline. With Kaiss once again "fit for full duty" and fully qualified to command, the problem of a relief was resolved, and Lee returned to his ship.