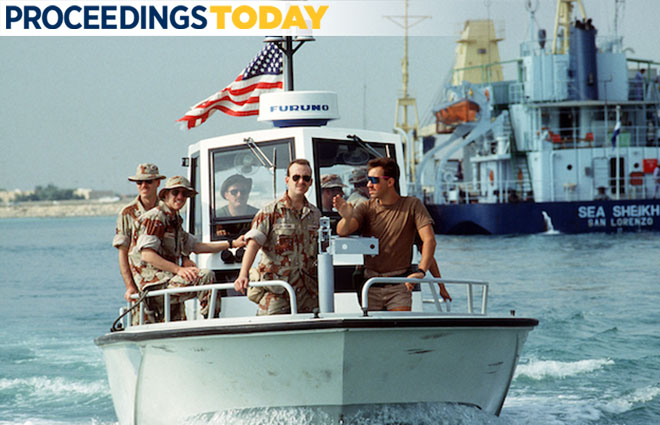 Every day, the Coast Guard protects the nation's maritime transport system, enforces the law at sea, interdicts illegal drugs, conducts search and rescue operations, enforces safety standards, and much more. Most of these tasks are ones that come to mind when people think about the Coast Guard. In addition, however, thousands of Coast Guard members support the Department of Defense and its combatant commanders throughout the world—24/7/365.
In the Arabian Gulf, for example, the commanding officer of a Coast Guard patrol boat leads her team inspecting dhows and interdicting weapons and other contraband from Iran. In Afghanistan, a Coast Guard petty officer is a member of a U.S. intelligence team working to provide actionable intelligence to U.S. forces. In the Eastern Pacific, off the coast of Ecuador, a seaman on his first law enforcement mission boards a low-profile, self-propelled, semi-submersible drug runner that has been stopped by a .50 caliber round from a U.S. Coast Guard Helicopter Interdiction Squadron detachment—part of a Coast Guard team under the tactical control of U.S. Southern Command. At U.S. Northern Command, the Homeland Defense command center team is monitoring the boarding of a Russian fishing vessel by the USCGC Alex Haley (WMEC-39) in the Bering Sea.
While these Coast Guard personnel work side-by-side with their DoD compatriots this week, the only differences between them are their uniforms and the fact that the Coast Guard members are not getting paid. The Department of Defense (DoD) funds the U.S Army, Navy, Air Force, and Marines; whereas, the Department of Homeland Security (DHS) funds the U.S. Coast Guard, and the ongoing government shutdown has left DHS—and thus the Coast Guard—unfunded.
The impacts are real and immediate for the vast majority of the Coast Guard's junior military and civilian workforce. Like their DoD colleagues, Coast Guard personnel normally are paid on the 1st and 15th of each month, but because of the shutdown they were not paid on the 15th of this month, and their 1 February paycheck is threatened as well. Uniformed men and women of the Coast Guard (and some civilian employees) are considered "mission essential" and must work, even without pay. So right now, Coast Guard personnel are on duty, in the United States, at sea, and around the world, executing missions vital to national security—and they are wondering how they will pay their rent, mortgages, car payments, and put food on the table.
Many Americans may not know how much junior Coast Guard personnel are paid:
Basic pay for a non-rate (E3) is $1,931/month or $23,172/year, before taxes.
A third-class petty officer (E4) earns $2,139/month or $25,668, before taxes.
The most junior officer (Ensign/O1) earns $3,108/month or $37,296/year, before taxes.1
The U.S. Poverty level for a family of four is $25,750.00.2 While few E-3s are married with two children, the loss of a single paycheck is a challenge for all servicemembers to absorb; and because they must continue to answer the call of duty, Coastguardsmen cannot look for work elsewhere.
Since 1924, Coast Guard Mutual Assistance (CGMA) has helped men and women of the Coast Guard in times of financial need. Usually those needs are individual—the death of a parent, a house fire, unforeseen car maintenance costs, for example. And usually CGMA's assistance is in the form of a zero interest, short-term loan. We provide "rainy day" emergency funds to help Coast Guard personnel get through a time of need.
Right now, because of the shutdown, nearly everyone in the Coast Guard is having not just a rainy day, but a rainy month, and there is no end in sight. A number of relief organizations are banding together to help Coastguardsmen and their families make ends meet in the absence of their government paychecks. Alongside our partners at the Navy-Marine Corps Relief Society, Army Emergency Relief, Air Force Aid Society, and the Red Cross, CGMA is helping Coast Guard members in this time of need.
It takes more than $180 million to pay the Coast Guard's active-duty and civilian workforce per pay period, and more than $100 million to pay the retirees. These relief agencies do not have $280 million in their bank accounts, and their mission is not to be a bank to replace the Coast Guard payroll. Coast Guard Mutual Assistance is doing what it can, thanks in part to the generosity of USAA which provided a $15 million gift. Nearly twenty percent of that sum has been dispersed already, and only about six percent of the Coast Guard family has asked for help. If the shutdown continues past 1 February, the need will expand quickly.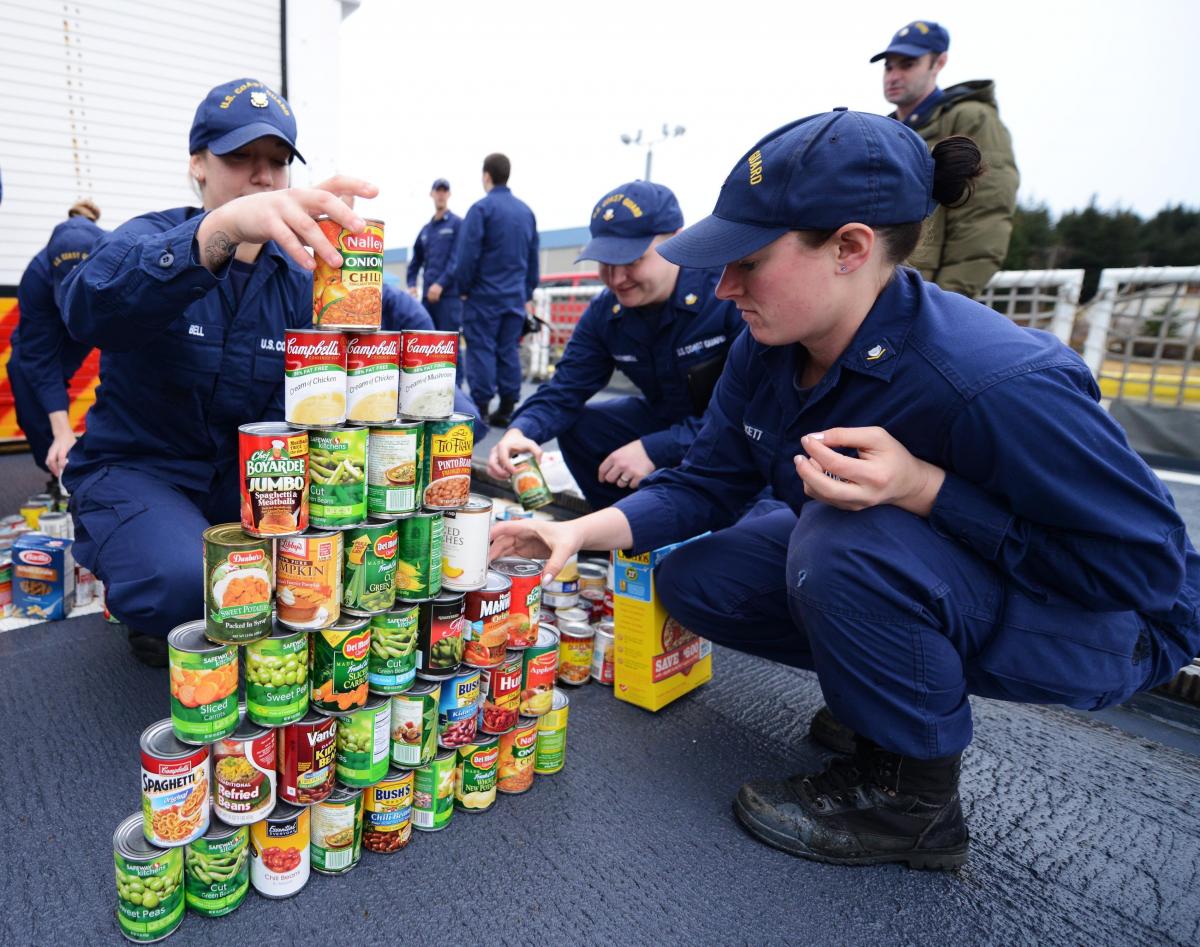 Help is being rendered through a loosely banded coalition of Coast Guard-focused efforts. Advocacy work is being done by a number of non-profits whose job it is to provide a voice for the Coast Guard to elected leaders. In-kind support is being done at the local level, with the Chief Petty Officer's Association (CPOA) in the lead. Food banks, diaper banks, donated dog food, gift cards, and other basic essentials are being distributed regionally with the help of the Coast Guard Foundation, CGA Alumni Association, and others. Through these efforts, backed by the financial support of CGMA, all are helping where they can with what they have.
If you are a Coastguardsman or family member in need of assistance, you can reach us at https://www.cgmahq.org/shutDown/clients.html.
If you wish to donate to help your Coast Guard shipmates, click here: https://cgmahq.networkforgood.com/projects/63225-lifeline-for-a-shipmate.
To find out more about U.S. Coast Guard operations during the shutdown, please see this list of references and contacts: https://www.dcms.uscg.mil/budget/.
Two former Coast Guard commandants recently called this government shutdown "senseless" and a "break in faith" between the government and Coast Guard members who have sworn to protect and defend the Constitution. Dr. Martin Luther King, Jr, whose life we celebrated this week, once said, "Everybody can be great … because anybody can serve." Around the country, communities are coming together to serve their Coast Guard because they know that the Coast Guard will always serve them in their time of need.
As the head of Coast Guard Mutual Assistance, I can attest that not paying the Coast Guard is threatening the Coast Guard family, and I urge everyone who reads this to do your part to help your shipmates weather this storm.
---
Endnotes:
1. DFAS Pay Chart 2018 https://www.dfas.mil/militarymembers/payentitlements/Pay-Tables/military-pay-charts.html.
2. [1] https://aspe.hhs.gov/poverty-guidelines
---
Rear Admiral Thomas is the CEO, Coast Guard Mutual Assistance. She is a cutterman who served 32 years on active duty, including as Assistant Commandant for Human Resources; Commander, Coast Guard District 14; Assistant Commandant for Response Policy; and Commander, Training Center Cape May. In her community work, she sits on the Defense Advisory Council to Women in the Service (DACOWITS) and on the board of the Navy Mutual Aid Association.