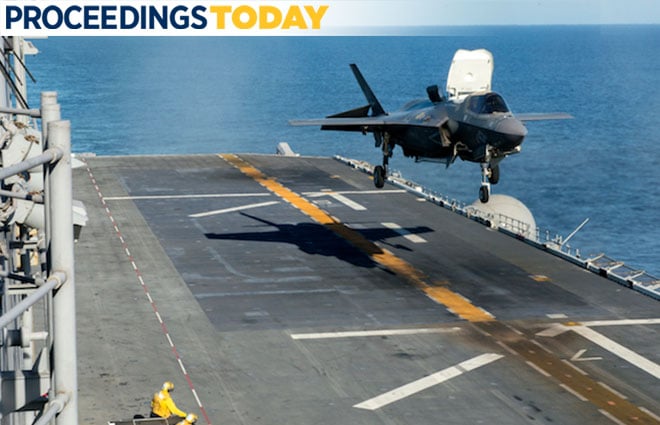 An F-35B Lightning II performs a vertical landing on board USS America (LHA-6). (U.S. Marine Corps/Thor Larson)
U.S. Navy and Marine Corps forces are in higher demand than ever in the joint warfare fighting environment. Assistant Secretary of the Navy for Research, Development & Acquisition James F. Geurts has clearly stated: "Expeditionary Warfare will be key to success in future battles, but in order to ensure overmatch, the U.S. military must increase its ability to quickly adapt to new threats." No other naval force in the world has the capability U.S. Navy and Marine Corps expeditionary forces employ today. They are key components of the National Defense Strategy.
The current expeditionary force is the nation's leading contact and blunt-force provider, built with speed, agility and lethality in mind. Recently, the amphibious assault ship USS Essex (LHD-2) was quick to respond to an urgent combatant commander requirement with an embarked 13th Marine Expeditionary Unit (MEU) F-35B detachment. The Marine Corps, flying off this forward-deployed expeditionary platform, set a major milestone as the first F-35s to conduct a combat strike mission in Afghanistan.
The San Antonio-class LPD has proven in the last decade it can meet a wide range of geographic combatant commander mission requirements. From serving as a flagship for an expeditionary strike group commander to acting as a forward staging base for special operations forces, this platform has proven critical in every phase of the fleet commander's mission planning. With the LPD flight II replacing the existing Whidbey Island-class and Harpers Ferry-class ships, an amphibious ready group with an embarked Marine air ground task force (MAGTF) will be even more maneuverable, flexible, survivable, and lethal in a future battlespace.
Naval expeditionary forces are the major power in littoral operations. No matter the mission or crisis operation—from humanitarian assistance and disaster relief to full combat power projection—expeditionary forces provide the complete force package in any scalable operation.  Just recently, the 31st MEU provided a rapid response after super typhoon Yutu hit the Pacific island of Tinian. USS Ashland (LSD-48), operating in the vicinity of the devastated island was the ideal platform to provide an immediate response. On short notice, amphibious ships can reconfigure and be ready to provide the joint force commander with a lethal force capability.  All amphibious warships, ranging from amphibious assault (LHD/LHA), amphibious transport dock (LPD), and dock landing (LSD) ships, can provide a package of wide ranging options. From a ready seaport for landing craft; flight deck for either fixed-wing or rotary aircraft; extensive medical hospital facilities or a highly capable command and control platform; expeditionary ships are ready, responsive, survivable, lethal and agile for any crisis.
In the past deployed expeditionary forces required a defensive shield from an Aegis cruiser or destroyer for force protection. Today's MAGTF and all future amphibious forces will have "fifth generation" offensive and defensive capabilities to operate in any contested battlespace. The F-35B has been operating successfully both in the Persian Gulf and on board the USS Wasp (LHD-1) in the Western Pacific. In September 2016 an F-35B, linked with an Aegis Combat System test site, fired the latest Standard Missile 6 and struck a target representing an adversarial fighter. This was a notable step in expanding how Navy and Marine Corps forces will share data on future battlefields.
Warfighting Upgrades on the Horizon
Amphibious ships will realize major upgrades in command and control with the installation of the Enterprise Air Surveillance Radar (EASR) on the America-class LHA ships and both flight I and flight II ships of the San Antonio-class LPD. This radar takes advantage of the highly scalable design and mature technologies of the AN/SPY-6(V) air and missile defense radar (AMDR) to be installed on flight-III Arleigh Burke-class destroyers, giving amphibious ships a significant air-search upgrade while reducing overall cost.
In addition, LHDs and LHAs will be outfitted with the Evolved Seasparrow Missile (ESSM) block II, which incorporates a new dual-mode active and semiactive radar seeker. This will facilitate an expanded flight envelope for achieving advanced maneuverability for force protection measures.
To confront the emerging threat in electromagnetic (EM) warfare the Navy has invested in the Surface Electronic Warfare Improvement Program (SEWIP). This upgrade provides rapid solutions and will enable amphibious warships to fight and win in the EM warfare domain. SEWIP block II provides electronic support and will be outfitted on all current amphibious ships. SEWIP block III adds an electronic attack capability and will be installed on the LHA/D mix and LPD flight II.
A major enhancement to fleet operations in standoff electronic warfare detection will be established with the Advanced Offboard Electronic Warfare (AOEW) program. This antiship missile-defense electronic warfare pod will be carried on both the MH-60R and MH-60S helicopters, which when flown from amphibious ships will significantly extend the expeditionary commander's defensive—and possibly offensive—electronical warfare capability. 
Several years ago, the Navy gave the Marine Corps an enlarged aviation platform to deploy significant numbers of F-35Bs. The first two new LHAs (USS America and USS Tripoli) were built without well decks. Even though these warships provide geographic combatant commanders with a supplemental force multiplier in the air warfare domain, all future amphibious ships also will have a well deck able to deploy forces by landing craft.
Ultimate Versatility
In any crisis expeditionary forces are prepared to fight in uncertain environments. If required during contingency response operations, amphibious ships and their associated MAGTFs will "fight fast" in hostile environments as part of the initial-contact and surge layers that bring capability and capacity into the battlespace. Expeditionary forces also need to remain prepared to transition into major combat operations. Across the full range of military operations, amphibious ships are a key contributor, ready to conduct prompt and sustained combat operations from the sea and essential to the Marine Corps' statutory mission to "seize and defend advanced naval bases." 
Today's U.S. expeditionary forces are some of the most capable warships in the world. What makes amphibious ships superior is not only the ability to combine sea-space maneuverability with the flexible strike capability of the embarked MAGTF, but also the ability to protect that embarked force with defensive capabilities and battle-damage resiliency. This is the true measure of being able to, in Marine Corps Commandant General Robert B. Neller's words, "fight to get to the fight."
---
Rear Admiral McKnight served as commander, Expeditionary Strike Group 2, from 2008 to 2009 and was the first commander of Combined Task Force 151. He is the author of Pirate Alley—Commanding Task Force 151 off Somalia. He currently works for Cobham as a senior vice president for customer relations.