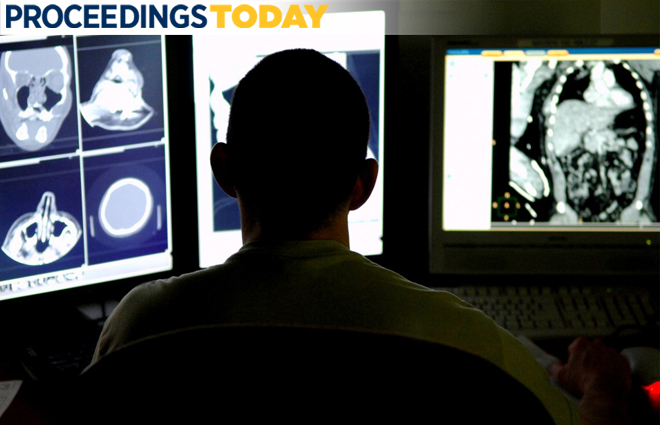 Imagine: the nation's worst enemy has developed the ability to consume nearly 10 percent of all defense spending, tie up a significant portion of manpower, and decrease proficiency in mission specific skill sets. This enemy threatens to consume ever-more budget dollars and—alarmingly—has developed this skill at no cost. The enemy is not a near-peer adversary or a terrorist group; it is military healthcare, aided by our information technology systems.
There is no panacea for rising healthcare costs in or outside the military, but increased use of technology can help optimize the costs associated with providing high quality care. Two tech-based solutions to optimize clinical efficiency seem self-evident:
End paper charts and streamline record-keeping
Increase automation in clinical care delivery pathways.
In 2004, the Armed Forces Health Longitudinal Technology Application (AHLTA) was rolled out. As an early adopter of an electronic health record (EHR) system, military medicine boldly stepped forward into the informatics age, realizing immediate gains in efficiency and patient safety. AHLTA even communicated with the Department of Veterans Affairs EHR system with a cross-platform information exchange. Despite this decisive and early step towards automation, 12 years later we are still building, maintaining, and processing paper charts.
Record-Keeping
Ask any junior enlisted medical technician what the lowest value portion of his or her work week is and the answer invariably involves paper records (and the required annual verification of paper-record jackets). The paper chart is a vestige of a bygone era. Most contain only health information that is otherwise recorded electronically—and is printed directly from those computer systems. Some older service members do have paper records predating the electronic health record (AHLTA), but many are more than 10-years old (and often barely legible).
Today's paper chart is predominantly a redundant repository of occupational exams such as flight physicals. Supply personnel quote the component costs at several dollars per paper jacket—one for every single service member. Add to that the financial and opportunity costs associated with storing a redundant hard copy and the 30 minutes or so it can take to scrub one record thoroughly, and I would weeks of productivity from my squadron medical department over the course of a year. Spread over the entire military, this becomes a significant financial burden and man-hour sink. A one-time digitalization into the EHR could be done for original paper records, and then the paper records should be permanently retired.
Potential errors generated in transcribing information and lost time must be weighed against the putative benefit of redundancy in record keeping. Consider the long-form flight physical. The process looks like this: A patient picks up a paper form, completes prerequisite hearing and vision screenings and any laboratory studies, and then books an appointment with a physician. The physician then completes the paper form, files an electronic note in the outpatient medical record, and transcribes the note into a secondary, dedicated flight-physical system. In addition, a separate medical readiness system is updated to show completion of the flight physical and periodic screening requirements. In a deployed setting, a separate electronic health record system allows data entry into the electronic record but no viewing of previously entered data. An appropriately compartmentalized system with specific occupational and readiness modules and cross-system communications would greatly accelerate the process.
            Paper charts might seem necessary for those deploying away from electricity; but both modern warfighting and medical facilities demand portable power. Today's military health provider ought to have secure laptops with local copies of patients' entire records that can be updated locally and backed up when connectivity allows. This requires no R&D and can be done with current hardware; automatic file backups have existed for quite some time.
Parallel record systems may offer redundancy, but they create conflicts when there are discrepancies. No healthcare provider I know uses the paper record instead of the electronic records, meaning significant effort goes into maintaining a system that is not reliable, requires manual upkeep, and takes up large amounts of space. On my last deployment, paper records accounted for at least 300 pounds and approximately one-third the total volume of the medical department's total shipped materials. This increased fuel costs and reduced space in cargo aircraft for essential warfighting materiel.
            A more-nearly ideal electronic system would have templates for job-related exams. For example, the Navy and Marine Corps Public Health Center's medical matrix system for generating paper exam templates might be fully integrated into the EHR. A patient could report to a kiosk and check in with a swipe of an ID. Then the system would determine automatically the need for prerequisite screening based on prior exam data. "Please proceed to lab for blood draw, then to vision testing, and finally to hearing testing" might read a printout that gives the patient individualized guidance. Once complete, the kiosk would then allow the booking of an appointment. This process requires minimal human intervention, and the user experience is entirely customized to an audience of one, eliminating waste. An automated review of the patient's records at check-in to generate such an individualized plan would reduce redundant blood work (direct costs) and optimize that patient's trip to the clinic while improving overall readiness (indirect costs of repeated time away from work centers).
Just by swiping in, the patient would learn of the need to get an immunization or some overdue screening—steps that currently rely on diligent manual screening of multiple systems. A patient could opt for text message, phone, or email reminders sent automatically at customizable intervals, reducing no-show rates. Web-based scheduling would eliminate frustrations calling in for an appointment; a patient could immediately see all appointments available to them and choose an appointment optimally aligned to both their personal and work schedules. An examination template that populates inputs electronically would reduce error from duplicate or even triplicate transcription into separate systems, reduce time spent finding missing data, and perform real-time error checking. (EHRs are often touted for the ease of drawing data for research studies, but suspect data-integrity can negate EHR's advantages.)
Results from flight physicals or other required exams and duty limitations can be transmitted automatically to the correct reviewing authority or unit coordinators. Sending a sick Marine back to the unit to present a medical chit to be sent home for the day to reduce infectivity to the rest of the unit following a stomach bug might seem absurd—but generating paper forms to be hand-carried and manually logged into Excel tracking sheets is the current state of the military-healthcare art.
Better Uses of Time
The man-hours spent maintaining parallel records come at the cost of training opportunities. Corpsmen might better spend time learning job-related skills—practicing medical simulation, gaining flight experience for en route care provision, or spending time rotating through civilian trauma centers to gain and maintain skills than cannot be learned in outpatient clinics. The men and women checking vitals and maintaining paper records in garrison clinics are the same sailors we send downrange to save the lives and limbs of service members. We owe it to our medical personnel to train them for the missions where others will depend on that proficiency. The higher levels of proficiency in aeromedical evacuation skills reported in Air National Guard and Air Force Reservists compared to their active duty peers could be due, at least in part, with the latters' time being wasted maintaining the outmoded record system.
The fiscal realities of the coming years mean military medicine will need to focus on refining processes and optimizing how we utilize manpower. The Navy and Marine Corps should pursue aggressively the excellence in medical informatics and data-driven healthcare decision-making we set out to pursue as early adopter of the HER system. Automating workflow and streamlining healthcare delivery pathways are the future. Furthermore, decreasing day-to-day manning requirements creates innovation opportunities, such as public-private ventures that might offer opportunities to rotate medical technicians—now free of the burdens of inefficient workflows—through nearby civilian centers to advance training levels as high as possible for wartime needs. "Do more with less" is a phrase often thrown around. To do so, military medicine needs to reevaluate how it does business, focus on its strengths, and—like corporations—consider radical process redesign. Eliminating and automating manpower intensive tasks represent great ways to upset the status quo.
Dr. Filler is a former Navy flight surgeon currently pursuing a residency in occupational medicine at the Harvard University T.H. Chan School of Public Health.