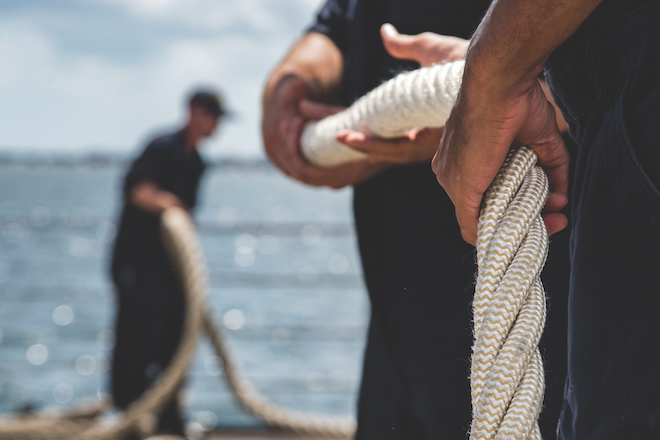 "You're not very good at this are you?" asked a British naval officer during a major multinational exercise where I was representing the United States. The comment came as I bumbled about a weapon system on which I was technically qualified. I was a little offended but more embarrassed because he was right. I had attended the school for the missile system but had trained on it only once or twice. The sad reality is that U.S. sailors frequently are ill-prepared for warfighting. The Navy's warfighting ability is atrophying, and a rapid course correction is needed to maintain its superiority. 
Team building
One of the most glaring issues facing the surface Navy is its diminishing ability to create and field efficient teams. The Navy's focus on individual achievement and advancement has created an environment where the buzzwords and certificates that look good on an evaluation are more important than leadership savvy and team building.
Individuality
In a team, individuals facilitate but are rarely the sole proprietors of success; however, there are numerous systems in place in the Navy that reward individuals. Aside from the Battle Effectiveness Award, it is rare to hear about the presentation of meaningful group awards. 
To foster camaraderie and teamwork, individual competition and rewards need to be administered in careful measure. Competition may breed excellence, but also it can cause rifts within a team. The Navy needs more ways to recognize team effort and foster a feeling of cohesion. 
Advancement
The idea that a service member's focus should be on advancement leads to promoting sailors past the point of their competency and detracts from team building. It is not uncommon for sailors to have to pick up a peer's slack while that individual focuses on collateral duties and flashy titles that grab evaluation and promotion board attention. This can put sailors into roles they are not ready for and creates resentment among peers and subordinates. 
Instead, Navy leaders should impress on junior sailors that the key to advancement is becoming competent, confident, and efficient both in their jobs and in team building.
Retention
As the Navy looks to grow its fleet in the coming years, policymakers must realize the value in retaining the best and brightest.1 The Navy already fumbled pilot retention, and the same mistake cannot be made with the surface fleet if it hopes to field a larger Navy.2 It needs to reduce unrelated duties, improve work-life balance, and conduct 360-degree reviews of leaders.
Unrelated duties
As the Air Force learned, extraneous work can be a major factor in losing talent.3 To think that this problem exists only within a single community is imperceptive. A common complaint I hear from sailors is the overabundance of duties unrelated to their job. 
One fix for this issue would be to streamline the Navy's maintenance and supply systems. These systems are facilitated by no fewer than six programs that are not integrated, have different interfaces, and do not share user bases. Providing one comprehensive program that handles all these tasks not only would eliminate extraneous work, but also would reduce training time.
Work-life balance
Service member work-life balance must improve to entice top performers to stay in the Navy. Moving non-vital jobs off ship may not be budget conscious, but it could improve work-life balance. Today's guided-missile destroyer is billeted for no fewer than nine sailors dedicated to administration. 
As with many Navy programs, personnel-related systems are out of date.4 Modernizing administrative systems could cut seagoing admin billets in half, allowing the Navy to move some sailors to shore while maintaining a minimum on board to handle ship's admin and facilitate the transfer of sailors' paperwork to shore-based administrative sites. 
360-degree evaluations
While the Navy must retain good sailors, it is more important to keep and build good leaders. Poor leaders breed poor leaders; a call to increase the size of the Navy cannot be an excuse to promote bad leaders. The most efficient protection against ineffective leaders is 360-degree reviews. Marine Major William Schick hit the nail on the head when he stated, "Not all toxic leaders know they are toxic. Similarly, not all reporting seniors know when Marine leaders under them are disingenuous and ineffectual."5
Instituting 360-degree reviews would help the Navy identify poor leaders and train to correct their deficiencies.
Leadership Issues
The surface fleet leaders also must improve to maintain success in the long term. Confident, decisive leaders have, in many cases, been replaced by administrators scared of minute mistakes. A round turn for surface leaders includes raising standards and shifting the way the Navy views failure. 
Higher standards
When sailors at my command complained that officer qualification boards were easier than enlisted boards, we were told that it was because enlisted sailors are the technical experts. It is unacceptable for officers to have a lower bar of entry for the same qualification—the bar for officers should be higher. 
The April 2018 Proceedings article, "We Can Fix the SWO Career Path," details the issues plaguing the surface warfare officer community and reasonable corrective actions.6 Among the most critical are eliminating rubber-stamping qualifications, doing away with a zero-defect mentality, and empowering commanding officers.
Fear and punishment
Leaders across the Navy are afraid of failure, and rightfully so. Events set in motion by predecessors can get leaders fired, and not meeting unrealistic timelines can curtail careers. The Navy must change the way it views failure. In its current state, resource-strapped commands are practically encouraged to "gun deck" to meet requirements. Instead of getting an accurate picture of the state of the Navy, those at the top get a lipstick-covered pig. The Navy reports success, validating a further reduction in resources, and is left to slap more lipstick on the pig. 
Big Navy should praise commanders who provide honest and realistic portrayals of readiness and punish those who hide problems. Only by knowing its true strengths and weaknesses can the Navy know how to get where it wants to go. 
Nearly every issue I've raised has been noted by others, be it in a dissertation by a Marine major or words exchanged with a fellow sailor on a late-night watch. That is promising. It shows the service knows its weaknesses, and the Navy can fix them. In addition, the Navy's recent trend of trying new things and making quick, sweeping changes provides hope for the future. Sailors must work together so that changes solve more problems than they create, and that they push the focus back
to warfighting. 
1. VADM Robert P. Burke, USN, "Brilliant on the Basics II, Part A, Revisiting the Basics," United States Navy.
2. LCDR Tony Kochanski, USN, "The Road to Retention Is Paved with Good Intentions," U.S. Naval Institute Proceedings 133, no. 3 (February 2018).
3. Karen Parrish, "Air Force Official Details 'National Aircrew Crisis,'" Department of Defense, 29 March 2018.
4. Paul Pierce, "Navy Must Continue Innovating in Administration, Manpower, and Personnel," USNI Blog, 6 July 2017.
5. MAJ William Schick, USMC, "Marines Need 360-Degree Evals," U.S. Naval Institute Proceedings 144, no. 4 (April 2018), 70–71. 
6. ADM Mike Mullen, USN (Ret.), and ADM Robert Natter, USN (Ret.), "We Can Fix the SWO Career Path," U.S. Naval Institute Proceedings 144, no. 4 (April 2018), 38–41.
---
Petty Officer Smith enlisted in the Navy in 2006. He recently served as a fire controlman on board the USS Donald Cook (DDG-75), home ported in Rota, Spain. He will be checking into Carrier Strike Group 11, where he is slated to assume the role of strike leading petty officer.