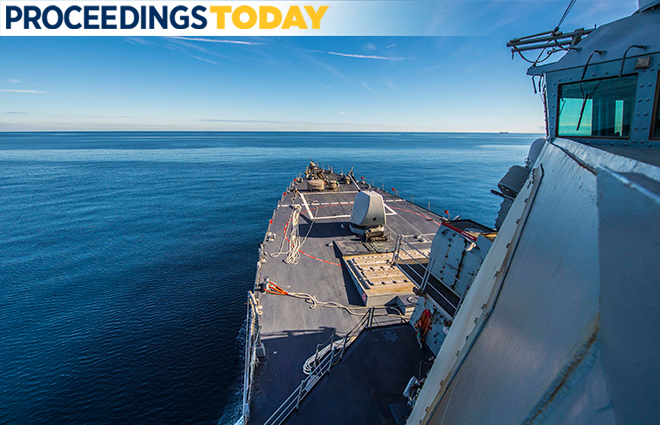 Pinpointing the right number of ships for the U.S. Navy's fleet is a long-running debate. And while fleet size is important, it is not the only consideration. As the Surface Navy Association's (SNA's) 2019 National Symposium begins tomorrow, we should focus on the capabilities needed to outmatch the threats our nation faces.
We will succeed by expanding the Navy–industry partnership to include clear innovation and fleet modernization roadmaps. These shared resources will facilitate greater coordination and understanding to expand capabilities.
Three priority areas stand out to develop reliable roadmaps for the current and future fleet: increased lethality, networked operations across domains, and mission-ready Sailors.
The Global Environment
At the end of the Cold War, the United States enjoyed both global sea control and dominance of the electromagnetic spectrum—allowing the Navy to safely patrol and protect the seas uncontested. In the past decade, however, rapid advancements and the ease of access to advanced technology allowed the nation's adversaries to become more sophisticated in challenging the U.S. Navy's dominance.
China is rapidly building naval power, threatening to restrict access to—and transit in—international waters. Russia continues to enhance the lethality of its naval forces and reassert itself in the maritime domain, including in the Arctic Ocean sea passages and the Baltic and Black seas. To protect American influence and safeguard maritime order, the Navy must be equipped to maintain superiority across domains.
With the decision to extend the service life of certain surface combatants to forty or more years, modernizing the existing fleet takes on greater importance. Chief of Naval Operations Admiral John Richardson rightfully noted this reality and has called for modernization to enhance capability in the current fleet. It is a significant task, but achievable with focus and creative thinking to back-fit existing ships while building the future fleet. Emphasis on leveraging the benefits of open architectures is needed to drive innovative capability enhancements to accelerate "speed to the fleet" without additional costs.
Increased Lethality
The first tenet of Captain Wayne Hughes' classic book Fleet Tactics and Naval Operations is to "fire effectively first," and that is especially true in today's environment. Being able to operate within contested electromagnetic environments is fundamental to success.
Both targeting and countertargeting measures are increasingly important. Disruptive technologies like electronic attack and cyber warfare elevate the role of the electromagnetic spectrum. Among the most critical of those technologies are those that fuse information from advanced sensors to provide decision advantage.
Historically, weapons systems have been designed to perform a singular or limited set of tasks. Today, to achieve increased lethality, it is essential to develop and deploy multifunctional systems that work together. Doing so can deliver unmatched precision targeting, navigation, threat detection, and sophisticated intelligence, surveillance, and reconnaissance (ISR) capabilities.
In addition, the ability to evade detection—once the hallmark of low-observable technology—is now just one element in a markedly more complex landscape that requires a full range of camouflage, concealment, decoy, and deception across cyberspace and the electromagnetic spectrum. As adversaries increase capabilities in this area, deception becomes critical. Advanced radar decoys, simulated acoustics, and simulated data-link capabilities to confuse the enemy are now essential tools.
The Navy already is working with industry partners to enhance parts of the electronic warfare system currently on ships. New sensor developments make it possible to deploy small form factor technology into contested environments to sense, detect, and process information while denying that same information to a potential threat.
Considerable work also is underway to bring laser capabilities to the fleet. The Navy will soon field a fully integrated laser weapon system, which includes a high-energy fiber laser that can counter unmanned aerial systems and small boats.
Without question, technical innovations are bringing improved lethality to the fleet and will continue to do so. As we look to the future, strong partnerships across the Department of Defense, industry, academia, and research will fuel formidable capabilities.
Networked Operations
Success lies not only in the capability of individual systems, but in their integration across platforms and domains for a complete picture of the battle space. Open architectures allow for far greater interoperability across the fleet, and building the future fleet calls for redoubling cooperation among all stakeholders to break down barriers to interoperability. This also will allow more emphasis on designing systems that can evolve and remain flexible.
Remember, enabling a distributed force and bringing together capabilities across multiple domains increase options for the commander, dilemmas for the adversary, and survivability of the force.
It is incumbent on industry partners to support the Navy with innovative capabilities to orient, decide, and act faster. Networked platforms across air, surface, and subsurface domains are central to this outcome. As we have heard the CNO say: "A networked fleet is a more agile and lethal fleet."
Mission-Ready Sailors
As the character of war changes, the training provided to Sailors must also evolve. Ensuring their technical expertise is vital given today's platform capabilities.
Game-based training is fundamentally changing how warfighters remain current on rapidly evolving technologies and tactics for military operations. Traditional training must be combined with methods using artificial intelligence and learning algorithms to equip Sailors to discern relevant information from a vast sea of data and make quicker and smarter decisions. Virtual- and augmented-reality scenarios available through game-based training allow servicemembers to train anytime, anywhere, and at significantly less cost.
It has been said many times that the best assets are not built, they are trained. Accordingly, increased focus on, and investment in, world-class training is among the highest priorities.
Considerable work is underway to design and deploy the next generation of ships and platforms. Yet it is equally important to ensure today's ships, submarines, aircraft, and unmanned systems have capabilities to deter aggression and that our warfighters have the skills and knowledge to be successful across all domains.
As the theme of this year's SNA symposium reflects, the Navy and its industry partners must continue to break down barriers, be innovative thinkers, and engage in dialogue that will ensure the current and future fleet—and Sailors—are ready, agile, and focused to "Own the Fight!"
---
Vice Admiral McCullough served more than 36 years in the U.S. Navy. In addition to serving as Commander, U.S. Fleet Cyber Command/Commander, U.S. 10th Fleet, he served as the Deputy Chief of Naval Operations for the Integration of Capabilities and Resources as well as the Director of Surface Warfare. He had numerous commands at sea, including an Aegis cruiser and two carrier strike groups. He holds a bachelor's degree in naval architecture from the U.S. Naval Academy and a master's degree in strategic resource management from the Industrial College of the Armed Forces at the National Defense University. He currently serves as the Surface Navy Association's national president and vice president of strategy and business development at Lockheed Martin Rotary and Mission Systems. He was a guest on the Proceedings Podcast recently to talk about this article and related topics.