Vietnam: An Epic Tragedy, 1945–1975
Max Hastings. New York: Harper, 2018. 896 pp. Photos. Maps. Notes. $37.95.
Reviewed by Edwin Moise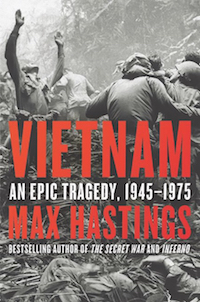 Although Max Hastings actually covered some of the later stages of the Vietnam War as a British journalist in the 1970s, one sees little sign of this in Vietnam: An Epic Tragedy, 1945–1975. This huge, sprawling book is a product of his other, very successful career as a military historian. 
One of Hastings' strengths is his ability to integrate details from the experiences of individuals into a broader narrative. In this work he has made liberal use of accounts not only by U.S. participants (and by the French, in a few early chapters), but also by Vietnamese from both sides.