Vietnam: An Epic Tragedy, 1945–1975
Max Hastings. New York: Harper, 2018. 896 pp. Photos. Maps. Notes. $37.95.
Reviewed by Edwin Moise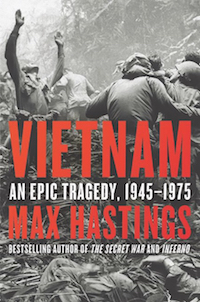 Although Max Hastings actually covered some of the later stages of the Vietnam War as a British journalist in the 1970s, one sees little sign of this in Vietnam: An Epic Tragedy, 1945–1975. This huge, sprawling book is a product of his other, very successful career as a military historian. 
One of Hastings' strengths is his ability to integrate details from the experiences of individuals into a broader narrative. In this work he has made liberal use of accounts not only by U.S. participants (and by the French, in a few early chapters), but also by Vietnamese from both sides. 
Hastings is intensely anti-communist. He presents gruesome accounts of communist atrocities and communist stupidity. He is scathingly critical of Americans who did not see how great a disaster a communist victory would be for the people of Vietnam. He roundly denounces U.S. politicians for reducing military aid to the South Vietnamese government in the last stage of the war in the 1970s. He criticizes, and sometimes exaggerates, the negativity of the U.S. media toward the war. But he also is very critical of the U.S. and South Vietnamese governments. He portrays their armed forces often as callously brutal toward the people of South Vietnam, and their leaders as more concerned with their own careers than with the interests of their nations. He laments at one point that "neither side deserved to win" (p. 126). 
His picture of President Richard Nixon is particularly negative. He believes Nixon recognized early in his presidency that a communist victory was inevitable, and that Nixon was expending American blood not in an effort to change that outcome, but to ensure it happened in a way that allowed him to evade blame. 
When Hastings looks at broad patterns, he sometimes is careless about chronology, about how the patterns shifted with time. He is at his best when narrating particular coherent episodes. His account of the Battle of Dien Bien Phu in 1954 will be revealing even to readers already familiar with it. He traces in considerable detail the battle at Daido, in which U.S. Marine units of inadequate strength were sent to assault North Vietnamese positions in the northernmost province of South Vietnam in late April and early May of 1968, "an act of sustained folly" (p. 509). His account of the way Nixon in late 1971 encouraged U.S. commanders to find excuses to bomb North Vietnam, but then did not protect General John Lavelle from punishment for having stretched for excuses, is also interesting.
But Hastings downplays the ultimate significance of these episodes. He states strongly and repeatedly that it did not really matter who won particular battles. The political weakness of the Saigon government doomed the anti-communist cause. There was no way the Americans could infuse political strength into the government they were supporting. In the only place where he hints there might have been a path that could have led to a U.S. victory despite the weakness of the Saigon government, it is a path he does not endorse. "Soviet and Nazi precedent suggests that merciless occupiers can suppress resistance by force. In Vietnam, the U.S. Army contrived to be sufficiently intrusive and racially contemptuous, and also intermittently murderous enough, to earn the hostility of the population, yet it was not savage enough to deter many peasants from supporting the communists" (p. 743). 
Professor Moise is the author of Tonkin Gulf and the Escalation of the Vietnam War (1996; rev. ed. forthcoming 2019, Naval Institute Press) and The Myths of Tet: The Most Misunderstood Event of the Vietnam War (University Press of Kansas, 2017).
---
Strategy Strikes Back: How Star Wars Explains Modern Military Conflict
Max Brooks, John Amble, M. L. Cavanaugh, and Jaym Gates, eds. Lincoln, NE: Potomac Books, 2018. 246 pp. Notes. $29.94.
Reviewed by Lieutenant Brendan Cordial, U.S. Navy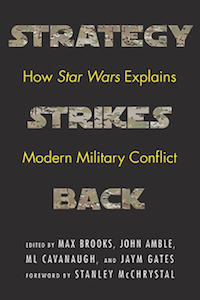 Strategy Strikes Back: How Star Wars Explains Modern Military Conflict is a collection of essays linking the epic tales of that galaxy far, far away to contemporary events of warfare for students of security studies and strategy. The essays are easy to read and provide a solid primer on the fundamentals of modern conventional strategic thinking using case studies based on the Star Wars canon.
Akin to a Mos Eisely cantina, lead editor Max Brooks selects a diverse set of Star Wars fans as authors, ranging from active-duty military officers to security professionals to science fiction writers. Junior U.S. Army officers, Australian generals, retired NATO Supreme Allied Commanders, and civilian security professionals all make appearances. The essays provide a refreshing variety of, and sometimes competing, takes on Star Wars characters and case studies—one author takes Darth Vader's micromanagement to task, while another praises his ability to forcefully (pun intended) influence his subordinates. The diversity of viewpoints is a decided strongpoint of the book.
In the era of growing great power competition, however, the majority of the content seems dated. Much of the issue is the source material. For the few non-Star Wars fans, the broad political outline of the series is the tale of the fall of the Republic, the establishment of the Galactic Empire, the creation of an upstart Rebel Alliance, the ultimate defeat of the evil Sith Lord Emperor Palpatine, and the salvation of Darth Vader (Anakin Skywalker). The Rebellion, far inferior in conventional military strength to the Empire, must leverage unconventional tactics—and a fair amount of luck—to succeed. Many of the authors make the obvious connection to U.S. wars in Iraq and Afghanistan, but, unfortunately, they have little to say about great power competition.
The best chapter is authored by Chuck Bies, an active-duty U.S. Army major, on military organizational ability and the typical reluctance for tactical adaptation in the face of changing circumstances. Established fighting forces are loath to alter their modus operandi without convincing evidence, either through excessive casualties or catastrophic defeat. As the pace of conflict and the global reach of weapons increase, the potential negative consequence of such inaction grows.  
Another particularly strong chapter is provided by BJ Armstrong, an assistant professor at the U.S. Naval Academy and former naval aviator, who uses the Empire's top-heavy fleet of Star Destroyers and other capital ships as a case study in poor fleet composition hindering overall strategic objectives. His convincing argument for a fleet composition purposefully aligned with overriding strategic goals, with a corresponding balance of high, medium, and low-end forces as appropriate, is germane as the U.S. Navy moves forward with FFG(X), the future large surface combatant, and efforts to expand the fleet to 355 ships.  
An additional positive aspect is some authors' choice to narrate scenes from the films' with a novel point of view. For example, one author has a junior Imperial staff officer arguing for a more humane approach to win the hearts and minds of Rebel-aligned worlds, as opposed to Grand Moff Tarkin's strategy of crushing the Rebellion by using the overwhelming power of the Death Star to quell dissent. Another chapter presents the Rebel Alliance's tactical defeat on Hoth from the perspective of a support android—giving life to normal Rebel soldiers instead of the film's necessary focus on major characters Luke, Leia, and Han Solo.
Overall, I enjoyed the book and recommend it to Star Wars fans and students of strategic studies alike. The Star Wars canon provides a rich supply of applicable case studies that can effectively serve as bases for contemporary real-world problems, a task effectively accomplished.
Lieutenant Cordial is attending Surface Warfare Officer School and is slated to serve his first department head tour on board an Arleigh Burke-class destroyer.
---
Presidents of War: The Epic Story, From 1807 to Modern Times
Michael Beschloss. New York: Crown, 2018. 739 pp. Notes. Index. $35.
First Lieutenant Walker Mills, U.S. Marine Corps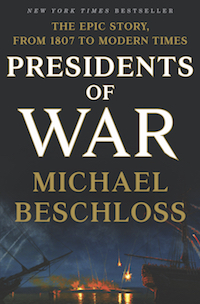 A U.S. President on the run as Washington burns and another cornered into a humbling peace in Vietnam: These are Michael Beschloss's bookends in his masterful new book, Presidents of War. He examines a handful of Presidents and their decision making, using a cast of supporting characters in a book that is part constitutional history and part biography. 
Beschloss already is a canonical presidential historian, with several books on Kennedy, Johnson, and other 20th-century Presidents. But this is his first work to include 19th-century history, and his writing glows with the enthusiasm of an author breaking new ground. He draws heavily from primary sources—weaving a narrative that allows much of the story to be told in the words of presidential contemporaries. He draws on dozens of newspapers and periodicals to color his history, and keeps his reader entertained with asides and digressions that litter the text and notes—everything from the sexual health of a minor character to the livelihood of another's grandchildren. 
Beschloss follows a natural pattern, opening each chapter by following a character with a front-row seat to history; the captain of the USS Chesapeake, the commander of Fort Sumter, or the captain of the USS Maine. His choices also illustrate the outsized role naval officers have played in opening U.S. conflicts across history. But these characters are not anecdotes to be discarded; Beschloss continues to weave them into the narrative even in later chapters, a testament to his careful choice of characters and deep research. At the end of each chapter he examines each President's legacy and impact. His analysis is fair, though not particularly novel. A cautious historian, he takes more risks in his comparison of a disingenuous British diplomat's assurances to a "sagging petticoat hem" than he does in his assessment of President James Madison's legacy. 
Presidents of War also is notable for Beschloss's care in choosing what to leave out. In contrast to voluminous long-form presidential biographies, he has organized a work that keeps the reader from getting bogged down, but still manages to survey a century and a half of U.S. history. It is striking to see that none of the presidents Beschloss focuses on have a military background. In fact, that emerges as a central theme—civilian control of the military; a constitutional principle that has been a cornerstone of the U.S. military through the ages. 
The primary merit of the book is the perspective of history it takes. It is not a multivolume examination of any single conflict or executive decision; Beschloss has given us that in his previous work. What he has given the reader is a thematic examination of the intersection of war and the presidency. He colors it with an entertaining narrative and his personal quest to find the rhyme of history in small coincidences and ironies. Beschloss leaves the reader with a sobering appreciation for the dramatic increase in the war-making powers of the President over the past two centuries. Presidents of War is a wonderfully relevant book at a time when there are renewed calls for a new Authorization for the Use Military Force and the U.S. military is engaged in long wars around the globe. It has a place on the shelf of any serious student of war or politics. 
First Lieutenant Mills is a Marine Corps infantry officer. Currently a student at the Defense Language Institute in Monterey, California, he holds a bachelor's degree in history and is working on a master's in international relations and modern war. 
---
Like War: The Weaponization of Social Media 
P. W. Singer and Emerson T. Brooking. Boston, MA: Houghton Mifflin Harcourt, 2018. 403 pp. Notes. Index. $28.
Reviewed by Lieutenant Brian O'Bannon, U.S. Navy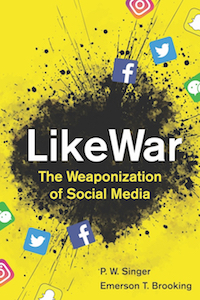 With the internet, the United States developed the most expansive telecommunications technology in history and, subsequently, today's most consequential nonphysical battlespace. However, it is ceding that battlespace every day to both foreign and domestic enemies. In LikeWar, P. W. Singer and Emerson T. Brooking describe a new sea and battlefield that have existed for years, but were recognized by the United States only after the rise of the Islamic State (ISIS) and Russian interference in the 2016 election. The authors guide readers through a well-researched (107 pages of notes/references) description of this new social media fighting plane, where it came from, and what citizens, government, and military alike can do take back their initiative. This book is a critical read for anyone who recognizes the internet as more than a source of entertainment and takes their role seriously in this new weaponized network of ideas.
The book opens by describing both the ascendancy of ISIS as a terrorist organization and Donald Trump as the 45th President of the United States. In each case, social media played a role that Trump and ISIS adversaries did not understand and still are working to unravel. These two cases lead to examples and vignettes of how social media has developed into one of the preeminent driving forces in thwarting Western democracies. While the book does slow down while delving into of the history of telecommunications—including everything just short of falconry and the pony express—it reengages with a concise, but poignant, recap of how the internet was invented and became the force it is today. The book deserves particular praise for the commendable job of capturing and focusing on the exponential growth of social media between 2014 and 2018.  
Where this book should hit home for readers in the Sea Services, both past and present, is how the United States and its Western democratic allies remain on the ropes controlling any narrative worldwide. From its inception, of the U.S. Navy has been a tool of physical force when necessary, but also a means of projecting a strategic message that the sea will remain open for all to use for lawful commerce and exchange. In the sea of ideas, the authors paint a sobering portrait of how the truth is weaponized by both state and nonstate actors to achieve both broad and targeted divisive ends that the United States struggles to control. 
Surprisingly compelling beyond the short vignettes is a discussion on the psychological causes and effects of human behavior on social media. This deep dive into the mind of a typical user explains both how we react to information and how it can be hijacked to influence opinions. I have heard the term "echo chamber" before when describing the results of social media algorithms that show users material they like and agree with. The authors break down the very specific parts of group dynamics that make this comfortable for users and so hard to pull away from.
The book also takes a fair look at the digital rulers of the social media domain. The founders and controllers of Facebook, Twitter, and YouTube are explained to be not just facilitators, but also the new arbiters of what speech has been and will be allowed in the future. The authors pay particular attention to what these social media titans have done and what responsibility they need to take in this new war of social media dominance.
I took this book as a call to action as both a sailor and a citizen of the internet. While the authors' premise looks a bit bleak for the United States now, they offer solace in examples of good that is being done now and can be done in the future.
Lieutenant O'Bannon is a naval flight officer currently stationed at Naval Air Station Sigonella, Italy, where he is the public affairs and assistant exercises officer on the staff of Commander, Task Force 67. He previously has written for Proceedings. 
---
New & Noteworthy
By Major Barret Bradstreet, U.S. Marine Corps
United States Revenue and Coast Guard Cutters in Naval Warfare, 1790–1918
Thomas P. Ostrom, with maps by David H. Allen. Jefferson, NC: McFarland and Company Inc., Publishers, 2018. 240 pp. Appx. Notes. Biblio. $39.95. 
Maritime power not only comes from a navy. Thomas P. Ostrom renders homage to the predecessors of the modern U.S. Coast Guard for their contributions to U.S. warfighting at sea, especially when the young republic needed every ship it could keep afloat. The historian has delivered a portrait of key leaders, key events, and chroniclers that has the feel of an intimate scrapbook. The advantage is that the author's own passion and keen eye are given free rein. The work would benefit from a good editor to tighten the narrative focus. Fellow Coast Guard enthusiasts will delight in Ostrom's manifest expertise.
The End of Strategic Stability? Nuclear Weapons and the Challenge of Regional Rivalries
Lawrence Rubin and Adam N. Stulberg, eds. Washington, DC: Georgetown University Press, 2018. 314 pp. Notes. Index. $36.95.
If nuclear weapons once served to keep the Cold War from turning hot, can we expect those weapons to provide such a stabilizing influence in the future? Given weapons proliferation, technical change, multisided rivalries, and new nonstate actors, is a nuclear exchange more likely today?
This edited volume presents a series of answers to this question. Contributors provide the view from different parts of the world, including Russia, China, India, Israel, Pakistan, and Saudi Arabia. This is an urgent and timely question given due consideration. The instinct to seek a broad group of perspectives enriches the discussion, and the contribution from Dima Adamsky on Russian perspectives is particularly insightful. The most compelling sections of the book address irregular or unexpected points of view, such as Chinese assessments of U.S. hypersonic weapons. Thus, these divergent and complementary points of view do not align to advance any single conclusion, but that many-sidedness is a virtue. The work will appeal to those with a background in nuclear policy and those professionals of the Sea Services interested in turning the map to see from a new vantage.
The Decline of European Naval Forces: Challenges to Sea Power in an Age of Fiscal Austerity and Political Uncertainty
Jeremy Stöhs. Annapolis, MD: Naval Institute Press, 2018. 312 pp. Appx. Notes. Biblio. Index. Figs. $36.95.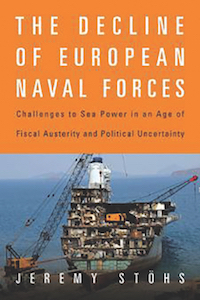 Don't judge a book by its cover, but you certainly can guess the argument of this book by its title. Jeremy Stöhs presents clear, succinct, and unambiguous data to confirm that European naval forces have declined in capability and size since the end of the Cold War. He does so by parallel analysis of 11 European states, tracking defense spending, the number of major vessels, and evolving defense policies in the quarter century since the end of the Cold War. He finds that reduced spending and an increased emphasis on expeditionary operations have degraded investment and capability in traditional sea control and sea denial. Given the changes, some European navies have made a virtue of necessity through cooperation in shipbuilding and operations.  Europe is more integrated in its maritime industry, including warship construction. The author also notes that Norway and Sweden have expanded naval capabilities in spite of a trend of reduced defense spending. This study has a clear message built on plain evidence. Readers of Proceedings will benefit from the assessment.
Race to Hawaii: The 1927 Dole Air Derby and the Thrilling First Flights that Opened the Pacific 
Jason Ryan. Chicago, IL: Chicago Review Press Incorporated, 2018. 320 pp. Notes. Biblio. Index. $26.99.   
Today, crossing the Pacific by air from California to Hawaii requires not much more than airfare and patience. Jason Ryan provides an account that reminds us that more was required in the early days of flight. He describes a series of efforts to make the marathon journey in various aircraft of dubious reliability. A band of daredevils, engineers, and misfits accepted the challenge and then aimed to keep jankety craft aloft and on a true course. Ryan relates different stories of separate attempts. These were made in succession by naval aviators, U.S. Army pilots, pioneering private pilots, and a pack of adventurers answering the call of a leading captain of industry on Hawaii. Ryan tells a compelling story well. He builds suspense without resorting to the purple prose of the contemporaneous newsprint he cites. He provides context and character study without sacrificing the pace of the unfolding drama. This book would be a fitting companion to a long-haul transoceanic flight, to keep you entertained, introduce you to some colorful new characters, and make you appreciate the delights of uneventful air travel.
---
Major Bradstreet currently is serving as an exchange officer at the École Militaire in Paris, France.