Some of the 14,000 rescued refugees from Hungnam, Korea, on board the SS Meredith Victory in December 1950. (U.S. Naval Institute Photo Archive)
The USS Bataan (CVL-29) and her Marine F4U-4 Corsairs provided the air support critical to the success of our dramatic rescue. We departed Hung­nam on 23 December, and after navigating through enemy minefields in freezing weather, we disembarked the refugees on 26 December at Geoje Island, South Korea. En route from Hungnam five babies were born. Among those saved were the parents and older sister of present-day South Korean President Moon Jae-in. For this historic rescue the Meredith Victory was awarded a Korean Presidential Unit Citation and a Merchant Marine Gallant Ship Unit Citation by special act of Congress.
At the end of the war, Captain LaRue left the sea and joined the Benedictine Order as a monk, taking the name Brother Marinus, OSB. Recently the Apostleship of the Sea has taken steps to have Brother Marinus canonized.
—J. Robert Lunney, Golden Life Member, Staff Officer, SS Meredith Victory
The Marine Corps Needs Organic Air Defense
( See J. Miller, pp. 54–58, January 2019 )
Lieutenant Miller argues that in Vietnam Marine Corps Hawks "served as an effective deterrent against North Vietnamese jets," and a photo caption (possibly the work of an editor, not the author) states that "the Hawk missile played a key air defense role . . . during operations Desert Shield and Desert Storm." Neither statement is true. In both conflicts the massive U.S. air superiority smothered any adversary air activity.
During the Vietnam War, no North Vietnamese aircraft ever went south of the demilitarized zone. (The fact that the Marine Corps brought two Hawk battalions to Vietnam and no civil affairs says a lot about its poor preparation to fight insurgency.) During Desert Shield/Desert Storm, nearly every Iraqi air sortie was intercepted by coalition fighters. In both conflicts, ground-based air defense was tightly controlled lest it shoot down friendly aircraft.
It may be that in a future great-power conflict the Marine Corps will need more organic air defense. Personally, I would rather see the Corps build a ground-based antiship capability to be able to participate more fully in a naval campaign in the western Pacific, but there are issues on which reasonable people can disagree. What is clear, however, is that air-defense forces require high-quality personnel and expensive equipment but are useless in regional conflicts or insurgencies. The tough question for force planners is whether the capability gained in great-power conflicts is worth the price paid during other types.
—COL Mark F. Cancian, USMC (Ret.)
Don't Restrict SWO Qualification
( See E. Rankin, p. 33, January 2019 )
I agree That restricting surface warfare officer (SWO) qualifications for warrant (CWOs) and limited duty officer (LDOs) would be a huge loss to the Navy—not to mention the elimination of a career incentive. Proven mature judgment, gained through experience and longevity of service, is clearly an asset in watchstanding that the SWO community can ill-afford to lose.
SWO qualifications are being revised by the Navy for good reasons, but no revised curriculum or high-tech bridge simulator can make a junior officer more qualified to be a SWO than a CWO or LDO.
—CAPT Reg Mitchell, USNR (Ret.)
China Has Learned the Value of Amphibious Operations
(See W. Bowers and C. Yung, pp. 24–28, November 2018 ; M. Moore, p. 87, January 2019 )
The tanks in the photo on page 25 of the November Proceedings are not all U.S.-made as the caption says.
The tanks in the column on the left are Russian T-26 light tanks sold to China during World War II. The tubular aerials and the Vickers suspension are the giveaways. They are said to have served in the mechanized Nationalist 200th Infantry Division in the Tank Regiment. The T-26s and the U.S. M3A3 Stuarts shown in the photo moved to Taiwan during the Chinese Nationalist retreat to the island in late 1949.
I always enjoy Proceedings and am grateful to receive it.
—Edward K. Poole, M.D., Golden Life Member
Institutionalize the Comprehensive Review
(See J. Cordle, pp. 15–18, December 2018 ; B. Ocampo, p. 86, January 2019 )
Captain Cordle provided an excellent summation of the current status of implementing the changes suggested in the "Comprehensive Review." Missing are the changes in officer manning and training in the early 2000s timeframe and their long-term effects.
These changes were driven by budgetary concerns and the drive to "harvest savings" to support recapitalization. Efficiency experts targeted training commands as too costly and prioritized them as a source of savings. The course for division officers at the Surface Warfare Officers School (SWOS) was functionally eliminated. Officers were sent directly to sea with "SWOS in a box" to complete their initial training, effectively meaning those young officers were self-taught. Ships have become overmanned with officers, and junior officers (JOs) rotate at approximately 18 months to meet a preassigned school date. This has created numerous issues that linger.
When we interview young SWOs leaving the service, the consistent theme is boredom. One young officer recently said that 42 officers were assigned to his destroyer and he had little to do and no real responsibility. A Spruance -class DD in 1986 had 18 officers on board.
We hear about circadian rhythm—but with 42 officers on board, it is hard to believe exhaustion is an issue. That young officers are bored on sea duty is almost beyond our imaginations. This creates retention issues, and the need to accommodate so many officers in training with end dates predetermined by school quota dates places unrealistic demands on commanding and executive officers with regard to JO development.
The current process focuses on the mechanics of watchstanding but lacks technical education. Previous generations were educated thoroughly on the technical details of all ship systems—and their interrelationships—including the technical foundation of navigation and contact management. Understanding the source and quality of data is critical to standing watch, as is a strong knowledge of the geometry of relative motion. With so many officers on board it is hard to understand how any single officer could earn sufficient watch time to garner the experience necessary to cope with complex situations at sea.
This approach also ignores the management and leadership fundamentals of being a division officer once taught in person at the division officer's course. First-tour officers, removed from daily management, are present only to qualify.
It is hard to see how JOs can gain sufficient management exposure and face sufficient challenges to become effective leaders at sea under this process. Overmanning, short rotation periods, and the expectations that chiefs teach management to JOs has destroyed the highly effective working relationship between those two groups that previously existed. At one time, a first-tour officer spent three-plus years on his first assignment and served with chiefs who were assigned for four or more years to the same ship. A synergy developed between the more senior first-tour officers and the chiefs' mess that effectively ran the day-to-day operations of the ship.
Breaking that relationship destroyed that synergy. People who should be focused on the long term are now heavily involved in daily management. Expecting chiefs to train officers and assume greater managerial roles impedes the chiefs' ability to be technical experts and mentors to junior sailors.
Recent incidents should be telling us that it is time to revisit these changes and perhaps return to a training and organizational structure that has decades of proven success behind it.
—CDR T. P. Hekman, USN (Ret.), and LCDR H. D. Oubari, USN (Ret.)
USN 2, Qaddafi 0
( See T. Cutler, p. 94, September 2018 )
I really enjoyed reading this article. 1981 was indeed an exciting time to be in the Navy. I was in the process of becoming a "90-day Wonder" at Officer Candidate School in Newport, Rhode Island. Of all the Jody cadences, I remember most the one by a fellow company the day after the shootdown that went:
I want to be a Navy pilot,
I want to fly over the ocean blue,
I want to shoot down enemy aircraft,
Libya Zero, Navy Two!
Later some of our junior officer instructors bragged that they knew about the incident before President Ronald Reagan because he was not awakened for it.
When the President was criticized for sleeping through the event, he responded, "If our planes were shot down, yes, they'd wake me up right away. If the other fellows' were shot down, why wake me up?"
—CDR Ed Griffith, USNR (Ret.)
Engineer-Warriors or Engineers and Warriors?
( See J. McGrath, pp. 24–27, January 2019 )
Captain McGrath offers a well-written history of specialization in Navy warfare areas. He makes the case that creating an engineering specialty for the surface navy will help solve the problem of collisions at sea. That's not all he said, but honestly, on this point, Captain McGrath is wrong. Safe operations (and warfighting ability) at sea are more about training and talent than about specialization.
Spoiler alert—I'm a retired surface nuclear officer and have strong opinions about the balance of tactics and technology from my years as a "surface nuke," including as a reactor officer and the final commanding officer of the USS Arkansas (CGN-41).
First, I would not have chosen my career path in the restrictive world that Captain McGrath proposes. Imagine if we told junior officers they would spend their entire careers in the plant and not be eligible for command. The best way to have confidence in the captains of our ships is to broaden opportunity and demand competence in all the aspects that lead to success at sea—everything from understanding relative motion to demonstrating good judgment.
My father, a submariner and destroyerman, called himself a "line officer," and we should embrace that term to unite the frontline officer corps around a common sense of naval professionalism and step away from the divisions of warfare specialties. The goal is to raise awareness about competence at sea. I remember hearing a Marine Corps officer say, "All Marines are infantry." Likewise, we should say that all naval officers are ship drivers; united around respect for the fundamentals of good seamanship.
Captain Hamblet mentioned on the Editor's Page that the January issue focuses on the surface navy—an excellent idea. I remember when Lieutenant Commander James Stavridis (now retired Admiral Stavridis) started this Proceedings theme back in 1988 , and I'm glad it continues. Captain Hamblet also said that separating deck/navigation from engineering, as in the Royal Navy, is a long-running debate. Honestly, I'd prefer to see fewer article topics like assignment processes, and find more substance, as another article puts it, that helps warfighters understand the service beyond their own designator.
— CAPT Thomas M. Keithly, USN (Ret.)
Converting Merchant Ships to Missile Ships for the Win
( See R. Harris, et al., Proceedings Today , January 2019 )
The "missile merchant" is not a novel concept. In the late 19th and early 20th centuries, navies converted merchantmen to warships as "auxiliary cruisers." The missile merchant takes advantage of the economy of the auxiliary cruisers while neglecting the things that made them deadly in the first place—stealth, cunning, and surprise.
A fundamental problem with auxiliary cruisers is they are fragile, built for commerce and modified for war. The few times auxiliary cruisers have grappled with warships have been defined by surprise—or a lack thereof. Overt auxiliary cruisers such as HMS Jervis Bay and HMS Rawalpindi engaged enemy warships in brave but futile combat. They fought and died gallantly. Conversely, German auxiliary cruisers avoided unequal fights, maintained a civilian appearance until combat was joined, and one—the Kormoran —even managed to sink the light cruiser HMAS Sydney in 1941. By using stealth, they were able to execute the commerce raiding mission with deadly effectiveness. [Editor's note: The original version of this incorrectly described Sydney as a "heavy" cruiser.]
The proposal revisits the model of the doomed Jervis Bay and Rawalpindi . The missile merchants would be painted gray, fly the U.S. flag at all times, and carry a USS designation; but they would not benefit from the reduced radar and sonar profiles enjoyed by purpose-built warships, making them easy to detect and destroy. Included in a larger force as the authors propose, such ships will only make the force slower and easier to detect.
On the other hand, were they to maintain their civilian appearance, spoof automated identification systems, operate along major merchant lanes, and selectively fly the U.S. flag, they might avoid detection and pose a continuing threat. A suite of passive electronic and acoustic sensors could enable an auxiliary cruiser to obtain data without advertising its presence.
The missile merchant idea requires refinement. As peer competitors rise to challenge U.S. naval power, it is important to consider tactics and platforms that stray from conventional concepts of naval warfare. Used properly, the auxiliary cruiser is a deadly hunter, a ghost with lethal purpose, sowing chaos and destruction. As presently conceived, however, the missile merchant is little more than a slow, loud— and vulnerable—vertical-launch module.
—LT Matthew Conners, USN
USS South Dakota (SSN-790) Joins the Fleet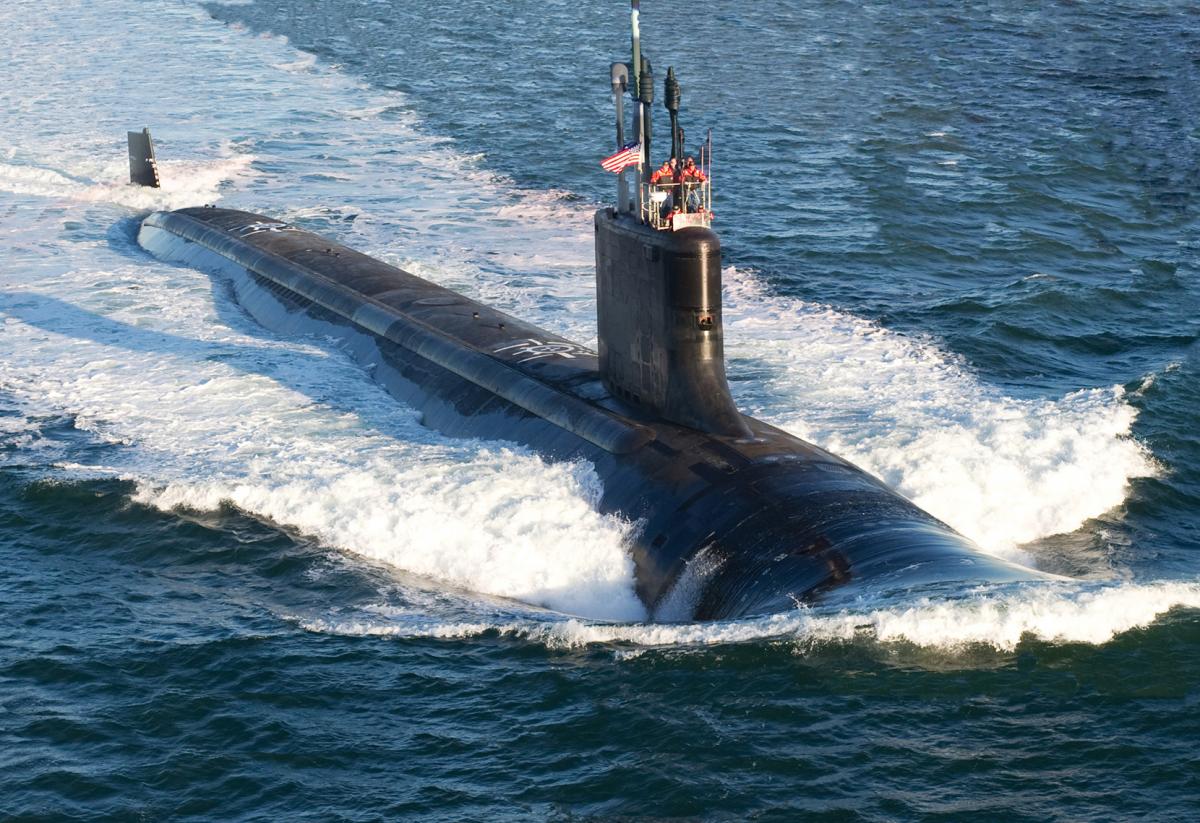 The Navy will commission the USS South Dakota (SSN-790) during a ceremony at Naval Submarine Base New London in Groton, Connecticut, on 2 February 2019 with Commander Craig L. Litty, U.S. Navy, in command.
The South Dakota is the third Navy ship named for the Mount Rushmore state. The first, an armored cruiser (ACR-9/CA-9), served from 1908 to 1927. The second, a battleship, (BB-57), served from 1942 to 1947 and earned 13 battle stars for her service in World War II. The third South Dakota was laid down on 4 April 2016 at Groton by General Dynamics Electric Boat; christened on 14 October 2017; and is sponsored by Deanie Dempsey, wife of retired General Martin E. Dempsey, U.S. Army, the 18th Chairman of the Joint Chiefs of Staff.
The South Dakota continues the strong historical connection between the landlocked state of South Dakota and the Navy. According to the Naval History and Heritage Command, "At least nine ships have been named after the state of South Dakota, its cities, places, and people." Other notable Navy ships with ties to South Dakota include the Civil War–era steam-sloop Dacotah , the dock landing ships Rushmore (LSD-14 and LSD-47), the destroyers Hollister (DD-788) and Waldron (DD-699), the transport Huron (ID-1408), and the minelayer Oglala (CM-4). Notable South Dakotans include naval aviator Lieutenant Commander John Waldron, who posthumously received the Navy Cross for action in the Battle of Midway while in command of Torpedo Squadron Eight, and Seaman Apprentice Douglas Hegdahl, the youngest Navy prisoner of war in North Vietnam.
SSN-790: Displacement 7,800 tons; length 377 ft; beam 33 ft; draft 32 ft; speed 30 knots
Complement: 132
Armament: Mk 48 Advanced Capability upgrade torpedoes; Tomahawk cruise missles
Class: Virginia