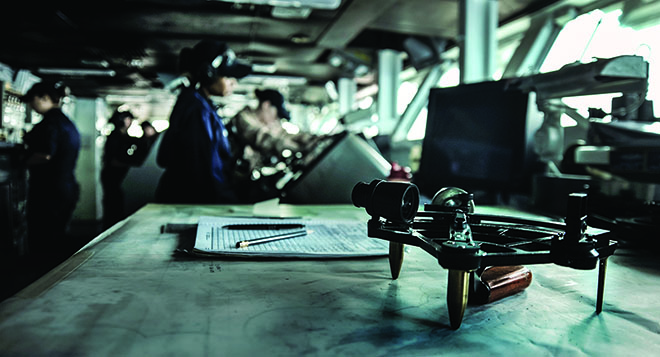 Traditional instruments of the trade must remain critical components of both training and real-world navigation. Here on the bridge of the USS Nimitz (CVN-68), a sextant, charts, and hard-copy recording tools sit at the ready.
Labor-saving modern electronics deliver navigational and collision-avoidance solutions more rapidly than humans can compute. Deck officers now can simply push an on/off button and collect the required data, but this is not navigating. Marine electronics process and store much more data than in the past; they provide solutions 24 hours per day, 7 days a week. In some cases they even extend human senses, because radar and the automatic radar-plotting aid (ARPA) do not need visibility. Software also facilitates cargo stowage on board ships and computes stability data, although most programs cannot do both. 
Seagoing professionals are over-relying on marine electronics, which may have contributed to the collisions of the USS Fitzgerald (DDG-62) and John S. McCain (DDG-56). 
Rebuild Mariners' Skills