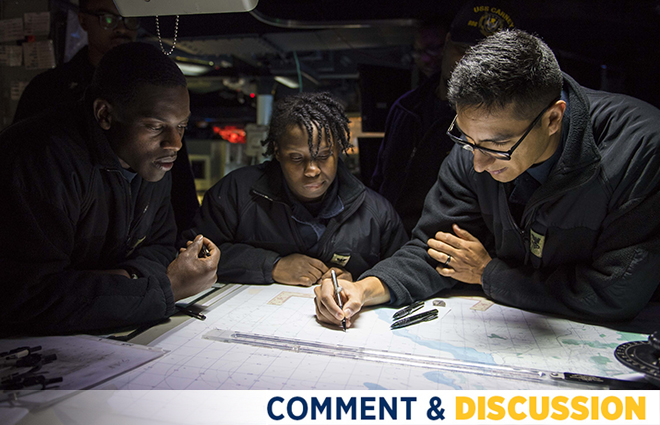 The Comment & Discussion section now continues online! (To read C&D from September's print edition, click here.) We welcome brief comments on articles published in Proceedings and online and discussion of issues appropriate for the Naval Institute's open forum. Submissions may be edited for clarity and length. Send submissions by email to [email protected].
Deep-Six Paper Charts
(See A. Storey, pp. 76–77, August 2018) 
While an intriguing idea, ditching paper charts is not a good idea—nor would it be a good military practice.
I fully support the adoption of digital automation. Certainly, it is the way to go for primary navigational and shipboard systems when all is going well. It is when things aren't going so well that the United States Navy needs to retain its traditional manual, paper systems. Digital navigational and computing tools do not change everything, far from it! Several physical threats exist which require that the Navy retain its ability to switch over to manual and paper systems, and do so immediately while underway. One threat is an electromagnetic pulse (EMP) when an enemy detonates a nuclear weapon. Regardless of how well some manufacturing contractor may say their electronics are hardened against EMP, the armed services need to be able to immediately revert to a proven manual mode, and that means the traditional paper methods. A second viable threat would be the loss of all or part of the electrical power on a ship. Stuff happens! The Department of Defense cannot permit its services to depend solely on digital devices. This capability is true for ship navigators, aircraft pilots and navigators, and artillery fire direction centers.
Teaching our warriors manual backup systems is never wasted time. You can depend upon the enemy doing everything within his power to compound our problems. Denying us use of electronic tools and aids will be one of the enemy's first targets.
—COL Neal H. Bralley, USA (Ret.)
JOs Can Fix SWO Training
(See K. Davidson, pp.14–15, July 2018)
I read with interest Lieutenant Davidson's well-written piece about fixing junior officer (JO) training. She makes good points, but the fix isn't with our JOs. It is with our leaders. While division officer Surface Warfare Officer School (SWOS) has been restored over time, it clearly isn't doing enough. Part of the issue is in providing incentives to achieve the desired behaviors through training—at the senior-leader level.
If the following haven't been included in the various standdowns and remedial training of the past year, they should be:
1) Require every ship's commanding officer (CO) and executive officer (XO) to take the same rules-of-the-road test that is administered to the JOs on a surprise basis. Those who fail should be relieved immediately, and the scores should be included in their fitness reports (FitReps). Any score less than a 90 percent should require a retake within three months. Failure to achieve 90 percent on that occasion should result in being relieved for cause. These tests should be administered to COs and XOs on a random but periodic ongoing basis at least once during each tour.
2) JOs also should be tested independently on Rules of the Road on a random but periodic basis by wardroom. The low, high and average scores also should be placed into COs' FitReps as well.
3) Since there already appears to be a rules-of-the-road exam at the Command school at SWOS, the stakes should go up. Below a 90 percent score on that test should mean attrition from the course without exception.
4) The rules-of-the-road score should be a required factor considered by selection boards for promotion and for command. 
We have to get practical shiphandling— not simulators—into command school. We're looking for shiphandlers—not good test takers.
Command is the crown jewel of a naval officer's career. We must ensure that we are placing emphasis on the things that we truly care about. After warfighting itself, I can't imagine anything more important than protecting sailors' lives and protecting military assets against dangers that do not involve war or hostile action.
—CAPT Keith T. Kirk, USNR (Ret.)
Accept Our Transgender Brothers and Sisters
(See H. Haught, pp. 16–17, June 2018)
Seaman Haught's article illustrates why emotions should not drive decision-making. Accepting for the sake of argument her statistic that "Less than 1 percent of adults in the United States identify themselves as transgender, and only a fraction of transgender people join the military," why should standards turn upside down to support a select few? What's truly troubling about her piece is the logic fallacy, and how the service of transgendered people came about in the first place.
I've been in the military long enough to remember the debate for "Don't ask, don't tell," and the fraudulent survey that the Obama administration sent out with questions designed to get the outcome they wanted.
"Don't ask, don't tell" was a good compromise. Those who say, "It didn't allow people to be who they are," are correct. But the military is not about being an individual, it's about being part of team. To borrow from the progressive lexicon, a person has a sex and gender. In the military, you are categorized by your sex, which means that no matter who or what you think you are, you can serve, but according to your sex. 
The military discriminates a lot, because it has to. You cannot be obese, handicapped, color blind (with some exceptions), under 18, too short or tall, have flat feet, and so on.
Additional discrimination takes place once you get in. If you don't have 20/20 vision, you can't fly. Submarine service is restricted by height. Special Warfare is restricted by what kind of shape you're in. The list goes on. 
Bottom line: allowing transgendered people to serve was a poorly thought out idea advanced for a political payoff. It has repercussions that were ignored. It comes down to compatibility—which just doesn't work because of the 24/7 nature of the military. 
—CAPT Eric Pihl, USN
Reload Missile Shooters at Sea
(See T. Granger, pp. 73–74, July 2018 and N. Polmar, pp. 8–9, August 2018)
Past studies and the resurrection of the Arsenal Ship concept in the recent future fleet architecture study conducted by MITRE once again gloss over a major flaw in the concept. The arsenal ship represents a vast concentration of the fleet's firepower in a single platform, similar to the flaw in our reliance on a handful of aircraft carriers. (See also A. Ross, pp. 16–20, July 2018). 
An arsenal ship provides a tempting target that can be neutralized by a single torpedo or a surprisingly small number of antiship cruise or ballistic missiles, particularly in the modern precision-strike environment we are in. 
Modern technology such as motion-compensation 3D cranes will shortly give us the ability to reload vertical launch cells at sheltered anchorages or perhaps underway, but only if we choose to pursue the capability. Doing so will provide the fleet with a far less expensive means to deliver firepower. 
The question we will face is, what will the role of the aircraft carrier be when this day arrives? Perhaps the carrier's mobility and ability to provide elevated sensors is truly its unique advantage.
—CDR Phil Pournelle, USN (Ret.)
The Carrier's Role is Narrowing
(See p. 16–20, July 2018)
Does the Navy Really Want Innovators?
(See M. Jones, July 2018 Proceedings Today)
I want to commend Commander Ross for suggesting the U.S. Navy rethink the role of the aircraft carrier. That this article was written by a Briton confirms the thrust in Dr. Jones' question ("Does the Navy really want innovators?") that the Navy is a hotbed of status-quo thinking fearful of "rocking the boat."
Despite technological changes, our Navy is still wedded to the idea of a surface fleet dominated by expensive legacy aircraft carriers that in a near-peer conflict will loiter outside the range of the DF-21D, standing by ready to intimidate some Third-World power. 
Rather than merely enlarging the surface fleet to justify its existence, the Navy needs to begin thinking innovatively about warfighting. Nurturing the judicious buildup of naval allies would be a better way to expend our nation's limited resources than clinging to neo-Dreadnoughts (aircraft carriers) and strategies that won World War II and the Cold War.
—CDR Michael Tomlinson, CHC, USN
I respectfully disagree that an innovative mindset harms the effectiveness of the naval service. Past history shows it is fundamental to the Navy's success. Undirected, innovation puts discipline and military effectiveness at risk, but properly channeled it provides naval leaders with the ability to respond to an increasingly diverse array of threats. As an industrial scientist, I can attest that researchers also face constraints in the development of new technologies, but firms must move forward or risk losing their competitive advantage. The naval service faces analogous challenges with national and global consequences for inaction.
Discussing the Naval War College in The Quiet Warrior, Commander Thomas Buell notes that, "Captains Stephen B. Luce and Alfred Thayer Mahan . . . were disturbed that naval officers concentrated on the technical details of ship operations. Although expert seamen, officers knew little about making war." Luce and Mahan ultimately persuaded superiors as to the value of specialized post-graduate naval education as, "War required an intellect that could reason, innovate, create, and think abstractly." The groundbreaking use of naval aviation and the intricate amphibious campaigns in the prosecution of the Pacific War vividly illustrate the power wrought from the synthesis of technical competence with innovation.
As a more technical example, when (then-Lieutenant) Chester Nimitz served as chief engineer and executive officer on board the USS Maumee (AO-2) near the end of World War I, he was able to develop the first practical demonstration of underway refueling. This would pay dividends three decades later in World War II and is critical to the effective projection of naval power today. Similarly, the vision of a nuclear navy championed by Admiral Hyman Rickover has had a profound impact on the role of the submarine. Despite his occasional disagreeableness, Rickover's unrelenting demand for engineering excellence and commitment to safety highlights how the conscientiousness instilled in his Academy education coexisted with innovation.
The Naval Officer's Guide states, "From the time you receive your commission, your education and professional development are largely up to you, and they represent the keys to success in a very complicated and technical profession." The education midshipmen receive is the beginning of their growth as naval officers and effective leaders. Some subsequent growth will occur, to paraphrase Prof. Jones, snugly within the box. The service also needs leaders who can recognize opportunities for improvement and act on them. In 1961, Chief of Naval Operations Admiral George Anderson eloquently stated, "The Navy has both a tradition and a future—and we look with pride and confidence in both directions." The proud traditions are the cornerstone upon which the confidence for the future rests.
—Victor Sussman, Ph.D.
The Sea Services Must Engage The Public
(See J. Hartz, pp. 18–19, June 2018)
Commander Hartz noted that the U.S. Navy's challenge isn't necessarily budget appropriations or a changing political environment, but public outreach. He offers several possible solutions, making the most of current trends in social media and internet news reporting to disseminate Navy-related topics to the public.
At Colonial Williamsburg, my colleagues and I have faced similar challenges. In recent years, we have released a "Sampler Ticket" where guests with only a short amount of time in town can choose a handful of exhibits at a reduced price. We created a historic scavenger hunt game using 18th century ciphers and modern text messages to solve a mystery. And we released a smartphone app where users can track their favorite historic figures through town or find their way to specific programs.
These tools might not be appropriate for the Navy, but they provide useful examples. Perhaps a "U.S. Navy: Past and Present" app, providing content such as: "This day in Navy history"; locations/directions to Navy History and Heritage Command (NHHC) museums and museum ships throughout the country; and sharing the latest Navy developments, warship christenings, award ceremonies, etc.
At the Naval Institute Annual Meeting in May, I had the opportunity to ask CNO Admiral John Richardson how someone in my position can help the U.S. Navy engage with the public. He suggested sharing the latest books from Naval Institute Press and point people toward articles in Proceedings and Naval History. As an interpreter of 18th century naval history, I have few such opportunities, but I have been trying to link my presentations on celestial navigation and the exploits of John Barry to current events.
If more people serving in and supporting the sea services follow his advice, public engagement with the Navy is bound to spread quickly.
—Michael Romero, Colonial Williamsburg Foundation
Recruit Millennials to Replenish the Coast Guard Reserve
(See T. Nielson, August 2018)
Ready. Responsive. Relevant?
(See K. Pecora, August 2018)
Both of these articles are timely, on point, and deserving of a "BZ" for they address longstanding issues that have been afforded little or no attention in the past.
Admiral Schultz, Commandant of the Coast Guard, recently addressed the Coast Guard asking members if they are:
Ready—prepared to serve and protect the American people and our national interests.
Relevant—a professional and agile armed force, law enforcer, regulator, and maritime first responder on whom our partners confidently rely to address increasingly complex maritime challenges. 
Responsive—employ a bias for action to excel as we protect and defend the homeland.
Petty Officer Nielson addressed "Recruiting," especially in light of today's stringent standards. Given the small percentage of our nation's population that can meet them, the Coast Guard must first identify who its potential recruits are. Then it must focus its limited personnel and financial resources on the targeted groups. Petty Officer Nielson suggests that the "draw" is the "benefits package" available to the older, better educated and career path focused millennials. How will they become aware of these benefits?
Lieutenant Commander Pecora recommended establishment of a career path within the Public Information (PI) field. I agree wholeheartedly. The Coast Guard is exceptional at getting the word out "in house." Getting its message to the public is a much different story. Garnering public support, via a well-trained and experienced Coast Guard Public Information team, is vital to the sustainment of the Coast Guard and it's multitude of missions. 
—CAPT John Marks, USCGR (Ret.), Life Member
War and Peace Helps Us Read History
(See B. Bray, p. 69, August 2018)
While Tolstoy's War and Peace is certainly worth reading for its recounting of early 19th century battlefield experience, the science of "complexity" (closely related to "chaos theory") should be mandatory study at the war colleges. Very small, almost insignificant changes in the battle processes—such as Admiral Nagumo's sudden decision, based on incomplete information, to switch armament from bombs to torpedoes at Midway—can have a decisive influence on the outcome. A good source with which to begin was published by the Naval War College in 1996: Chaos Theory by then-Major Glenn E. James, USAF, 10th in The Newport Papers series.
—CDR Robert C. Whitten, USNR (Ret.), Golden Life Member