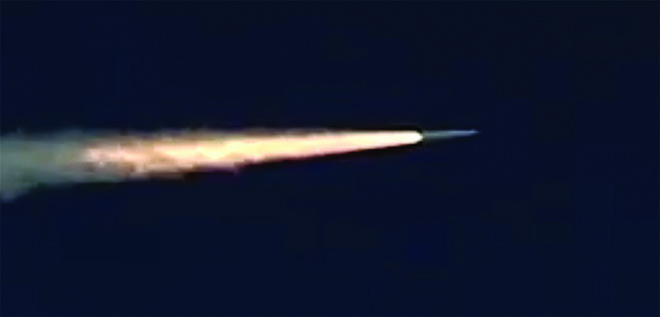 Russia and China are developing hypersonic weapons too "hot" for current U.S. Navy air defense weapons to handle. Here a Russian Kinzhal hypersonic missile sprints during a test run in March 2018.
Hypersonic weapons are here. These are missiles that can achieve speeds ranging from Mach 5 to a theoretical upper limit of Mach 25, or 317 miles per minute. Further, these missiles are capable of flight profiles below traditional radar horizons and may arrive on target by following unpredictable flight paths. Both the Chinese and Russians have been developing hypersonic weapons for some time with some claims to success. 
Meanwhile, in the United States, hypersonic research has been going on for decades; however, only recently has interest in a developmental push surged, and this seems to be largely a reaction to foreign efforts. While developing hypersonic missiles may be desirable to keep pace in offensive weapons, it must be understood that there is no defensive system—on any U.S. Navy ship class—capable of engaging a hypersonic weapon.