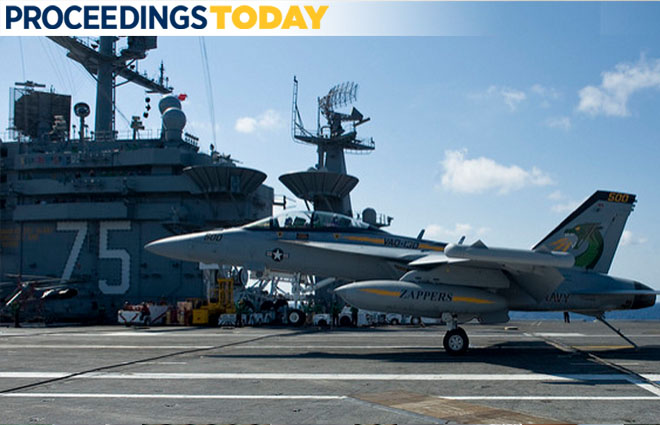 In the late 1990s, a guest speaker to my NROTC battalion offered a piece of advice I often have thought of during my naval career: never do A-plus work for a B-minus project. This was not an endorsement of selective laziness but rather an acknowledgment of the tyranny of the clock and the need to prioritize tasks and resources based on relative importance. 
An A-plus project is one that has a high impact on combat and material readiness or effectiveness. Changing out a bad motor on an EA-18G aircraft to get the aircraft "up" and ready for a combat sortie is an example of an A-plus project. The planning, briefing, and conduct of that sortie is another.
Many B-minus projects, in contrast, address a perceived risk. With prevention of a specific outcome as their objective, they have a time impact for a large audience, creating considerable administrative overhead. Further, their effectiveness in achieving a specific end-state often is hard to quantify. The Navy motorcycle safety program, for example, is a B-minus project. Its desired goal of reducing the number of Sailors and Marines killed or injured in motorcycle accidents is laudable, and its second-order impact is the preservation of the force, which enhances combat readiness. Its actual impact, however, is difficult to quantify. By 2008, the Navy had made motorcycle training mandatory for all motorcycle riders. Was that training responsible for the reduction of motorcycle fatalities from 33 in 2008 to 14 in 2009?  If so, why did fatalities increase to 20 in 2014, decline to 12 in 2015 and 2016, and climb again to 21 in 2017?  Is every Sailor lost in a motorcycle accident a tragedy? Yes. Does the Navy's safety training program reduce the number of Sailors we lose? We do not know.
While the effectiveness of B-minus projects often is hard to quantify, the opportunity costs they generate throughout the fleet are not. Each moment spent administering and attending a prevention project is a moment not spent thinking about tactics and operations or developing subordinates. Some B-minus program managers might say the time requirements of their projects are minimal. Aren't a handful of hours spent in training or administration each year a worthwhile trade-off if we save a single sailor? Even if the project is minimally successful, isn't the opportunity cost to combat readiness justified?
If any of these B-minus projects operated in isolation, the answer to both questions likely would be yes. Unfortunately, B-minus projects exist in the aggregate, and the number of such projects people in the Navy are expected to complete has grown substantially. Often originating from outside the tasked unit and higher-echelon chain of command, B-minus projects entail deadlines wholly uninformed by operational priorities. "Warfighting First" often becomes "Warfighting After We Answer the Mail on This Hot Tasker." 
Commands can mitigate the impact of some B-minus projects that require only collateral engagement, but some projects put incredible time demands on operational units and their people. The March 2018 revision to the Navy Safety Center's fall prevention program comes to mind. Reading and comprehending the message and its parent document are full-time jobs. To what degree were commanding officers consulted regarding the feasibility of this instruction or its impact on combat readiness? Will the flight deck of an aircraft carrier now resemble a nautically themed Cirque de Soleil, with aircrew snapping carabiners into aircraft boarding ladders? Though admirable in intent, could the desired result not also be achieved by directing commanding officers to emphasize the use of safety devices and common sense, without enlisting the services of a "person with a recognized engineering degree or professional certificate and with extensive knowledge, training, and experience in the field of fall protection who is capable of designing, analyzing, evaluating, and specifying fall protection systems and rescue systems and equipment."     
The Department of Defense has codified processes for the allocation of manpower and units.  Business rules govern dwell times for personnel and the extension of units on station beyond planned deployment lengths. Manpower and material resource limitations force hard scheduling decisions from senior leaders to balance long-term risk against short-term goals. Yet manpower and material resources are only two legs of the resource triangle essential to combat readiness.  The third essential resource is, and has always been, time.
The Navy expects its commanders and commanding officers to shepherd the first two resources to achieve its overarching A-plus project—readiness for, and victory in, combat. Yet every B-minus project imposed on those same men and women, absent their discretion in its implementation, consumes the third critical resource. As the Navy prepares for the real possibility of near-peer conflict, it must accept greater risk by limiting, and in some cases eliminating, B-minus projects. It must give leaders the time to deliver A-plus work on A-plus projects. The alternative could be total failure.
---
Commander Clarity is the operations officer for the USS Ronald Reagan (CVN-76). Prior to this tour, he commanded Electronic Attack Squadron-131, an EA-18G Growler squadron based at Naval Air Station Whidbey Island, Washington. He is a frequent contributor to Proceedings. 
For more great Proceedings content, click here.