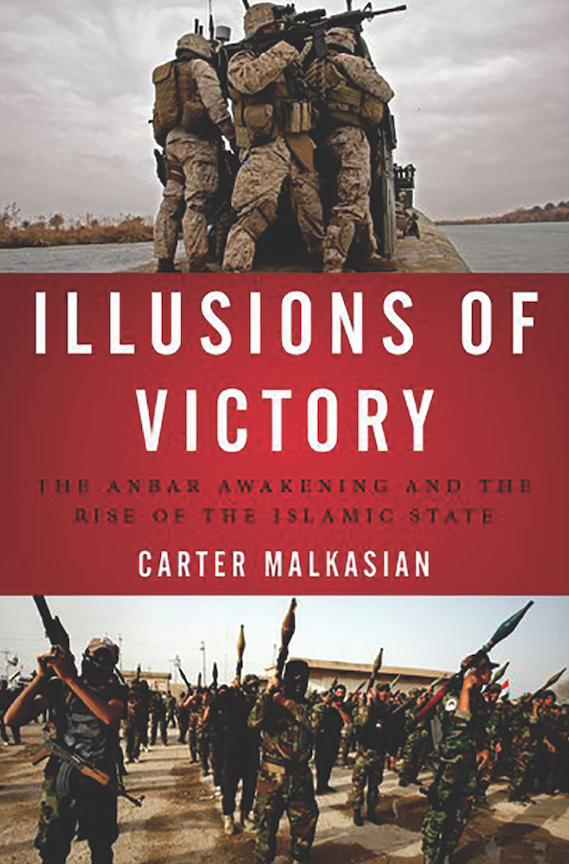 Illusions of Victory: The Anbar Awakening and the Rise of the Islamic State
Within a year of U.S. troop surge into Iraq, al Qaeda in Iraq (AQI) in Anbar Province had been defeated. Two years after the last U.S. troops left Anbar, the Islamic State (ISIS) took control of the province. A new U.S. counterinsurgency strategy in 2006 and withdrawal in 2011 often are regarded as catalysts for both events. In Illusions of Victory, Carter Malkasian argues otherwise.
Absent in Illusions are discussions of the value of economic development or of ground troops removing sunglasses to engage with the populous. There is only a passing mention of Field Manuel 3-24's new take on counterinsurgency.
Instead, Illusions adds depth to the Iraqi perspective, and argues that Anbar's history from the overthrow of Saddam to the rise of ISIS largely has been dictated by its most powerful social and political structure—its Sunni Arab tribes. Malkasian lauds the Marine Corps for its early application of the theory and practice of small wars in Anbar, giving little attention to how tactics and operations may have evolved over the course of the war. As evidence of his small wars savvy, he recalls Brigadier General James Mattis's slogan for the 1st Marine Division, "No better friend, no worse enemy."
Ultimately, Malkasian argues that the presence of worse enemies than the Marines made the difference in Anbar. Tribal cooperation with the coalition began because of the fear of Shia political interests in Baghdad and the rise of AQI within Anbar. Later, the Anbari tribes unified in the "awakening" because both AQI and Baghdad threatened their dominant political position. Finally unified, the tribes fought fiercely, often in the face of heavy losses. In this telling, U.S. troops, firepower, and money were necessary to support the tribal awakening and the defeat of AQI by 2007, but they occupied a supporting role at a propitious moment.
The Illusions thesis on the "awakening" offers explanatory power for AQI's successful reincarnation as ISIS. Here, the author traces how Baghdad left space for ISIS's pan-tribal claim to Islamic legitimacy to become a national upheaval. Prime Minister Nouri Maliki replaced tribal security and economic structures with weak Iraqi Security Forces, dividing the "awakening" forces. Again, the U.S. withdrawal was not causal, though the coalition's absence now meant power in Anbar could swing dramatically in favor of ISIS.
Malkasian served in Iraq for nearly two years as a civilian advisor to I Marine Expeditionary Force between February 2003 and August 2006, and his experience is evident. Illusions is as fluent in the tribal dynamics and pivotal personalities of Sunni Iraq as it is with the key Marine and Army leaders who served in Anbar. His perspective also may be why he seems to regard counterinsurgency as others regard diplomacy—as the art of engaging until the situation changes.
The author concludes with an assessment of how successful interventions can have fleeting effects without sustained commitments. Just as territory taken in battle must be secured at Checkpoint Charlie or the Korean DMZ, so too must the counterinsurgent commit to holding newly drawn fault lines of power. There is more to Illusions than this, however. It deserves a read by practitioners and students of small wars and a place in the developing historiography of the Iraq War.
Lieutenant Commander Shell is a Navy explosive ordnance disposal officer who previously has served in Iraq and Afghanistan.
---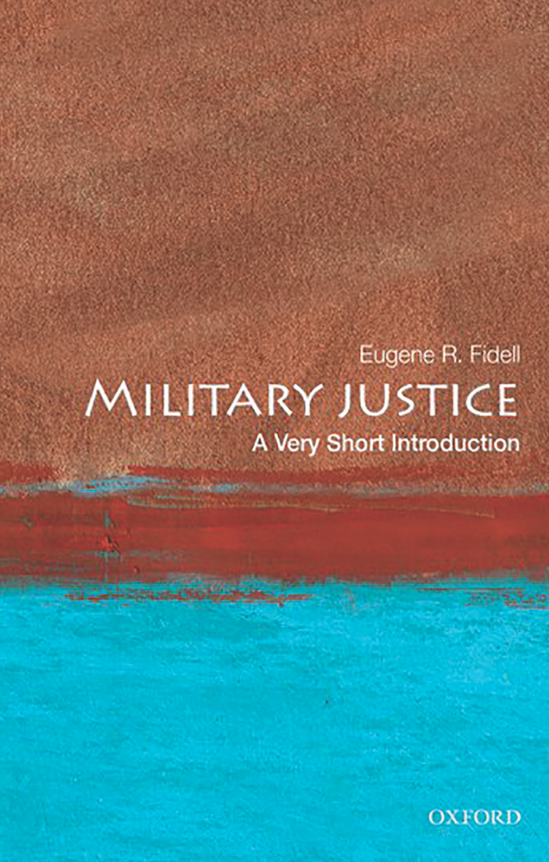 MILITARY JUSTICE: A VERY SHORT INTRODUCTION
Eugene R. Fidell. New York, Oxford University Press, 2016. 133 pp. Glossary. Biblio. Index. $11.95.
Reviewed by Captain John Byron, U.S. Navy (Retired)
Military justice. If you want the fundamental tools you will need to do your job, read the Manual for Courts-Martial. This is not that.
No, Eugene Fidell's Military Justice: A Very Short Introduction is an easy, breezy, but deeply learned read into the broader topic of military justice, comparing our U.S. military justice systems to the civilian world's and to the system in other nations, especially those akin to ours in Canada and Great Britain.
The author takes on some tough topics.
• Unlawful command influence, a big factor in the Bowe Bergdahl case (Fidell was Bergdahl's lawyer in his court-martial)
• Guantanamo (Fidell was a lawyer for Army chaplain Captain James Yee, potentially facing execution—and got Yee off with a reprimand)
• Strengths and weaknesses of military tribunal
• Decisions on civilian or military court jurisdiction
• Where to try sexual harassment cases—parent command or separate jurisdiction
• Deployment misconduct
These are tough topics, and Fidell proves a good guide with the right background, with a law degree from Harvard and experience as a Coast Guard judge advocate general. He also is cofounder of the National Institute of Military Justice and its president for 20 years and now is a visiting professor at Yale lecturing in military justice.
Fidell deserves his reputation as a leading expert in theories of military justice and as a smart, tough practitioner in that system, working in the trenches in service of his clients.
Military justice is a deep subject and a bedrock element of military discipline and mission accomplishment. Every naval officer and senior enlisted should read this book. It is well worth the time.
Captain Byron served 37 years on active duty. Qualified in surface warfare and submarines and a former chief sonarman, he was twice named Proceedings Author of the Year.
---
The Marine Corps Way Of War: The Evolution Of The U.S. Marine Corps From Attrition To Maneuver Warfare In The Post-Vietnam Era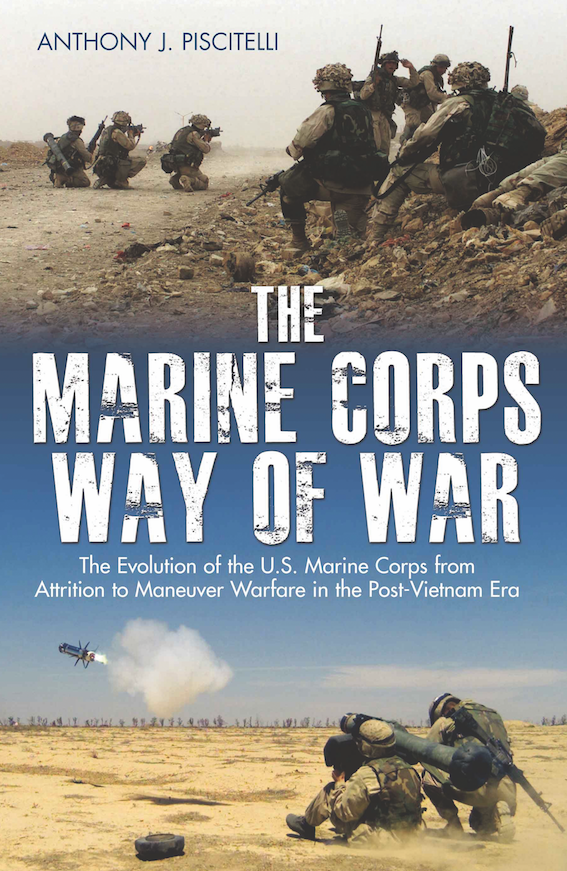 Anthony J. Piscitelli. El Dorado Hills, CA: Savas Beattie LLC, 2017. 245 pp. Illus. Maps. Notes. Sources. Index. $27.50.
Reviewed by Major Gary J. Sampson, U.S. Marine Corps
Despite having all the necessary ingredients on hand, Anthony Piscitelli unfortunately has not written the book that will stand as the defining chronicle of the adoption of maneuver warfare by the Marine Corps.
The author, an adjunct professor who teaches maritime security courses at the SUNY Maritime College, enjoyed tremendous access to many of the key players who made the decisions that put the Corps on the road from an attrition mind-set toward maneuver, or "the thinking way of warfare," conducting dozens of interviews.
Among these are General Al Gray, the 29th Commandant of the Marine Corps and the Corps' most well-recognized "maneuverist," as well as most of the subsequent Marine Corps Commandants who inculcated the maneuver way of thinking into generations of Marines who have come to see it as the standard way of thinking. Piscitelli, however, was unable to fuse together the various strands uncovered in his research into a coherent whole. The result is a book that reads like a research paper in which the author included everything he unearthed, whether it related to the central thesis or not.
The book's main assertion is simple enough: the Marine Corps under Gray in the late 1980s institutionally adopted maneuver warfare as its "way of war" as a response to the failure of attritionist offense-defense tactics widely used during the Vietnam War. This idea largely is about people. While Gray as the senior officer in the service played an important role in creating the administrative top-cover to protect those of lower rank who served as the action officers, it was the "young Turks" such as Colonel Mike Wyly and a legion of practitioners such as General Walter Boomer, General Anthony Zinni, General James Mattis, and General Joseph Dunford Jr. who operationalized maneuver warfare for the Marine Corps.
Not all the key maneuverists wore uniforms, however. Civilian strategist William Lind also appears in these pages but does not fare well, turned away from the conversation on maneuver warfare by senior Marine officers after he "wore out his welcome" in the late 1990s. Moreover, in any book about maneuver warfare, the reader can reasonably expect to come across John Boyd and his OODA (observe, orient, decide and act) loop/Boyd Cycle, and Piscitelli does not disappoint in this regard.
Emphasizing the importance of Boyd on the Corps' development of maneuver warfare thinking, Piscitelli recounts that hundreds of Marines attended Boyd's funeral in 1997, leaving their Eagle, Globe, and Anchor insignias on his casket, reminiscent of dramatizations of the last rites of Navy SEALs. For the Corps and its budding cadre of maneuver warfare thinkers, Boyd's passing was a significant event.
Uncontroversially, Piscitelli describes how the Corps employed maneuver warfare tactics and thinking to significant effect in the 1990–91 Gulf War, and again in Afghanistan and Iraq in the 2000s. During the Gulf War, maneuver warfare tactics were new; the groundbreaking Fleet Marine Force Manual (FMFM) 1 Warfighting had just been published in 1989. As Piscitelli attempts to describe an intellectual and operational bridge between the Gulf War and the post-9/11 wars, he argues that the "small wars and humanitarian assists" that the Corps participated in during the 1990s served as laboratories of a sort for the further development of maneuver warfare thinking. While the hypothesis is sound, the evidence presented by the author does not back up the argument, resulting in the least convincing chapter of the book.
Copy editing of the book is also not up to standard, with misspellings far too common and basic facts often off the mark. Camp Pendleton is not the site of a Marine Corps recruit depot. General John Kelly was never the "CG" of Special Operations Command. The Marine Corps does not operate Apache or Chinook helicopters. It would have been useful for someone with military experience to review the book before finalizing the manuscript. Finally, repeated multipage extracts from after-action reports and other documents are excessive and detract from his arguments.
In total, Piscitelli's work might serve as an early attempt to write a comprehensive history of the Marine Corps and maneuver warfare. Once that tale has been chronicled, then an enterprising action officer can think about how information and cyber operations play into more modern conceptions of the maneuver warfare concept.
Major Sampson, an intelligence and foreign area officer, is the 2017–18 Commandant of the Marine Corps Fellow and a Ph.D. student at the Fletcher School of Law and Diplomacy, Tufts University.
---
NEW & NOTEWORTHY BOOKS
NATO's Return to Europe: Engaging Ukraine, Russia, and Beyond
Rebecca R. Moore and Damon Coletta, eds. Washington, DC: Georgetown University Press, 2017. 257 pp. Index. $34.95.
As former U.S. Ambassador to NATO Nicholas Burns explains in his foreword, this collection of nine essays deals primarily with NATO's renewed identity crisis following Russia's March 2014 incursion into Ukraine and annexation of Crimea. Nearly a quarter century after the Soviet Union fell, NATO suddenly is forced to reconsider whether it can still answer its charter obligation of collectively defending the physical security of Europe against Russian aggression. NATO reaffirmed this first principle at the September 2014 Wales summit, but questions about force strength and readiness still abound, and great doubt looms in the policy and security communities as to whether a ship retooled over two decades to fight counterinsurgencies and support peacekeeping missions can be put back on its original course. Each author tackles an aspect of this challenge, to include how to effect this reset while retaining the skills and lessons from years of operating in Afghanistan and elsewhere.
Counterinsurgency Wars and the Anglo-American Alliance: The Special Relationship on the Rocks
Andrew Mumford. Washington, DC: Georgetown University Press, 2017. 206 pp. Biblio. Index. $34.95.
Andrew Mumford, associate professor in the School of Politics and International Relations at the University of Nottingham, is not bullish on the United States-United Kingdom "special relationship." Mumford holds the view that rather than a special relationship slipping of late into something far more pragmatic and, dare we say, normal, there never was much "specialness" in the postwar relationship at all. In the introduction, Mumford does not ease the reader gently to his point, deploying turgid prose to disabuse any notion that a relationship so unbalanced could be equally special to both sides. "The price of specialness for the British was perpetual acquiescence," he acidly declares. Mumford does stop short of including himself with those who hold that the special relationship is a total fiction. While the impression of a special relationship has endured because of cooperation in the three areas of nuclear relations, intelligence, and conventional warfighting, it is by examining it through the lens of eight counterinsurgency conflicts since 1945 that Mumford makes his case that the relationship has its limits, and is in no way special.
OSS Operation Blackmail: One Woman's Covert War Against the Imperial Japanese Army
Ann Todd. Annapolis, MD: Naval Institute Press, 2017. 211 pp. Biblio. Index. Illus. $27.95.
Betty McIntosh lived 100 years, but as with many from the World War II generation, in less than two of those she experienced more living than most ever will. Working for the Honolulu-Star Bulletin in 1941, she witnessed and reported on the Japanese bombing of Pearl Harbor. Six months later she was in Washington, D.C., reporting for the Newspaper Enterprise Association and later Scripps-Howard, where she covered the Franklin D. Roosevelt White House. Restless and anxious to be sent back to the Pacific as a war correspondent, something next to impossible for a woman, as no less than Ernie Pyle reminded her, her prayers were answered when she was recruited into General William J. Donovan's Office of Strategic Services (OSS). She would serve 18 months in the China-Burma-India theater as part of a psychological warfare effort to demoralize Japanese soldiers, alongside colleagues such as Julia Child and collaborators such as Ho Chi Minh. McIntosh produced her own unpublished memoir, Undercover Girl, shortly after the war. It is from this manuscript and her own academic research that Todd delivers a wonderful story that reads like a finely wrought novel.
From Bats to Rangers: A Pictorial History of Electronic Countermeasures Squadron Two (ECMRON-2) and Fleet Air Reconnaissance Squadron Two (VQ-2)
Angelo Romano and Aviation Structural Mechanic John D. Herndon, U.S. Navy (Retired). Simi Valley, CA: Ginter Books, 2017. 241 pp. Illus. $69.95.
To the U.S. public, air reconnaissance might be the least known and understood part of the Navy. Shrouded in secrecy for good reason, it has never had its signature novel or moment on the big screen like so many other Navy platforms and communities. Yet from World War II onward, Navy air reconnaissance has enjoyed a rich and heroic legacy, serving both fleet and national security community masters. As part of a series of U.S. Navy squadron histories, Romero and Herndon have done a more than admirable job chronicling the history of ECMRON-2/VQ-2, complete with hundreds of rare photographs from personal collections. This is a welcome addition to the aviation historian bookshelf, but it could be improved with an index or table of contents to make it a handier reference volume for researchers.
---
Captain Bray served as a naval intelligence officer for 28 years before retiring in 2016. Currently, he is a managing director in the Geopolitical Risk practice at Ankura.